If you're in the fitness nutrition world at all, you've probably noticed that macronutrients (i.e. fats, protein, and carbohydrates) are all the rage right now – thanks in part to the popularity of flexible dieting and the "If it fits your macros" (IIFYM) approach. In fact, on Instagram, the hashtag IIFYM has almost 6.5 million hits.
This diet operates on the premise that a person can eat whatever they want – as long as it fits within or below their calculated macronutrient amounts. Each person's macro amounts are determined based on their total daily energy expenditure, height, weight, and personal goals. Using a formula, the amount of fat, protein, and carbs in grams is calculated to help the person reach their goal. Technically, a person who is flexible dieting could eat donuts, pizza, and ice cream every day as long as they stay in line with their macros. Food quality isn't necessarily considered.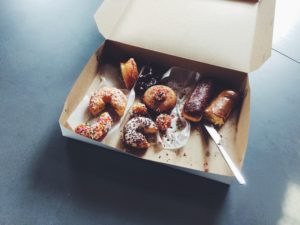 What Are Micronutrients?
Sure, macronutrients are important. They are what provides our body with energy after all. But with all of the focus on protein, fat, and carbs, are we overlooking an important piece of the puzzle? Micronutrients, while not as "sexy" as macros, play a vital role in our health.
Micronutrients are simply vitamins and minerals. Compared to macronutrients, we need a much smaller amount of them to survive (hence the name micro), but they are still incredibly important to the health and well-being of our body.
Vitamins and Minerals
There are some important distinctions between vitamins and minerals. Vitamins are organic compounds; this means that they contain carbon and have atoms from different elements.
There are 13 different vitamins and each one is considered essential. In other words, our body needs us to consume each vitamin in adequate amounts to successfully carry out various physiological roles and processes.
Vitamin C and the eight different B vitamins are water-soluble. This means that for our body to absorb them, water has to be present. We also excrete these vitamins in our urine.
Vitamins D, E, A, and K are considered fat-soluble. You guessed it – these vitamins need fat to be absorbed by the body. This is just one reason why healthy fats are so important in a well-balanced diet. We also store these vitamins in our fat tissue.
Minerals, on the other hand, are inorganic elements (no carbon present and all of the atoms come from the same element). There are 16 essential minerals that our body needs and they are divided into two categories: major and trace.
Major minerals include calcium, chloride, magnesium, phosphorus, potassium, sodium, and sulfur. The body requires at least 100mg/day of these major minerals. Trace minerals (needed by our body in trace amounts) include chromium, copper, fluoride, iodine, iron, manganese, molybdenum, selenium, and zinc.
Needless to say, vitamins and minerals help facilitate many physiological processes in the body. In fact, deficiencies in certain micronutrients can lead to serious issues. For example, a deficiency in the trace mineral iron can result in iron-deficiency anemia.
Quality vs. Quantity
Micronutrients are a reason why the quality of the food you eat is just as important as the
quantity. There are some vitamins and minerals that our body can't make enough on its own to function properly. Therefore, we must get these micronutrients from our diet. While half a Pop-Tart (100 calories, 2g fat/18g carbs/1g protein) and an apple (100 calories, 0g fat/24g carbs/1g protein) might have a similar calorie and macronutrient count, the quality of the micronutrient content in the apple is much higher. Not to mention, the apple doesn't have an ingredients list full of junk that's a mile long.
There's also the option of supplementing to get the necessary amount of micronutrients. While this may be needed in some cases, most health care professionals agree that eating a varied diet composed of seasonal, local, and organic whole foods is the best route. Shopping at your local farmer's market and remembering to "eat the rainbow" are great ways to make this happen.
A nutrient-dense whole foods diet…sound familiar? Paleo is a great way to ensure you get an adequate amount of micronutrients in your diet. Be sure to check out the Ultimate Paleo Guide 21-Day Challenge for a comprehensive course in all things Paleo. And, as always, be sure to consult with your doctor if you have any questions about supplements or your personal micronutrient needs.
Download Your FREE Paleo Starter Kit Today!
3-Day Paleo Diet Meal Plan
Comprehensive Paleo Diet Shopping List
5 of Our Favorite Paleo Diet Recipes