Making any big lifestyle change can be tough, and eating paleo when no one else in your circle of friends does is no exception.
Your friends don't always understand, they might make jokes, and it can be tough to hang out with them while they're all going out, partying, having nights out, or going to their favorite restaurants.
Sometimes it feels like your only option is to sit at home and eat chicken and broccoli.
But don't worry – there's good news. You don't have to give up your social life or be the "weirdo" who's trying to be a caveman.
You can be paleo and sociable at the same time. Here's how.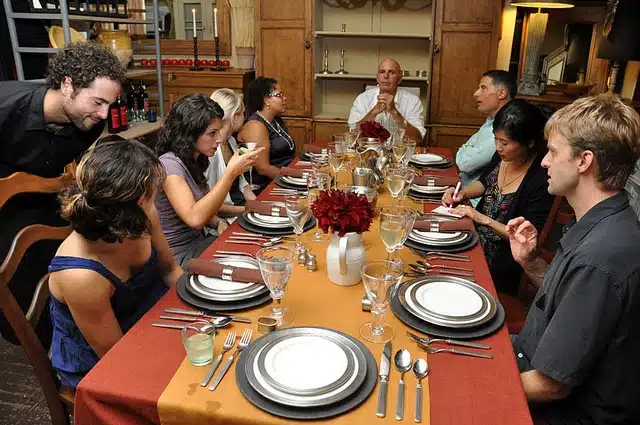 Know Your Foods
First things first, if you want to be successful, you need to know what is and what is not paleo. We've covered this extensively in the past, but if you need further details, see our guide to paleo and non-paleo foods.
Pick a Paleo Venue
With enough creativity, you can make almost any food at any restaurant relatively paleo. That said, it's a lot easier if you pick a paleo-friendly restaurant from the get-go.
Here are a few of the most paleo-friendly restaurants you can find around the USA:
Chipotle
Fogo de Chau
In-N-Out (Flying Dutchman FTW)
Any wine bar
Any coffee shop
Check out our full list of paleo-friendly restaurants here.
Have A Go-To Restaurant
If you go out to lunch with friends, have a go-to restaurant. Mexican restaurants are usually at the top of my list. Chipotle Burrito Bowl and hold the beans, thank you very much. #boom
Avoid Appetizers & Swap out Your Sides
The best advice for eating paleo while you're out is this:
Order the entree and wait for it.
Resist the urge to stuff your face with apps, bread, or chips. They won't do anything for you nutritionally and they're going to fill you up before your main dish arrives. If you have to have something, get a side salad to chew on while you wait for the main dish.
If you're offered sides with your entrees, pick the best paleo options. You can typically swap your run of the mill French fries for sweet potato fries (delicious). An even better and healthier option is to swap your fries for a fresh side of vegetables or to ask for a salad instead.
Pass on Dessert
If your party orders a dessert, pass on it. Instead get a post-dinner coffee or tea. You'll get all the benefits of coffee, have something in your hands during the post-dinner conversation, and skip the sugar and carbs that ransack every dessert dish out there.
Choose Your Alcohol Carefully
We've covered alcohol a ton here at UPG. Luckily, because it's certainly a big part of going out and socializing, you can still drink alcohol and stay paleo. If you focus on the types of alcohol you drink, and you're careful to limit the quantities, you can still enjoy alcohol on a regular basis. For more on drinking on the paleo diet, check out the following resources:
Offer to Be The DD
If your friends are planning on having a good time and drinking a non-paleo amount of alcohol, offer to be the designated driver. This will give you an excuse to go, hang out, and not drink. And everyone will be grateful to you for keeping them safe for the evening.
Hang out with Other Paleos
Spend more time with other people who are trying to live the same way as you. Instead of always forcing yourself to swim upstream by spending all your time with people who make it hard to keep paleo or with people who don't understand what you're doing, spend more time around people who get it.
Here are a few places you might find more paleo-friendly people:
That's it. Paleo doesn't have to be isolating. Find ways to hang out with your current friends while staying paleo and look for ways to make friends with other people who share your new lifestyle.
Good luck out there! Let us know if you have any of your own tips in the comments below.
Photo credit: Dinner Series
Download Your FREE Paleo Starter Kit Today!
3-Day Paleo Diet Meal Plan
Comprehensive Paleo Diet Shopping List
5 of Our Favorite Paleo Diet Recipes