The Quick Answer
Yes. Dates are paleo.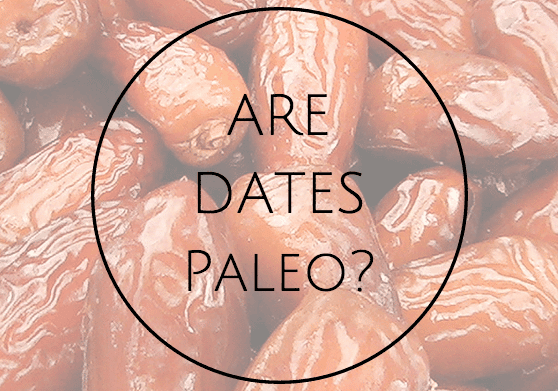 Why Are Dates Paleo?
Dates are paleo because they occur in nature and don't require any processing or even cooking. Dates are a fruit and fruit is paleo. Fruit provides the body with important vitamins, antioxidants, phytonutrients, and fiber.
Dates can be found fresh but they are more readily available in their dried form. Either way, they contain high amounts of fiber and good amounts of potassium and vitamin B6.
Eating dates (and all fruit) is a great way to naturally appease your sweet tooth. A whole, fresh piece of fruit is always better than ice cream or candy.
Dates can be used to sweeten smoothies or baked goods, meaning that you can avoid using white cane sugar. Since dates are usually dried and their sugar (fructose) is concentrated, they are extremely sweet and do a good job of adding flavor to paleo recipes.
It is thought that dates have been consumed by humans for longer than most other fruits. Dates are therefore part of traditional diets in places like the Middle East and Europe and they were one of the first fruits to be sold.
Why There's Confusion
The downside of consuming dried fruit is that it is high in sugar. A piece of dried fruit contains the same amount of sugar, carbs, and calories as a piece of fresh fruit but it is usually half the size of the fresh piece. This means you do not get as full eating dried fruit as you do eating fresh fruit. It's therefore best to have fresh fruit instead of dried fruit when you can.
While dates are paleo, eating too many of them is not encouraged. Eating lots of dates will have a negative impact on your blood sugar levels, energy levels, and cravings, and may lead to disease. Too much sugar is still too much sugar, no matter where it comes from.
Of course it's a lot easier to consume too much sugar by consuming something processed like soda than it is to eat a huge plate of dates. Dates (and all fruits) are more filling than things like soda because of the fiber they contain.
If you need to watch your sugar intake (because, for example, you have diabetes, blood sugar issues, headaches, mood swings, or weight to lose), you will want to be careful about how many dates you eat. If you're struggling with your weight or you have a known health condition, consume low-sugar fruits instead and watch how much of them you consume. Low-sugar fruits include green apples, berries, and citrus fruits.
So, Are Dates Paleo?
Yes, dates are paleo.
To sum it up, even though dates do contain a relatively high amount of sugar, they are a fruit and the positive aspects of fruit (vitamins, minerals, fiber, antioxidants, etc.) outweigh the bad. Watch how many dates you eat to avoid consuming too much sugar.
How To Know What Is And Isn't Paleo
Check out Paleo.io, the mobile app that answers the question, "is __ paleo?" Paleo.io comes with the most comprehensive paleo diet food list out there, so no matter which food you're confused about, you'll always be able to find out whether or not it's paleo.
How To Consume Less Sugar
If you're concerned about the amount of sugar that you're consuming, consider completing The 21-Day Sugar Detox. You can read our review of it here.
Photo credit: Itinerant Tightwad
Download Your FREE Paleo Starter Kit Today!
3-Day Paleo Diet Meal Plan
Comprehensive Paleo Diet Shopping List
5 of Our Favorite Paleo Diet Recipes