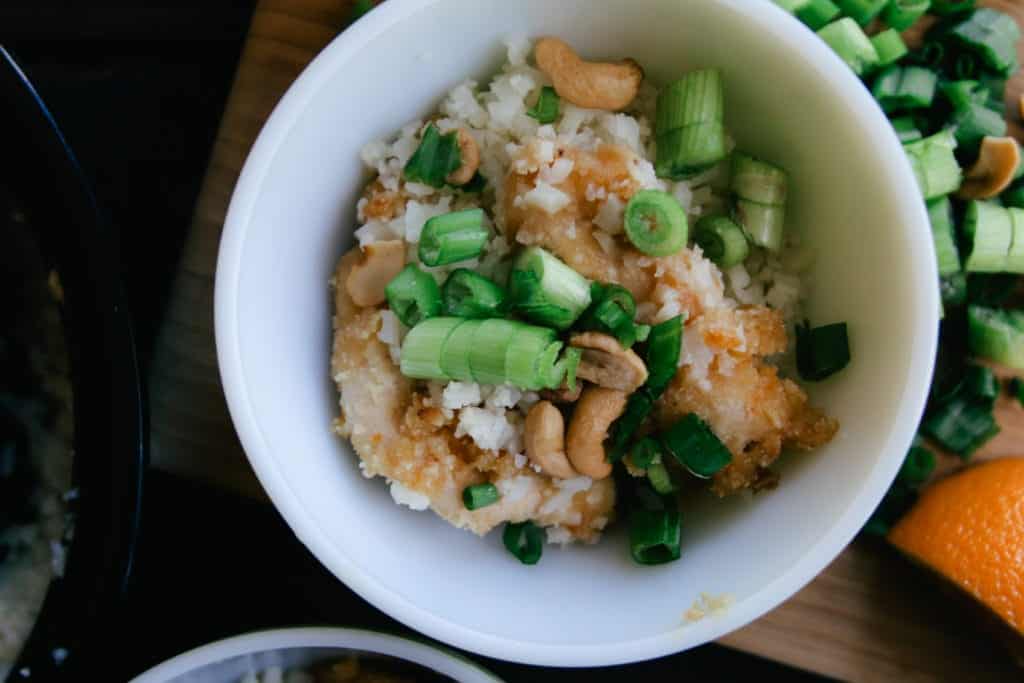 Remember a month or so ago when I gave you a recipe for all of those times you're craving take-out? It was a delicious chopped chicken salad with this creamy almond sesame dressing.
I hope you made it because that salad was one of my favorite recipes in a while.
But I'm coming at you today to give you one more recipe to put in your arsenal when you've got the itch for Chinese food. To me, this ranks right up there with that salad. It's loaded with protein, healthy fats, and carbs to keep you firing on all cylinders.
Orange chicken used to be one of my favorite things to order from our local Chinese restaurant. The dish would come out with crunchy breaded chicken covered in an electric-orange sauce. Of course you've got to eat it with a side of fried rice. And the portions were huge. When I think back on that now, it's total comfort food to me.
But that was back when I didn't think much of what I ate. Nowadays, I'd try to find something a little healthier on the menu. Or at least include some vegetables in my order.
That's why this orange chicken recipe is the way to go if you want that classic Chinese takeout flavor but you want to control what ingredients go into it.
The sauce for this cashew orange chicken is made from pineapple and orange juices, orange zest, coconut sugar, and fish sauce. (We like Red Boat fish sauce for a high-quality brand.)
The trick to make the sauce is to let it come to a boil in a sauce pan and then reduce heat down. You're going to stir occasionally and let it reduce into a thick syrup. It will probably take about 15 minutes but keep a close eye on it just in case.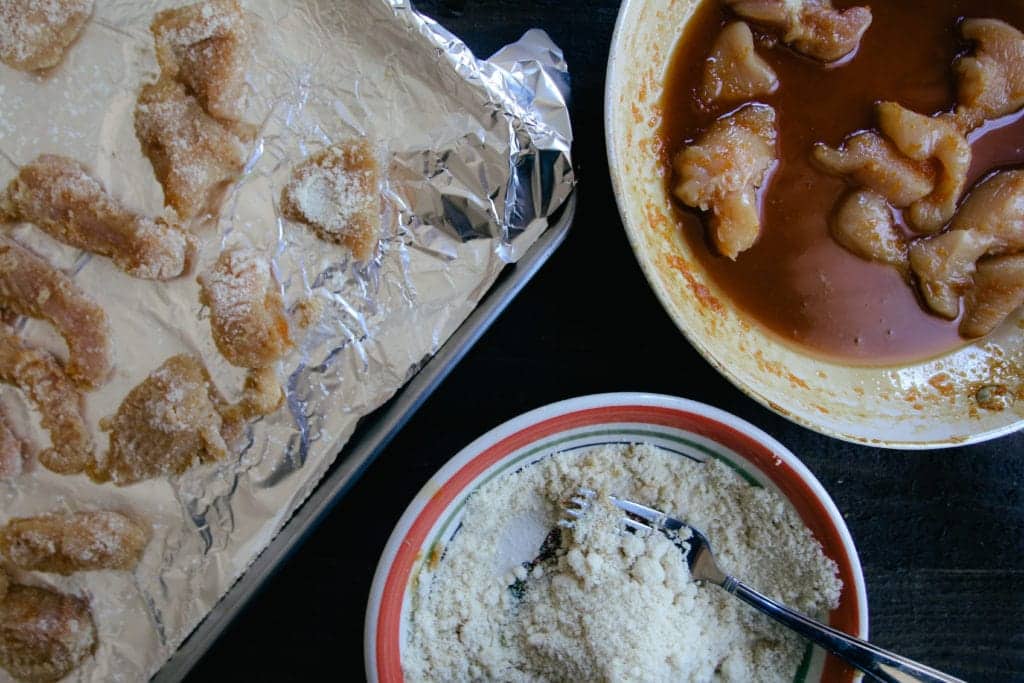 When the sauce is nice and thick, you'll want to dredge your chicken breast pieces through it and then in almond flour. Coat it well – this is going to make the breading. Then bake in the oven until the chicken is cooked all the way through.
And while that's baking, cook or steam your cauli rice – I'm lazy and get mine already riced from Trader Joe's. Then I stir in the green onions and cashews. Top with the chicken when it's done and you've got yourself the most satisfying meal – even better than take-out!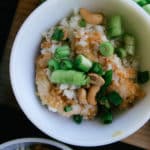 Cashew Orange Chicken
For the perfect combination of sweet and salty, this dish has it all — healthy protein, heart healthy fats, and lots of vitamins and minerals.
Ingredients
2

cup

pineapple juice

Juice and zest of 2 oranges

2

tablespoons

coconut sugar

1

tablespoon

Paleo fish sauce

1 1/2

pounds

chicken breast

cut into bite sized pieces

1/2

cup

almond flour

4

cups

cauliflower rice

4

green onions

sliced

1/2

cup

roasted cashews

Sea salt and fresh ground pepper

to taste
Instructions
Preheat oven to 400 degrees F. Line a baking sheet with parchment paper or foil.

Put the pineapple juice, orange juice and zest, coconut sugar, and fish sauce in a large saucepan. Bring to a boil and reduce to a low simmer. Simmer for 15 minutes, until reduced to a thick syrup. Remove from heat. Add the chicken pieces and coat well.

Dredge the coated chicken pieces with the almond flour and transfer to baking sheet. Bake for 10-15 minutes, until chicken is cooked through.

While the chicken is baking, steam the cauliflower rice with the green onions until tender and then stir in the cashews.

Top the cauliflower rice with the chicken and serve.
Nutrition Facts
Cashew Orange Chicken
Amount Per Serving
Calories 410
Calories from Fat 108
% Daily Value*
Fat 12g18%
Carbohydrates 29g10%
Protein 46g92%
* Percent Daily Values are based on a 2000 calorie diet.
Download Your FREE Paleo Starter Kit Today!
3-Day Paleo Diet Meal Plan
Comprehensive Paleo Diet Shopping List
5 of Our Favorite Paleo Diet Recipes