By far the most common reason that people fall off of the paleo diet is their struggle to create a variety of delicious meals with the time they have available. After all, we all recognize the benefits of a paleo diet – who wouldn't want those? But, let's face facts – as much as we wish we had the time to spend hours each day slaving over the stove to surprise our families with a different mouth-watering dish for every meal, we have lives to live. For most of us, that's just not an option.
But I have some good news for those of us with limited time, cooking abilities, and patience. There's one resource out there that solves all of those problems in one go. No time? No problem. No cooking skills? No problem. No superhero ability to come up with a new dish every day? No problem.
The Paleo Hacks Cookbook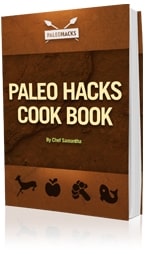 is a downloadable book of over 200 delicious recipes that you're guaranteed to never have seen or eaten before. Covering all categories of food including main meals, snacks, salads, and desserts, this book does away with the boredom that comes with eating the same meals over and over again.
How often do you eat chicken and vegetables? Or steak and vegetables? Quite often, we're guessing. And that's exactly where The Paleo Cookbook comes in, with recipes we would never have come up with ourselves, like Sweet Potato & Tuna Patties. Mm!
Sweet Potato & Tuna Patties
2013-12-01 08:23:41
Serves 6
Ingredients
2 cups sweet potato, peeled & diced
180g can tuna in brine, drained
¼ cup almond meal
2 eggs
1 tablespoon olive oil
Salt & pepper to taste
Instructions
Place diced sweet potato in a covered pan with water on medium-high heat and boil for 10-15 minutes or until tender.
Remove sweet potato from pan and place in a medium sized mixing bowl with the tuna, almond meal, eggs, olive oil, sale and pepper. Combine well.
Shape tuna mixture into patties and place on a preheated grill on medium heat; cook for 5-7minutes, or until cooked through.
Serve with salad.
Notes
Photo credit: calamity_sal (http://www.flickr.com/photos/calamity_sal/)
Ultimate Paleo Guide http://ultimatepaleoguide.com/
The Paleo Cookbook was put together by the PaleoHacks team along with the PaleoHacks community of hundreds of normal paleo eaters like you and me, who know that, sometimes, twenty minutes is all you have. Though these recipes don't come with photos, the Paleo Hacks team has made sure that these recipes are accessible to the most inexperienced and talentless cooks amongst us, so that even we can move past eggs and bacon.
Think you don't have the time or the skill to serve desserts more exciting than a fruit salad? Think again. What could be simpler than mixing ingredients in a bowl, and putting it into the oven for half an hour? And yet, that would give you these delicious Cinnamon Raisin Cookies:
Cinnamon Raisin Cookies
2013-12-01 08:25:58
Serves 6
Ingredients
½ cup almond meal
3 tablespoons
freshly ground walnuts
1 tablespoon honey
1 tablespoon ground cinnamon
1 egg
1/16 teaspoon all spice
1/16 teaspoon nutmeg
2 tablespoons currants
⅓ cup raisins
Instructions
Preheat a fan-forced oven to 180 Celsius/350 Fahrenheit.
Place all ingredients in a bowl and mix well. On a baking tray lined with baking paper, firmly pack mixture down into a large square or rectangle shape.
Bake in the oven for 20-30 minutes or until well browned and cooked.
Cool before cutting into individual servings.
Notes
Photo credit: Vegan Feast Catering (http://www.flickr.com/photos/veganfeast/)
Ultimate Paleo Guide http://ultimatepaleoguide.com/
If you know you want to make the paleo diet work for you, but you're worried you don't have the time or creativity to stick with it, The Paleo Cookbook could be the difference between a healthy future and an early grave. Usually priced at $167, it's currently up for grabs at just $37, and comes with $135 worth of bonus gifts:
The PaleoHacks 30-Day Jumpstart
The Paleo Food Guide
Eating Paleo at Restaurants
The Paleo 4x Cookbook
One Month Paleo Meal Plan
If you're struggling to stick to the way of eating that you know is best for your body, you simply can't afford to miss out on these guides. The cookbook alone contains enough recipes to keep even the most demanding family satisfied, but add in the other guides, and it'd be pretty darn difficult to slip up! Grab your copy here, and who knows what delicious meal you could be eating in a matter of minutes.
The Paleo Cookbook – get your copy here.