What is Bentonite Clay?
Clay is a substance that occurs naturally in nature, made up of soil or rock particles. Before we cover bentonite clay, let's explore what clay is and what it is used for.
There are a wide range of different clays. They can be formed from materials ranging from glacial debris to ceramic, shales, and mudstones. Each type of clay contains clay minerals, or hydrous aluminium phyllosilicates. This compound usually contains other essential minerals, for example iron or magnesium. (Source)
The majority of clays are formed by a process known as weathering. The natural components that make up clay are broken down through exposure to the elements.
When clay is dry, it is coherent – meaning it sticks together. When wet, it will be soft and malleable.
Humans have been using clay for centuries. It is one of the most used naturally occurring earth materials in the world, and has a variety of uses.
As a mixture of soils, clays foster plant growth wherever they occur. They retain water as well as air, and contain vital chemical elements such as nitrogen.
Clay Throughout History
Clay is one of the earliest known building components. Tiles and bricks were crafted from clay.
Pottery crafted by ancient civilizations has survived hundreds or thousands of years as historical relics.
Certain clays have properties that are beneficial for specific uses. For example, China clay, also known as kaolin can serve as a paper filler and coating.
The clay gives paper treated with it a glossy sheen. Other types of clays are used as dam sealants, in rubber compounding, etc. (Source)
Bentonite Clay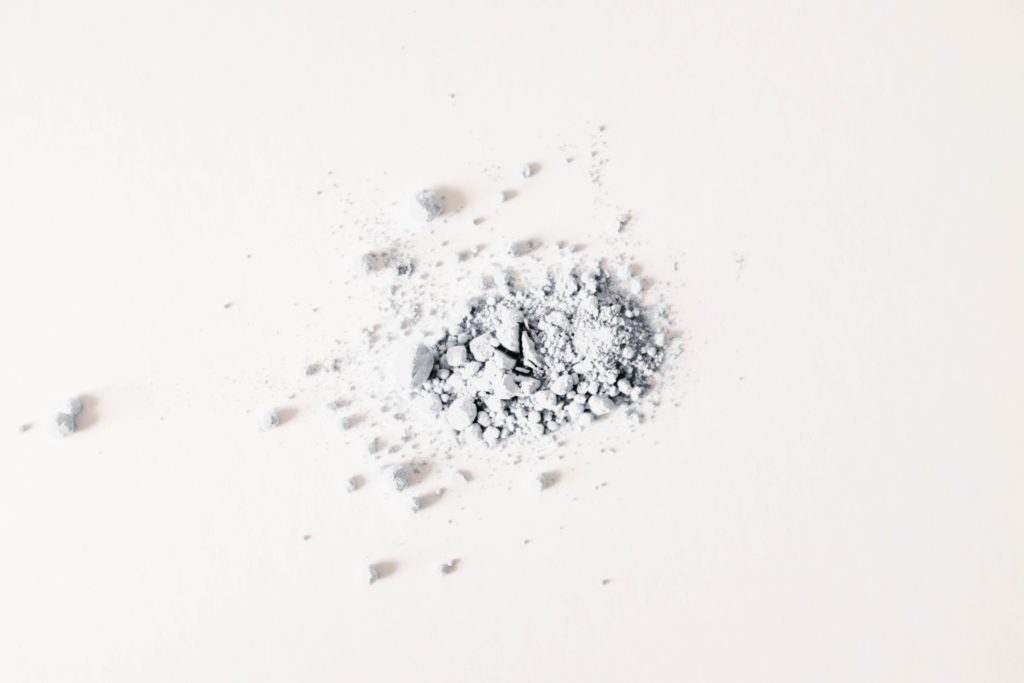 Bentonite clay is formed from the glass particles found within volcanic ash. This clay is found in rocks deposited from approximately 488 to 2.6 million years ago.
The name "bentonite" was derived from Fort Benton, the city near which it was discovered in the United States.
Bentonite is primarily composed of smectite clay minerals. Smectite contains magnesium, iron, and sodium or calcium.
This clay can be classified depending on whether it contains either calcium or sodium. Each has different capabilities.
Sodium bentonite is capable of absorbing significant amounts of water. This type of clay can swell to much larger than their original size.
This variation of bentonite is used in multiple industries. Sodium bentonite can act as cements, concretes, paints, pharmaceuticals and more. (Source)
Calcium bentonite can be broken down into fine grains known as fuller's earth. This form of bentonite has the unique ability of absorbing impurities from oils, fats and grease. (Source)
Both types of bentonite clay are also commonly used for health and beauty purposes. Clays including bentonite have a lengthy history in traditional medicine.
Skin wounds and external infections were healed with soothing clay. The smectites, contained in bentonite have antibacterial properties. (Source)
Health Benefits of Bentonite Clay
Detoxification
Bentonite clay has a range of health benefits, mainly due to its detoxifying abilities. It can is capable of attracting substances that are toxic.
The average person is exposed to all sorts of toxins. Cleaning supplies, paint, and other frequently used products all exude toxins.
Eating a diet that is high in processed and artificial foods also increases your toxin exposure. People living in polluted areas breathe in harmful fumes on a daily basis.
Benzene, lead, mercury and cadmium can be found in all the aforementioned items and environments. These are known as heavy metal toxins, and are far from healthy.
Cadmium in particular can damage the livers and kidneys of fish. Bentonite has been shown to reduce cadmium cytotoxicity in Nile tilapia, a popularly consumed fish.(Source)
Bentonite clay promotes the expulsion of these types of toxins from your body. It also acts as an antibacterial agent against dangerous pathogens, such as E. coli. (Source)
Remedy for GI Conditions
This clay also has also been used as a remedy for gastrointestinal conditions.  Eating bentonite can alleviate diarrhea caused by a range of illnesses, from food poisoning to viruses.
Irritable Bowel Syndrome (IBS) is common illness that causes abdominal pain and other unpleasant gastric symptoms.
Bentonite clay reduced constipation and diarrhea in IBS patients when taken regularly. This beneficial substance may help your body absorb essential nutrients.
Reduce Symptoms of Hyperthyroidism
Animal studies have revealed bentonite has the potential to reduce the symptoms of hyperthyroidism.
It lowers the amount of thyroxine in the blood, a hormone that is found to excess in patients with the condition.
Skin Issues
The healing clay can decrease the time it takes for a wound to clot and begin to heal. It promotes the healing of ulcers and lesions on the skin.
It is able to kill off bacteria on your skin's surface, lowering your chances of infection if you are wounded. The clay also has soothing properties.
Cream containing bentonite can improve dermatitis, also known as eczema. A variety of skin conditions can be improved with bentonite, from diaper rash in infants to allergic reactions. (Source)
How to Use Bentonite Clay
Bentonite clay has numerous health benefits. It can be applied externally or consumed, depending on what effects you desire.
The clay should appear cream or gray colored without an odor or taste. If it is white or has a smell, it has likely gone bad – avoid it!
You can apply bentonite clay to your face as a mask. The clay will bind to any toxins on your skin's surface, removing them when you wash off the mask.
Simply apply the clay liberally to your face and allow it to set for at least 20 minutes. Once you are finished, rinse the clay off with warm water.
If you are aiming to reduce the amount of toxins in your body or improve gut health, you can eat bentonite clay instead.
Add between half to one teaspoon of bentonite clay to plain water. Shake or stir the mixture until the clay is entirely dissolved and drink it immediately.
Use bentonite clay to reduce irritation from a rash, small scrape or bug bite. Apply the clay directly on the affected area and allow it to sit for two hours then wipe off.
Note that it is not advisable to ingest too much bentonite clay as it will expand in your body once eaten.
Pregnant women and young children should not consume bentonite clay products containing any traces of heavy metals. (Source)
You Might Be Interested In These Other Articles:
Download Your FREE Paleo Starter Kit Today!
3-Day Paleo Diet Meal Plan
Comprehensive Paleo Diet Shopping List
5 of Our Favorite Paleo Diet Recipes