Welcome to another edition of our Mailbag posts! This series focuses on questions that are frequently asked by the UPG community. Have a lingering question? Ask it here and we might feature you in future posts!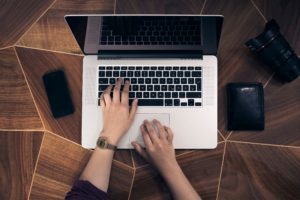 If you're looking for personal guidance, sign up for Paleo Meal Plans today and receive access to our Paleo Nutritionist.
You can also see other mailbag questions here.
"I have anxiety. I've heard Paleo can help with this. Is it true?"
Anxiety is an incredibly complex topic and many factors play into the development and continuation of this condition. It would be false to claim that Paleo will help everyone struggling with anxiety in every single situation. Please always consult your doctor if you have questions or concerns about anxiety and mental health.
That being said, many people report that a Paleo diet does help lessen the symptoms of their anxiety. I'll give you a couple reasons why that may be true.
First, research shows that 90% of the body's mood-regulating hormone serotonin is made by microbes in your gut (1). Your diet greatly affects the health of your gut microbiome. A Paleo diet cuts out many of the foods that contributes to leaky gut and other gut health issues. It also advocates for the inclusion of many foods that promote healthy gut bacteria – like fermented foods and bone broth. If you keep your gut bacteria happy and healthy, it creates an environment for more serotonin to be created in the body.
It has also been found that anxiety disorders are connected to gluten intolerance (2). Many people are gluten intolerant without even knowing that they are suffering from it. Because Paleo removes gluten from the diet, this could explain why people report that their anxiety improves.
When people start eating a Paleo diet, they also start consuming an increased amount of healthy fats – especially omega 3's. These healthy fats are beneficial for many processes throughout the body, and research has shown that low EPA/DHA levels are associated with symptoms of anxiety (3).
Again, I cannot say it enough – diet is not a cure all for anxiety. But there is some evidence that explains why some people experience relief from their symptoms when switching to a Paleo diet.
"I'm allergic to almonds. What's a replacement for almond flour?"
There are all kinds of Paleo-friendly baking recipes available on the internet. Unfortunately, for someone with an almond allergy, most of these recipes contain almond flour. What's the best thing to do?
There's no simple answer here. The first suggestion would to be avoid recipes that include this type of flour. Instead, searching for recipes that use a different type of flour, like coconut, might be your safest option.
That being said, if you would like to try to substitute coconut flour in a recipe that calls for almond flour, I would not recommend a 1:1 ratio. Both of these flours are great for grain-free baking, but they have individual characteristics.
Compared to almond flour, coconut flour absorbs much more liquid. Many people suggest substituting 1 cup of almond flour with ½ cup coconut flour as well as adding 1 egg for every ¼ cup of coconut flour used (in addition to the number of eggs already called for in the recipe.) Adding more liquid may also be needed, but it depends upon the individual recipe. It is best to stick to the original amount of liquid recommended and then add more in one teaspoon at a time until you reach your desired consistency. This will take some experimenting and practice, but it can be done!
"What are the approved liquids to drink?"
We get this question A LOT. Quite simply, water should be your go-to drink. Many people don't drink nearly as much water as their body requires. A very general recommendation is that a person should drink ½ ounce of water for every pound of body weight. If you weigh 180 pounds, you should aim for 90 ounces of water per day. If you are more active, you should aim closer for ⅔ ounce of water per pound of body weight.
You can spice up your water by adding fresh fruit and herbs for fun infused flavors. Coffee (in moderation) and herbal teas are Paleo-friendly choices as well. Fruit and vegetable juices are fair game as long as no added sugars or other fillers are included. Coconut water and kombucha are both considered Paleo. In a very general sense, drinks that should be avoided include sport drinks, sodas (regular and diet), milk, sweetened teas or juices, and alcohol.
A good rule of thumb is that if a beverage has an ingredient label, read it thoroughly. If it's longer than five ingredients and contains substances you can't pronounce, you probably shouldn't drink it.
Also, be sure to check out our recipe archive for Paleo-friendly drinks!
Sources:
Download Your FREE Paleo Starter Kit Today!
3-Day Paleo Diet Meal Plan
Comprehensive Paleo Diet Shopping List
5 of Our Favorite Paleo Diet Recipes