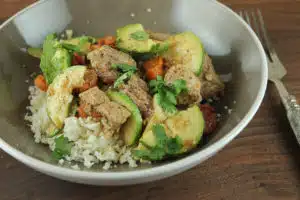 One easy way to take your dinners up a notch is to branch outside of your norm. For theh people that consistently eat chicken breasts and ground beef, lamb is a great way to do this.
This stir-fry, loaded down with lamb, warming spices, spring vegetables, and fresh herbs, makes such a delicious combination. Eat on its own or place the stir fry over riced cauliflower for a nutrient-dense meal.
If you've never bought lamb before, here are a few tips. As with all meat, we recommend choosing organic and 100% grass-fed. If possible, it's always a good idea to talk to your butcher, grocer, or local farmer to ask specifically about the meat. Because of labeling laws, terms such as "all natural" or even just "grass-fed" does not necessarily mean that the animal was raised on grass 100% of the time. Ethically and sustainably raised meat is usually easiest to find from local providers – whether it be a grocery store, farmer's market or farm. To find small local farms in your area, you can use www.eatwild.com.
Buying 100% grass-fed lamb is important because the meat you eat will be much more nutrient-dense compared to conventionally raised animals. Specifically, grass-fed lamb has been found to be more rich in omega 3 fatty acids. Many people who eat the standard American diet are not getting close to enough omega 3s, so grass-fed lamb would be an easy way to boost intake. Omega 3's have been shown to decrease inflammation in the body as well as lower the risk of heart disease.
And we can't forget about other vital micronutrients. Outside of these important omega 3 fatty acids, lamb is also rich in vitamin B12, B3, and zinc.
Tender lamb is a spring staple, and when paired with the best vegetables of the season, it's a satisfying meal. You'll definitely want to include this recipe in your dinner rotation!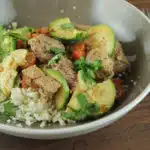 Spring Lamb Stir Fry
Ingredients
3

tablespoons

Coconut oil

1

pound

boneless lamb

cubed

2

cloves

garlic

minced

1

teaspoon

fresh ginger

2

Zucchini

sliced

1

large carrot

sliced

1

teaspoon

Ground coriander

1

teaspoon

Ground cumin

Juice of 1 lime

fresh chopped cilantro

Cauliflower rice

for serving

Sea salt and fresh ground pepper

to taste
Instructions
Heat the coconut oil in a large skillet. Add the lamb and cook until browned. Remove from pan and add the garlic, ginger, zucchini, and carrots. Cook until softened. Add the coriander, cumin, and lime juice, and add the lamb back to the pan.

Continue cooking until lamb is done. Serve topped with the cilantro and with cauliflower rice.
Download Your FREE Paleo Starter Kit Today!
3-Day Paleo Diet Meal Plan
Comprehensive Paleo Diet Shopping List
5 of Our Favorite Paleo Diet Recipes