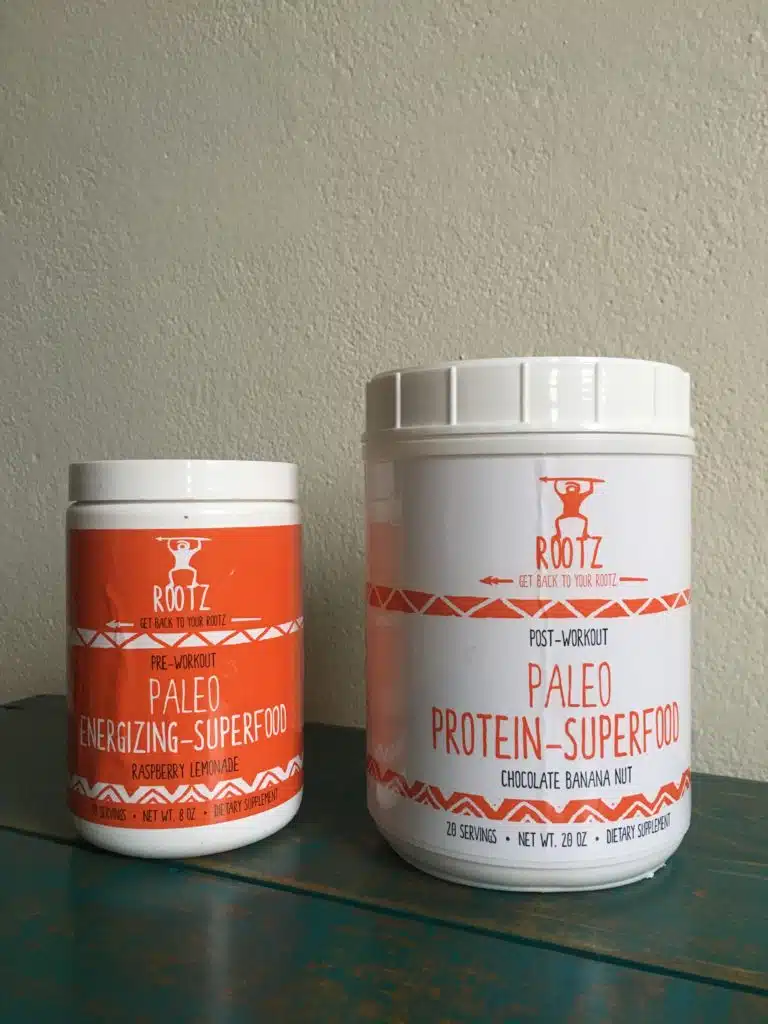 One of the most frequently asked questions we get at Ultimate Paleo Guide is about protein powders. And for good reason. There are about a million products on the market. And, if I'm being brutally honest, most of them aren't that great (ok, they're pretty awful) from a nutrition standpoint.
Many protein powders or workout supplements in general are highly processed, usually loaded down with artificial sweeteners, and are not regulated by the FDA (which means that manufacturers don't need approval before selling their product). Not to mention, the most popular protein powders are whey-based. Whey is a protein derived from cow's milk, so according to Paleo standards, it doesn't have a place in the Paleo diet. Side note: some people still choose to consume grass-fed whey protein…but that's a whole other article for a different time.
As more people eliminate dairy from their diet, a number of dairy-free (even strictly Paleo!) alternatives to whey protein powders are popping onto the market. One of these brands is Rootz. A company that prides itself on offering products made from real, wholesome ingredients, Rootz was founded on the idea that supplements can be both effective AND healthy.
We only want to recommend brands that we know and trust, and that's why we were pumped when Rootz reached out to us. We were able to try both of their options – a pre-workout Paleo Energizing Superfood Raspberry Lemonade blend and a post-workout Paleo Protein Superfood Chocolate Banana Nut flavor.
Nutrient Dense!
Without a doubt, the best characteristic of these supplements is the quality of ingredients used.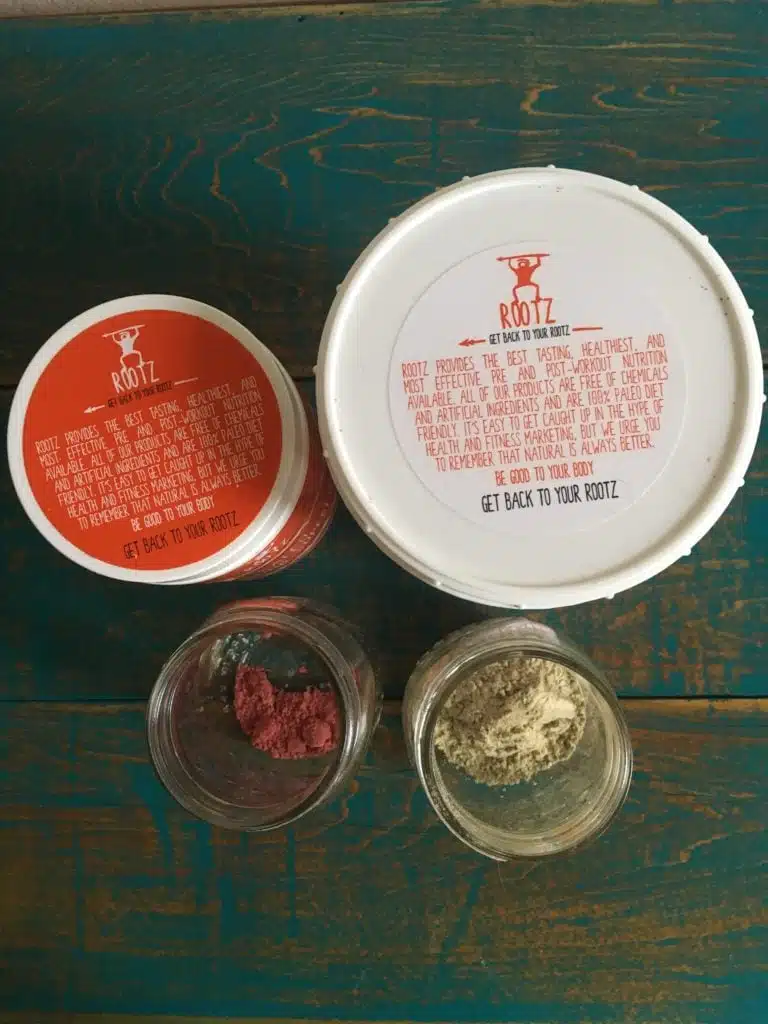 The pre-workout powder boasts an impressive array of "superfoods" developed for sustained energy and essential nutrients vital for optimal performance. There's turmeric and ginger (to help fight inflammation), goji berry, acai, bee pollen, and royal jelly (basically THE epitome of superfoods), and yerba mate extract and guarana (for energy) – just to name a few. You would be hard-pressed to find another pre-workout supplement that has an ingredient list of that caliber.
The protein powder is derived from three separate protein sources – egg whites, hemp, and sacha inchi (a seed with a distinct taste that hails from South America and Southeast Asia). The combination of these three protein sources gives the powder a complete amino acid profile which is important for recovery and muscle building.
The powder also includes many superfoods – royal jelly, goji berry, bee pollen, chia and flax seeds. It doesn't stop there though. There's also broccoli, kale, spinach, spirulina, coconut, banana. To top it all off, it's sweetened with stevia.
With an ingredient list like that, it's basically like you're taking a multivitamin every time you use it. In a world of protein powders and pre-workout supplements that are commonly filled with junk, that's pretty dang cool.
Let's Not Forget About The Taste
I'm not going to try to sugar-coat this (ha…ha…ha)…both blends have a VERY earthy taste. It took me a bit by surprise on the first sip. With all of the artificially-sweetened supplements that you find on the market today, I'd guess that many people may have the same reaction.
Rootz recommends mixing the protein powder with almond milk (which I did not do the first time), so that helps sweeten the drink a bit. It definitely has a distinct aftertaste, though, so if you're not into that, this product may not be for you.
The pre-workout supplement delivers on the promise of sustained energy throughout your workout. Compared to other pre-workouts, the energy rush feels natural – in other words, no jitters or shakes, which I appreciate.
Compared to other powders, it doesn't blend up well. I used both a shaker bottle (for the protein and pre-workout) and made a green smoothie with the protein using a blender, and both times the powder didn't incorporate thoroughly. I found that it can help a bit to shake it before each sip. Even then, though, it still has a gritty
consistency. Again, if you can't tolerate that, this may not be for you.
I like that Rootz offers a lot of whole food, delicious recipes for their protein powder on their blog. I made the Protein Shake Cookies developed by The Castaway Kitchen, and I miiiight have eaten them all in one night.
If the taste or grittiness of a shake is too much for your tastebuds, I'd highly recommend trying one of the recipes they feature. It's a great way to get in some post-workout protein and carbs plus all of those awesome superfood nutrients as well.
Price
Both products cost $54.99 each + shipping. The tub of protein yields 20 servings of 14 grams of protein. The pre-workout has 30 servings included.
Compared to other brands, this can admittedly seem pretty pricy. Even compared to other Paleo-friendly protein powders – like PaleoPro – it is quite a bit more. But, to be fair, these brands don't include superfood ingredients like goji berries, royal jelly, or bee pollen.
Considering the ingredients and the incredible nutrient-density of both products, I'd say the price is fair.
To be honest, it would be difficult to find another product like this one on the market. If you're looking for a supplement that is all about the quality of ingredients, this is it. You'll have to pay a bit more, and the taste and texture could be considered a downfall…but if you're looking for a supplement that has health at the forefront of its mission, Rootz is worth checking out.
Download Your FREE Paleo Starter Kit Today!
3-Day Paleo Diet Meal Plan
Comprehensive Paleo Diet Shopping List
5 of Our Favorite Paleo Diet Recipes