The Quick Answer
Potatoes are not paleo but sweet potatoes are.
Why Potatoes Are Not Paleo
There is a lot of confusion in the paleo world as to why there is not one overarching rule when it comes to starchy vegetable tubers.
Tubers are a family of vegetables that grow under the ground. Some well known tubers are potatoes, carrots, radishes, and beets.
Some of these vegetables are considered paleo, while others are not. Most followers of the paleo diet stick to the rule that sweet potatoes are paleo but that white potatoes are not. Many do also eat other starchy tubers. So, what's wrong with the white potato?
Let's start from the top.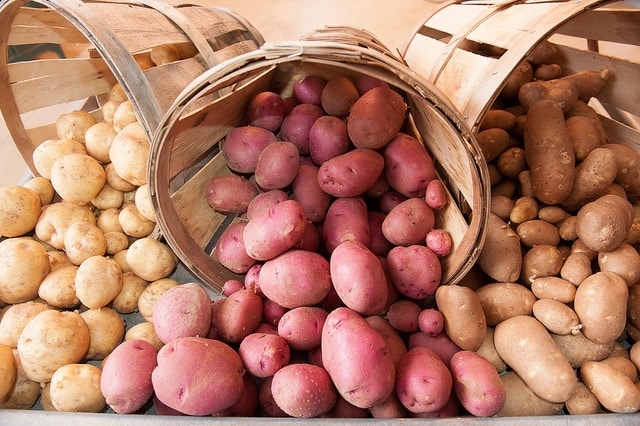 What Makes A Food Paleo Rather Than Non-Paleo
In a nutshell, paleo is all about eating only those foods that people living the pre-agricultural age could have eaten. Paleo-approved foods are therefore not processed, or packaged, and some are not even cooked.
Paleo-approved foods tends to have the following characteristics in common:
High in protein
Low in carbohydrates
Low score on the glycemic index
High in fiber
Moderate to high in fat intake (mostly monounsaturated and polyunsaturated fats)
High in potassium and low in sodium
Net dietary alkaline load that balances dietary acid
High in vitamins, minerals, antioxidants, and plant phytochemicals
Why Do Potatoes Not Pass The Paleo Test?
You may have read through that list and thought, "Hmm, I'm not sure potatoes are considered low-carb. I don't think they're very low on the glycemic index."
Well, you would be correct!
While the white potato is a natural food that could have existed when cavemen were alive, its nutritional offering isn't all that great. Essentially, it provides lots of starchy carbs and not much protein, fiber, healthy fats, or other vitamins and minerals.
The best fruits and vegetables to eat are the non-starchy ones. These should make up the bulk of your carbohydrate intake and 35-45% of your daily calorie intake.
Almost all paleo vegetables are low on the glycemic index, which means that the sugar they contain is absorbed into your blood stream more slowly than the sugar in other vegetables. This means you won't have a sudden surge in your blood sugar levels.
Essentially, white potatoes aren't paleo because they're starchy vegetables and have a high glycemic index.
On top of that, most potatoes are consumed in highly processed forms (think French fries, chips, and mashed potato). They also contain a natural toxin called saponin. Researchers haven't studied saponin all that much, but it is thought that is causes digestion issues such as nausea, vomiting, and diarrhea for some people.
Why There's Confusion
Many paleo followers can be found munching on sweet potatoes, which raises the question, "are sweet potatoes better for your health than white potatoes?"
To sum up the difference between the two varieties, sweet potatoes contain more vitamin A than white potatoes but, otherwise, the two types provide similar quantity of calories, fat, carbs, and other vitamins and minerals.
Potatoes are a good source of complex carbohydrates (which provide the body with energy), fiber, potassium, vitamin C, and magnesium. There is also some evidence that white potatoes contain compounds called phytochemicals, which are thought to be helpful in preventing blood pressure problems and heart disease. Some people do therefore eat potatoes on the paleo diet.
Potatoes Are Not Paleo
To sum up, potatoes are not paleo. However, there is some debate about how strictly this rule should be followed.
So, if you go against the paleo grain here and there and are okay with eating starchy vegetables, potatoes may work for you. But if you're one to stick to the rules, make sure you avoid white potatoes!
How To Know What Is And Isn't Paleo
Check out is Paleo.io, the mobile app that answers the question, "is __ paleo?". Paleo.io comes with the most comprehensive paleo diet food list out there, so no matter which food you're confused about, you'll always be able to find out whether or not it's paleo.
Photo credit: United Soybean Board
Download Your FREE Paleo Starter Kit Today!
3-Day Paleo Diet Meal Plan
Comprehensive Paleo Diet Shopping List
5 of Our Favorite Paleo Diet Recipes