Pique Tea – Our Thoughts
This is a blog post on tea. And I feel like I need to go ahead and get this off my chest…I've never quite considered myself a "tea" person. I like it well enough – but if I go to a coffee shop, 99% of the time I order coffee. And my shelves at home aren't filled with endless varieties of teas. It's just never something that I got really into.
Ok, now that I got that off my chest – and you understand my (somewhat) ambivalent nature towards tea – I'm excited to tell you that I've found a brand that might convert me.
The company is Pique Tea and they're throwing a curveball in the traditional tea game. I've always been a fan of brands that push the envelope. And Pique definitely falls into that category.
Who is Pique Tea?
Pique was founded by Simon Cheng who used his own health journey to make this product. His journey took him to Asia where he discovered Cha Gao – a tea paste. This paste has been used by the native people as a medicine and healing food for generations.
Tea, in loose leaf form, is the traditional way of preparing tea. When brewed this way, the tea tastes better and has more active components. But, unfortunately – in our fast-paced world – most of us don't have the time (or, let's be honest, the patience) to brew tea in this way.
This is how Pique came to be. Simon, realizing the healing potential of tea, set out to capture the health benefits and delicious taste of loose leaf tea in a format that was more accessible in our westernized world.
And what he ended up with was tea crystals. These tea crystals are made by a method called cold brew crystallization which allows the antioxidant potential naturally found in tea leaves to stay at its peak.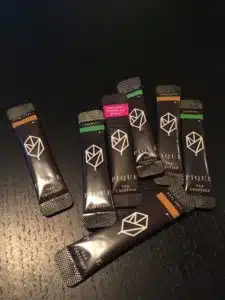 Like I told you at the beginning of this post, I'm not a tea person. But that's a tad bit unfortunate because tea has some amazing health benefits.
Even though I love coffee, I can't deny that sometimes it can leave me feeling pretty jittery. Like that heart-racing, palms-sweaty kind of feeling.
Tea has been proven to provide a much more sustained source of energy without the jitters. This is because the caffeine found in tea is bound to antioxidants – which the body has to work harder to breakdown. So what results is a time-released source of energy instead of that straight shot. Coffee is also considered to have a bigger depressing effect which means that your crash when that caffeine wears off will be more noticeable than it would with tea.
Speaking of antioxidants – white and green teas are chock full of them. And these powerful substances are more absorbable when consumed from tea.
Antioxidants are essential for keeping our body healthy and functioning properly. Antioxidants help fight off free radicals in our body – groups of atoms that cause damage to our cells and can contribute to disease and aging. Antioxidants also help keep our immune system strong and help decrease inflammation – the root cause of many chronic diseases today.
Coffee is also known to cause digestive distress, but tea has the ability to make digestion easier and decrease negative digestive effects like gas and bloating.
Research has also shown that green tea may have cognitive enhancement potential. A study of 1,000+ Japanese people found that a higher consumption of green tea was linked to a lower prevalence of cognitive impairment.
It's pretty hard to argue against tea with benefits like that.
But outside of all of the health benefits, I like Pique Tea because it is easy to incorporate into everyday life. The tea crystals come in little packets that can be poured directly into a water bottle or mug. They are incredibly easy to throw into your backpack or purse so keeping them on hand at all times is totally doable.
Once the crystals touch water, they dissolve almost instantly. And suddenly, you have a healing delicious tonic right in front of you – ready to be sipped and enjoyed.
Pique Tea is Paleo
And for all of us Paleo followers reading this, great news. Pique Tea has been officially certified as "Paleo-friendly" by the Paleo Foundation. This means that there's no sketchy ingredients or added sweeteners in this tea.
I had the chance to try four different teas – jasmine, earl grey, hibiscus mint, and mint sencha. My favorite was the hibiscus mint (it does include stevia – just fyi), but I really loved all of them. It made incorporating tea into my daily routine super easy.
There are a whole variety of different bundle options as well as individual packages of specific teas.
If you want to try out Pique for yourself, they've created a discount code just for our readers. Use ULTIMATE to receive up to 30% off on any one of their amazing bundles!
Happy tea-sipping!
Download Your FREE Paleo Starter Kit Today!
3-Day Paleo Diet Meal Plan
Comprehensive Paleo Diet Shopping List
5 of Our Favorite Paleo Diet Recipes