Welcome to another edition of our Mailbag posts! This series focuses on questions that are frequently asked by the UPG community. Have a lingering question? Ask it here and we might feature you in future posts!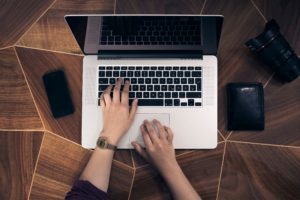 If you're looking for personal guidance, sign up for Paleo Meal Plans today and receive access to weekly meal plans, recipes, shopping lists, and our Paleo Nutritionist.
You can also see other mailbag questions here.
"What exactly is kombucha? Am I allowed to drink it on the Paleo diet?"
Kombucha seems to be popping up everywhere nowadays. As with most health trends, what goes around comes back around and kombucha is no different.
Kombucha is a fermented tea that is said to have been consumed as early as 221 BC in China where it was referred to as "The Tea of Immortality." The drink consists of water, sugar, caffeinated tea, and a SCOBY.
What the heck is a SCOBY?
The SCOBY is where kombucha gets its health benefits. SCOBY stands for symbiotic colony of bacteria and yeast. Basically, the SCOBY is a cellulose mat where bacteria and yeast live together. Here, they ferment the tea from the sugar and the caffeine.
Once the tea has fermented, the final product often contains high levels of probiotics. Probiotics are incredibly beneficial for our gut microbiome. Having a healthy gut microbiome thanks to the consumption of probiotic foods helps:
Protect the digestive tract
Improve digestion by producing enzymes
Increase absorption of vitamins and minerals
Prevent candida overgrowth
When the bacteria and yeast eat the sugar, beneficial components like glucuronic acid, gluconic acid, butyric acid, ascorbic acid, and B vitamins are also produced.
Despite this tea being around for thousands of years, kombucha consumption and the resulting benefits aren't well-researched. There's a ton of anecdotal benefits of consuming kombucha including potential benefits for detoxification, antioxidant potential, and immune support.
So, is kombucha considered Paleo?
Many people may argue that because kombucha contains sugar (for the SCOBY to consume) that it shouldn't fall under this category. I think we have to look at the potential benefits of the drink though.
A healthy gut microbiome is essential to good health, and the probiotics found in kombucha definitely help promote this. Therefore, we believe kombucha has a place in a well-balanced Paleo diet.
"My biggest problem is grocery shopping. Do you have any tips?"
There are a lot of ways to stay successful on the Paleo diet. Knowing how to shop at the store is one of them.
Have a plan
For a painless stop at the grocery store, the first thing you'll want to do is have a plan. Meal planning is essential for keeping you on track through the week (especially busy ones), so the night before you grocery shop, sit down and plan out your meals for the week. We've written up some of our favorite meal planning tips here, so be sure to check that out before you dive into your plan.
Make a list
After you've planned your meals, go through and write a list of all the ingredients you'll need for the meals you've chosen. You can even separate the items out by location in the store. For example, list all produce items together; all bulk items together; etc. Bring this list with you to the store for an easy shopping trip. No more aimless aisle wandering for you!
Shop the perimeter
Remember to shop the perimeter of the store. This is normally where the healthiest, freshest foods are kept – like the fruit, vegetables, and fresh meats. Also, try to avoid the parts of the store where your kryptonite foods are kept – those foods that you just can't say no to. Maybe it's the bakery or the candy aisle. Don't make it harder on yourself than it has to be, and stay away from these areas completely.
Technology!
Be sure you have the paleo.io app handy on your smartphone. This will help you determine what foods are Paleo-friendly if you ever stumble upon one of those confusing foods.
Keep it seasonal
Another tip is to keep your recipes seasonal. Seasonal fruits and vegetables will taste better, they'll be loaded down with important micronutrients, and they're usually cheaper because they can be abundantly found. Don't be afraid to buy in bulk and freeze it for later use!
Stick to the Dirty Dozen/Clean Fifteen
One last tip – when it comes to buying organic, it can be overwhelming and expensive. Try to stick to the Dirty Dozen/Clean Fifteen list released by the EGW each year. They lay out the 12 "dirtiest" fruits and vegetables – the ones most susceptible to pesticides – that you should try to always buy organic. The Clean Fifteen are those produce items that you are safest to buy conventionally. Sticking to this list should cut down on your decision fatigue as well as your grocery bill!
"Is hummus allowed on the Paleo diet?"
Because hummus has a reputation of being a health food, we receive many questions about it falling with the Paleo guidelines. Traditional hummus, made from chickpeas (also known as garbanzo beans), are not considered Paleo.
Chickpeas fall within the legume family. We have written exhaustively about why legumes are not considered Paleo-friendly. Basically, while they do have some beneficial qualities, they also are packed full of anti-nutrients like phytates and lectins. You can read all about our thoughts on legumes here.
For all the hummus lovers out there, you won't be disappointed for long! There are many Paleo-friendly hummus recipes that will still give you your fill of creamy mediterranean goodness.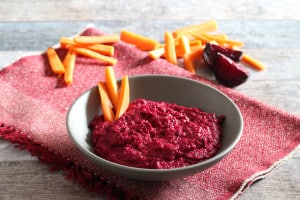 This recipe utilizes the rich and savory flavor of beets, combined with tahini and lemon, and zucchini for texture purposes for a delightful hummus replacement. Serve with your favorite cut up veggies for a satisfying snack.
Zucchini has a great texture for hummus, and when its mild flavor is combined with zingy lemon and flavorful parsley and dill, it really takes it up a notch. Use it as a dip, spread it on meat, or just eat it plain. It's THAT good.
We love this recipe from our friends at Paleo Leap. Using the Paleo staple sweet potato, tahini, and a dash of cayenne, this creamy dip will please even the pickiest Paleo eaters.
Garlic Red Pepper Cauliflower Hummus
Cauliflower also makes an excellent replacement for chickpeas. This recipe from Our Fifth House pairs cauliflower with almond butter, garlic, and red pepper flakes for a delicious dip. Not sure if cauliflower and almond butter make a good combo? Try it and you'll be pleasantly surprised!
Download Your FREE Paleo Starter Kit Today!
3-Day Paleo Diet Meal Plan
Comprehensive Paleo Diet Shopping List
5 of Our Favorite Paleo Diet Recipes