Hearing the word Roasted Chicken is very salivating inducing, how much more if mixed with Lemon and Thyme?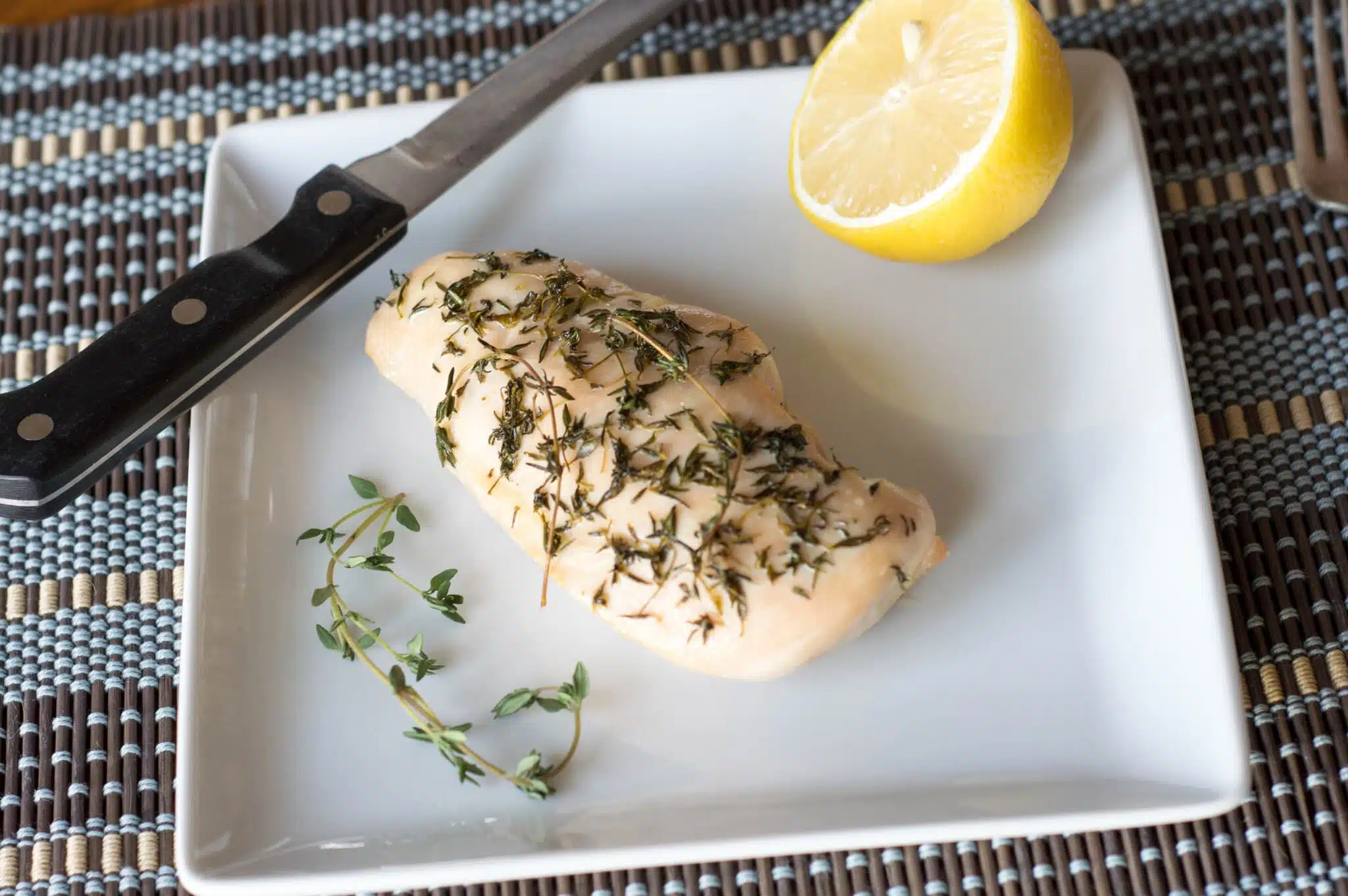 Lemon Thyme Roasted Chicken Breasts is a very good choice when you're undertaking a Paleo Diet plan. It is a protein-rich, savoury, and stimulating dish everybody will surely enjoy.
Chicken meat is a very good source of the nutrient for the muscles – protein. This makes Lemon Thyme Roasted Chicken Breasts, a cuisine that is a mix of that tasty lemony and chicken flavour, a full pack of yummy meal that's good for eating during lunch when into a Paleo Diet.
Lemon, a good source of Vitamin C, completes the meal by bringing the anti-disease vitamin to the body with the chicken's protein. Thyme, an ingredient that for some is just a spice, also possesses blood pressure lowering properties, boosts immunity and mood which makes it a very healthy factor for the Lemon and Thyme Chicken menu.
The ingredients that also belong to the dish are olive oil, salt and pepper. These ingredients are not just for making the dish tasty, but also for a very healthy overall food that will be taken.
Paleo Diet strengthens the philosophy and mind-set of eating foods that are taken by our ancestors during the Palaeolithic period, so any modernized and processed food are off the list. With a chicken – that is around since time beyond memory, lemons, thyme, salt, olive oil, and pepper, we are assured of a successful Paleo Diet when this dish is on our list.
In conclusion, Lemon Thyme Chicken is a great food. With its ingredients following what is the Paleo Diet is directing, it is assured that you will be quenched with an appropriate and great meal.
This is a simple and delicious recipe for a weeknight dinner. You could even marinate the chicken ahead and just pop it in the oven for dinner. The lemon adds a tang that is mouth-watering and marries well with the thyme.
Lemon and Thyme Roasted Chicken Breast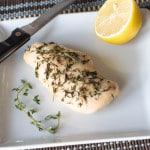 Lemon and Thyme Roasted Chicken Breast
Ingredients
2

Boneless and skinless chicken breasts

1

Lemon

6-7

Sprigs of thyme

(stems discarded)

1

tbsp

olive oil

(plus more for drizzling)

Salt and pepper

(to taste)
Instructions
Place the chicken in a sealable container or zip top bag. Squeeze the lemon over the chicken.

Add the thyme and olive oil. Toss to coat and season with salt. Set aside in the refrigerator for at least 30 minutes up to 8 hours.

Preheat the oven to 350 degrees F.

Place the chicken in a baking dish and drizzle with additional olive oil.

Bake in preheated oven for 30 minutes or until chicken is cooked.

Pepper to taste.
Nutrition Facts
Lemon and Thyme Roasted Chicken Breast
Amount Per Serving
Calories 66
Calories from Fat 63
% Daily Value*
Fat 7g11%
* Percent Daily Values are based on a 2000 calorie diet.
Download Your FREE Paleo Starter Kit Today!
3-Day Paleo Diet Meal Plan
Comprehensive Paleo Diet Shopping List
5 of Our Favorite Paleo Diet Recipes