UPG Reviews: Keto Brownie
If you've been to your local grocery store lately, you may have noticed just how many protein bars or healthy snacks are available to purchase. Not only can the sheer number of options be overwhelming, but it can also be hard to know which ones are worth your money.
Our series of product reviews here on UPG helps you wade through all the noise.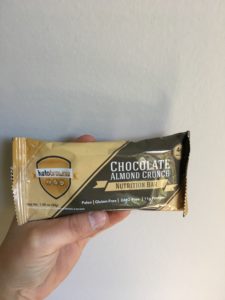 We were recently able to get our hands on a few samples of a new product – KetoBrownie.
What is Keto Brownie?
Keto Brownie was created by Nick who, like any successful entrepreneur, noticed that a product he wanted wasn't available to him. When he realized there weren't many great ketogenic-friendly snacks available, he set out to make his own.
Keto Brownie is a high-fat, moderate protein, low carbohydrate brownie bar aimed to help ketogenic followers on track. Along with having great macros for ketogenic followers, it's also considered Paleo, certified gluten free, non-GMO, and organic.
Keto Brownie Ingredients
First things first – what's the ingredients list look like? When I try any new food product, that's the first thing I do. The Keto Brownie checks out nicely. It's made up of:
Almond Butter
Non-GMO Soluble Tapioca Fiber
Water
Grass Fed Whey Protein Concentrate
Almonds
100% Cacao Chocolate Chips
Cacao Powder
Sunflower Lecithin
Natural Brownie Flavoring
Sea Salt
Coconut Oil
Stevia
Pretty dang solid.
It's worth noting that these bars do use whey protein concentrate – so if you can't handle dairy, these may not be for you. (Confused about the role of whey protein and the Paleo diet? Read this article.)
Let's talk about what's NOT in these brownie bars. You won't find any sugar alcohols – at all. That's a pretty huge advantage because most of your standard protein bars are loaded down with sugar alcohols – whether it be in the form of xylitol, erythritol, sorbitol, or maltitol.
While some make the argument that sugar alcohols are much better for the body than sugar, they are also known to cause a lot of digestive distress like gas and bloating. This is because sugar alcohols cannot be digested by the body. They get shuttled off to the large intestine where your gut bacteria becomes responsible for breaking them down.
For people with IBS or FODMAP sensitivity, sugar alcohols should be avoided when possible. Luckily, these Keto Brownies are sugar alcohol free!
Our Thoughts on the Keto Brownie
We tried a couple of the Chocolate Almond Crunch bars. The bars are incredibly dense which I personally like because it leaves me feeling satisfied. While I'm not following a strict keto diet, I do appreciate that these would easily fit the macros for any of our readers out there who do subscribe to that lifestyle.
The flavor is definitely bittersweet – which isn't a huge issue for me. If you're looking for a bar on the sweeter end of the spectrum, though, these may not suit your tastes.
The added crunch of the almonds in the bar is great for the sake of texture. I ended up warming mine up before eating it, and it got melty and delicious. I ate it for dessert and it calmed my sweet tooth.
My sisters, who are neither Keto or Paleo, tried the brownie out as well. They thought it was decent for a "healthy" brownie, but they both admitted that they probably wouldn't choose to eat it on their own.
Keto Brownie Price
The price point for these brownie bars is high in my opinion. For $37.99, you can order a box of 12 bars. That comes out to just over $3.00/bar. You don't yet have the option to order these bars a la carte, so it's a dozen or nothing.
If you're a strict Keto follower and are looking for a quick snack option, these bars just might do it for you. As for me, though, I'll probably stick to making my own snack bars at home or my tried and true favorite – RX Bars.
[color-box color="blue"]Want to try Keto Brownie? Use this link and order your own box now! [/color-box]
Download Your FREE Paleo Starter Kit Today!
3-Day Paleo Diet Meal Plan
Comprehensive Paleo Diet Shopping List
5 of Our Favorite Paleo Diet Recipes