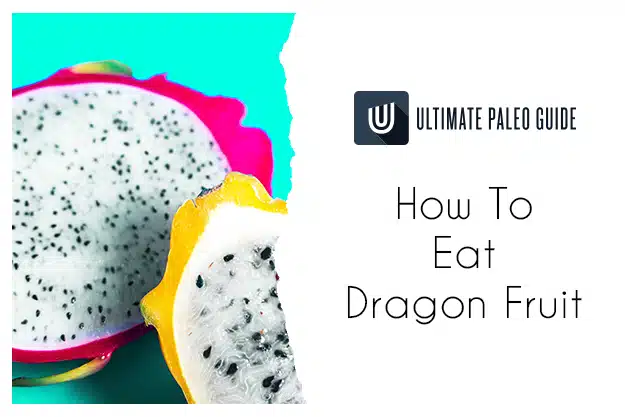 Dragon fruit can look intimidating if you've never handled one in its natural form before. You may also be curious about what ways you can indulge yourself in the flavorful fruit.
This article is all about how to eat dragon fruit. That includes scrumptious recipes as well as how to identify and select prime candidates for your consumption. Plus, we delve into the nutritional perks—spoiler alert, there are quite a few.
How to eat dragon fruit:
Buy ripe ones only.
Cut it up and eat it raw.
Use it in a smoothie.
Try sorbet.
What Is Dragon Fruit?
Admit it—you must be at least a little interested in the origins of this odd-looking fruit.
The scientific name for them is Hylocereus undatus, and the plant from which they grow hails from the Cactaceae—or cactus—family.
Native to South and Central American regions, H. undatus species exist in a veritable rainbow of colors.
The imposing outer "scales" can come in a vivid pinkish-red, yellow, or magenta. The flesh inside can be white or a deep red or pink.
What Does Dragon Fruit Taste Like?
Is this your first attempt to eat dragon fruit? If you're expecting a flavor as bold as it's scaly exterior, you might be surprised.
The tender flesh is usually described as akin to a kiwi. You can watch Dr. Oz and Rachel Ray try to explain it in this video:
Choosing Dragon Fruit
Before we tackle how to eat dragon fruit, let's discuss how to choose one. You don't want to select one or more at random only to discover they are mushy or rotten.
Without further ado, let's get to it. Look for the following attributes while you're shopping:
Undamaged: Don't feel pity for beat-up produce. If there are missing scales or the fruit looks visibly deformed or bruised, give it a miss.
Even colored skin: The scales should all be the same color. If there are green patches of any size, even if only between the scales, it isn't quite ready for consumption.
Open scales: If the scales are tightly curled around the fruit, it's still—metaphorically—cooking.
Firm: You want firmness, not yielding softness. An unpleasantly-squeezable fruit is almost undoubtedly over-ripe.
How Do You Know When Dragon Fruit Is Ripe?
Did you intentionally or inadvertently pick one or more pieces of under-ripe fruit? There's nothing to worry about, all you have to do is play the waiting game—and monitor carefully.
Fortunately, determining ripeness is straightforward here. You don't need to fondle them or guess what's going on inside—inspection is all visual. All you want is an even-color and open scales, as we discussed above.
This video sums up our pointers and will be practical for those of you fortunate enough to have access to H. undatus plants:
Can You Eat Raw Dragon Fruit?
If you're wary of the striking, seeded flesh—we don't blame you. First-timers often wonder if it's ok to eat dragon fruit raw or whether it needs cooking.
Yes, everything inside the scaled skin is edible as it is. Remember, the skin is exclusively protective—like an orange or banana, toss it away.
How to Eat Dragon Fruit
You know the origins and taste of this flamboyant fruit, and you've faced the produce aisle with confidence. It's time to get to the much-anticipated heart of the matter—the feasting.
How to Cut Dragon Fruit
You're ready to prepare or eat dragon fruit, but unsure how to get through the formidable scales.
Do you peel them off? Perhaps there's a secret trick to getting the flesh to fall off the skin?
It's much easier than you think. Grab a well-sharpened knife and your cutting board, and get to work:
If you want to be cautious, wash the fruit with plain water or water and salt.
Cut the edges off at either end of the fruit. You'll know you've gone far enough when you don't see any more of the stem in the flesh.
Slice lengthwise or vertically, in a straight line, from one newly-exposed end to the other.
Peel the skin off—it shouldn't put up a fight if the fruit is ripe. If you're having trouble, use a standard tablespoon to scoop the flesh out.
That's it! Enjoy the flesh as it is, dice it up in cubes or any other way you see fit for the sake of presentation.
If you're still feeling a little uncertain, don't despair. This video demonstrates every step:
Dragon Fruit Option 1 – Smoothies
You didn't think we'd only detail one way to eat dragon fruit, did you? Like almost any other fruit or veggie, you can mix it up into your favorite smoothies.
Since it has a tropical flavor, you may want to pair it with other sweet fruits—for instance, watermelons or strawberries.
Dragon Fruit Option 2 – Sorbet
Are you craving for a dessert that won't mess up your diet, or want an impressive sweet course for health-conscious guests?
Give this dragon fruit sorbet recipe a try:
Separate skin from the flesh, as we detailed in the section above.
Toss the pieces into your blender, and add a dollop of condensed milk. The more you add, the sweeter and thicker it'll be.
Blend up your sorbet mix until it's smooth.
Pour it into a freezer-safe container. Next, freeze until it's hard, for at least four to five hours.
This video shows you how:
Nutritional Benefits of Dragon Fruit
You may rapidly find yourself with an addiction to the tropical-tasting flesh. If that's the case, you'll want to know exactly what you're getting with each bite nutrient-wise.
One whole fruit of roughly 198 grams has a mere 61 calories in it. Of those calories, only 4.7 are from fat.
Low-carb and keto dieters may want to eat it in moderation: one fruit contains 15 grams of carbohydrates, nine of which are sugar.
That same single serving offers 154 percent of your daily Vitamin C allowance.
Another perk of making this your go-to snack? These fruits are full of health-boosting antioxidants.
Studies have shown they may also have the potential to lower blood sugar for diabetics and pre-diabetics. In animal trials, extract from the sweet flesh successfully minimized oxidative stress (the state that causes damage in your body).
Now Go Eat Some Dragon Fruit!
To sum it up, dragon fruit is simple to prepare, healthy, and delightful to eat. You'll get used to peeling and dicing this exotic fruit faster than you expect—enjoy it and add some color to your life!
If you liked this post, check out these others:
Download Your FREE Paleo Starter Kit Today!
3-Day Paleo Diet Meal Plan
Comprehensive Paleo Diet Shopping List
5 of Our Favorite Paleo Diet Recipes