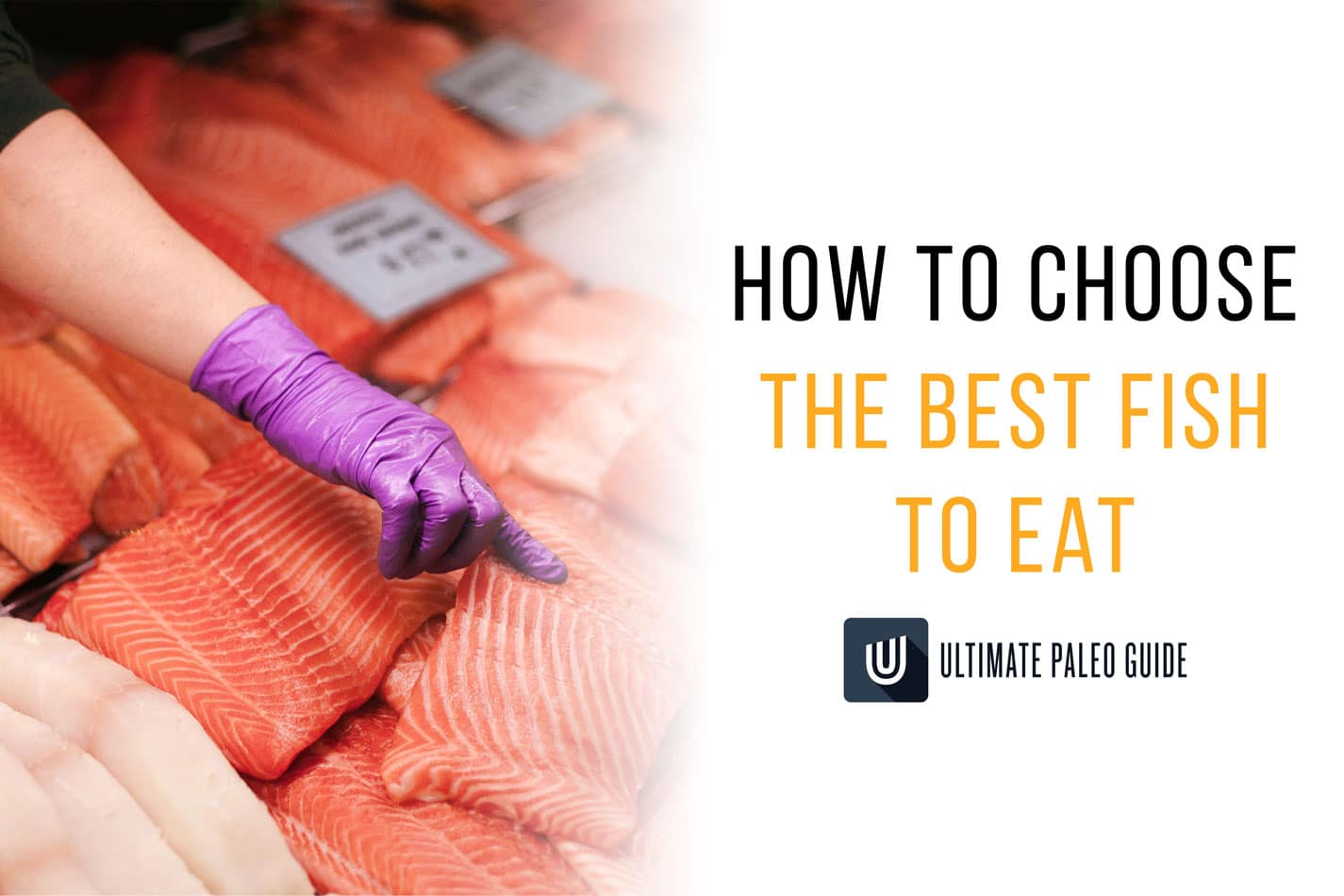 There are so many species and variations of fish out there; it can be a little overwhelming.
We're here to help you with how to choose the best fish to eat.
We detail all the factors you should look at while you shop, and discuss the top 10 healthiest fish to pick.
How to choose the best fish to eat:
Top 10 fish for health.
How to choose fresh fish.
Fresh vs. canned fish.
Mercury content.
What to Consider when Choosing the Best Fish to Eat
We'll give you a few pointers to keep in mind both before and after you head to the grocery store.
This includes the demystifying mercury warnings and explaining how to impress your local fishmongers by selecting a fresh specimen.
Understanding Mercury Content
Unfortunately, all residents of the sea contain mercury in varying amounts. The substance isn't dangerous in trace quantities—but it can be harmful in excess.
The US Food and Drug Administration (FDA) classes fish according to mercury content as either Best Choice, Good Choice, or Choice to Avoid.
Most of the seafood we eat falls into the Best or Good classes. The species and families to watch out for include:
King Mackerel.
Marlin.
Orange roughy.
Tilefish.
Big-eye Tuna.
Swordfish.
Shark.
Don't worry; we didn't include any species from the latter category—and we added disclaimers to two of our picks.
How Much Fish to Eat?
According to the FDA, healthy adults should aim for two to three seafood meals per week—each serving should be the size of the palm of your hand. If you opt for Good Choice fish, you should limit your servings to once a week.
Pregnant or breastfeeding mothers should stick to only Best Choice—meaning low mercury—seafood. The optimal consumption for current and future moms is eight to 12 ounces.
You should also be aware that fattier, oilier fish aren't necessarily bad for you unless you're watching your fat intake. These healthful compounds are linked to a lower risk of heart diseases.
Fresh vs. Canned
If you're wary of opting for a can of Tuna or Sardines, you shouldn't be. Most common canned fish doesn't fall under the dreaded high-mercury list compiled by the FDA.
Something else in favor of canned seafood is a greater concentration of helpful compounds. It may surprise you to learn that canned fish are nutritionally richer than fresh alternatives.
Another advantage is that preparation is easier: no de-boning or filleting necessary. If you're not quite ready to chop heads and tails off or get cooking, opt for cans.
However, for some, nothing can compare to a fresh fish or filet that you prepare on your own. It's a matter of personal preference—and level of skill in the kitchen—more than anything else.
We do warn you to be vigilant if your meal is courtesy of a fish-catching friend or family member. Make sure you check your local fish advisory to find out if there are any contaminated species on the list.
It's a necessary precaution, as non-commercial, private catches aren't regulated or processed.
What You're Preparing
On that note, you should have an idea of what you're going to be making before you pick a fish. Browse recipes online first to find one that's appealing and manageable for your skill level.
Bear in mind that if you buy fresh fish to eat, it won't last forever in your fridge. You should aim to cook it as quickly as possible to get the most out of your purchase.
How to Choose Fresh Fish
Is this your first time shopping for fresh fish, or you want to brush up on your skills? Check out this video featuring master chef Gordon Ramsay to find out how to buy them fresh:
It isn't too tricky to identify a quality individual. Attributes to look out for in your soon-to-be meal are:
Bright eyes.
Shiny scales—no sign of flaking or bruising.
Faint smell—a fishy stench means it's not fresh.
Fresh red meat underneath the gills.
Whole-bodied—it shouldn't be missing fins or pieces.
Best Fish to Eat for Health
Let's start by discussing the top 10 fish to eat for your health. We don't play favorites—we organized them alphabetically.
1. Cod
This white fish separates into delicious flakes when cooked. One 116-gram fillet of Pacific Cod contains a whopping 20 grams of protein—nearly half your daily value.
Other micronutrients in notable quantities include selenium (60 percent of your daily value), vitamin B6 (23 percent), and phosphorus (20 percent). Plus, it's only 95 calories—an ideal choice if you're watching your weight.
Try our almond-crusted Cod recipe, or this delectable crunchy batter if you want something more classic.
2. Flounder
You may be familiar with Flounder from the Little Mermaid, but it's also a tasty fish with a mild flavor and firm flesh. Bake it up, fry it, or try making this curry recipe.
If you desire healthy fatty acids, a 162-gram fillet includes 1.9 grams of fat; 412 mg of which are omega-3s.
You'll also get over 70 percent of your daily selenium dose. Other minerals and vitamins in Flounder worth mentioning are B12, niacin, phosphorus, and potassium.
3. Herring
Herring is another fatty fish: a 28-ounce serving has 2.5 grams of fat, almost 500 mg of which are beneficial omega-3s.
That same serving is a mere 44 calories with 5 grams of protein. It's one of the rare foodstuffs packed with vital vitamin D: 115 percent of your daily value.
This fish has a fairly aggressive flavor. Snack on smoked or pickled Herring if you want a powerful hit or taste, or pan-fry fresh fillets.
4. Mahi-Mahi
This gigantic creature grows up to 88 pounds and is also commonly known as the dolphin fish.
It's protein-packed, with a 159-gram filet containing nearly 40 grams of the essential nutrient. Out of 173 calories, the majority—160 calories—consists of protein.
You'll also ingest 106 percent of your daily selenium dose, and 59 percent of vitamin B3, or niacin.
Mahi-Mahi has a sweetish taste and medium-firm flesh. Check out this simple oven recipe.
5. Mackerel (Except King Mackerel)
King Mackerel is on the FDA's list of fish to avoid, so we suggest going with Atlantic or another type, such as Chub Mackerel.
One 88-gram portion of Atlantic Mackerel, cooked, delivers high quantities of fat and protein. You also receive 279 percent of vitamin B12 for the day, and 65 percent of selenium.
You'll get sizable doses (from 20 to 25 percent) of magnesium, phosphorus, vitamin B6, and riboflavin, or vitamin B12.
This fish has a strong, distinct flavor that can turn foul if it isn't promptly prepared when fresh. There are lots of ways to enjoy it—try oven-baking.
6. Salmon
Salmon has an abundance of health-boosting nutrients. Whether you eat raw salmon as sashimi, sushi or cooked, its nutritional properties are similar.
Out of 367 calories in a 178-gram filet of farmed Atlantic Salmon, 198 calories and 168 calories come from fat and protein, respectively.
That portion has over 30 percent of your daily doses of B-vitamins thiamin, niacin, B6, and B12.
There are many ways to indulge in this flavorsome fish. Try our simple Salmon kale salad, or grill it up with zucchini instead.
7. Sardines
Canned Sardines have a strong taste you either love or hate—when fresh, they're far milder. If you enjoy them, give our pesto-stuffed sardines a try.
One 149-gram can of Sardines with the oil drained is a nutrient-rich snack. You'll get 73 percent of your protein for the day, and 11 percent of good saturated fat. That'll also complete your vitamin D intake for the day—101 percent.
8. Tilapia
Mild-tasting Tilapia is ideal if you want to avoid cholesterol. One serving of 100 grams is 128 calories, with only 2.7 grams of fat.
Nonetheless, you'll still benefit from roughly 26 grams of protein—52 percent of what you need per day.
Other helpful micronutrients include selenium, and trace amounts of vitamins B12, niacin, phosphorus, and potassium.
Here's a fried Tilapia recipe that's easy enough.
9. Trout
The Trout family includes multiple species we love to eat. The fish is flaky and mild, with lots of saturated fat and protein while being relatively low in calories.
One fillet of Rainbow Trout weighing 143 grams is 215 calories. Of those, around 33 grams are protein, and a little over eight grams are fat.
This serving is a great way to get your B12 in for the day: 150 percent worth, to be exact. Chow down on deep-fried Rainbow Trout for a yummy meal.
10. Tuna (Except Big-Eye Tuna)
As you might have guessed, Big-Eye Tuna is on the FDA's no-no list due to high mercury content. Other varieties are fine, whether canned or fresh.
A can of light Tuna weighing 165 grams is 191 calories. It's protein-rich and includes over 80 percent of your daily doses of micronutrients B12, niacin, and selenium.
A 142-gram Tuna steak has a similar calorie count: 184 calories per serving. An impressive 96 percent of the energy in this food comes from protein.
If you have a few spare cans, try our delectable Tuna burgers.
If you liked this article, check out these others:
Can You Microwave a Sweet Potato?
Download Your FREE Paleo Starter Kit Today!
3-Day Paleo Diet Meal Plan
Comprehensive Paleo Diet Shopping List
5 of Our Favorite Paleo Diet Recipes