If you're looking for a substitute for pasta in your life, zucchini noodles is the answer. When prepared correctly, they are perfect for marinara sauce, noodle salads, or even soups. This is the most interesting part of being in the Paleo diet – you are never left out. So, let's learn how to prepare this, shall we?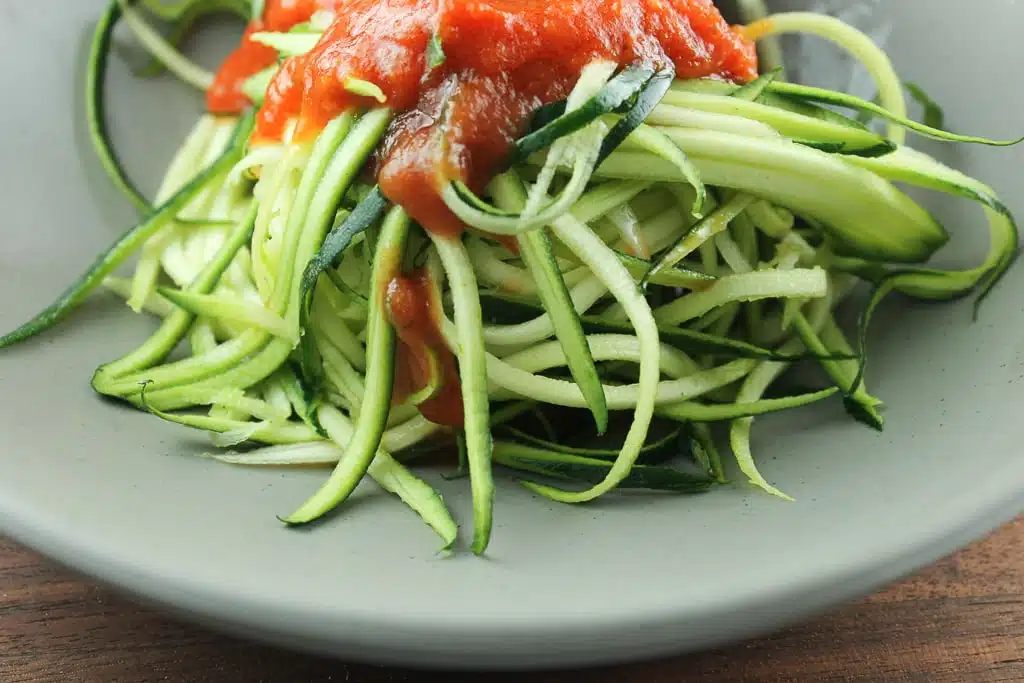 Making the Palaeo Zucchini Noodles is a heck of easy! Just gather these ingredients – Zucchini, kosher salt, and olive oil. That is it! That is all you're gonna need to make this pasta alternative.
Speaking of the idea of "Pasta alternative", in the paleo diet, pastas and other forms of food that is high in carbs and calories is highly discouraged. That is why zucchini is the best thing to fill the gaps. Zucchini is super low in carbs which makes the perfect light side dish for a heavy meal: One cup of sliced zucchini has about 19 calories. You are perfectly safe. Safely eating and feeling the goodness of pasta while having a secured mind. Zucchini, also, has a good amount of potassium: 295 milligrams per cup, or 8% of your recommended daily consumption. According to the American Heart Association, potassium can help control blood pressure because it lessens the harmful effects of salt on your body. Studies suggest boosting your potassium intake (while also curbing sodium) can slash your stroke risk and may also lower your odds of developing heart disease. This is an amazing thing! That is why we need to swich to paleo diet. It's a super wise choice.
Together with the Zuchinni, you also has kosher salt and olive oil in the ingredient's list. Every cell in the human body is dependent on sodium for survival. It serves many functions in the body, including helping to carry nutrients into the cells. It also helps to keep minerals and calcium soluble in our blood, regulate muscle contractions, and plays a role in nerve stimulation. Kosher salt is very rich on sodium, so you're having a good one. Olive oil, also, offers you the strength to become less susceptive to diabetes.
With all that said, you really have to learn to do this amazing cuisine! The more elaborated instruction is there below. Enjoy!
Paleo Zucchini Noodles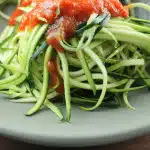 Easy Zucchini Noodles
Ingredients
2

Zucchini

(medium)

1

tsp

Kosher salt

1

tbsp

olive oil
Instructions
Cut the zucchinis into noodles using either a spiral slicer or julienne peeler. Lay them on a paper towel and sprinkle with the salt. Let stand for 10 minutes.

Squeeze the liquid from the noodles. Heat a skillet over medium heat and add the drained noodles to the pan. Cook for a minute or two, until warmed. Serve with your desired accompaniments.
Download Your FREE Paleo Starter Kit Today!
3-Day Paleo Diet Meal Plan
Comprehensive Paleo Diet Shopping List
5 of Our Favorite Paleo Diet Recipes