Making your favorite Chicken Salad in coconut crust.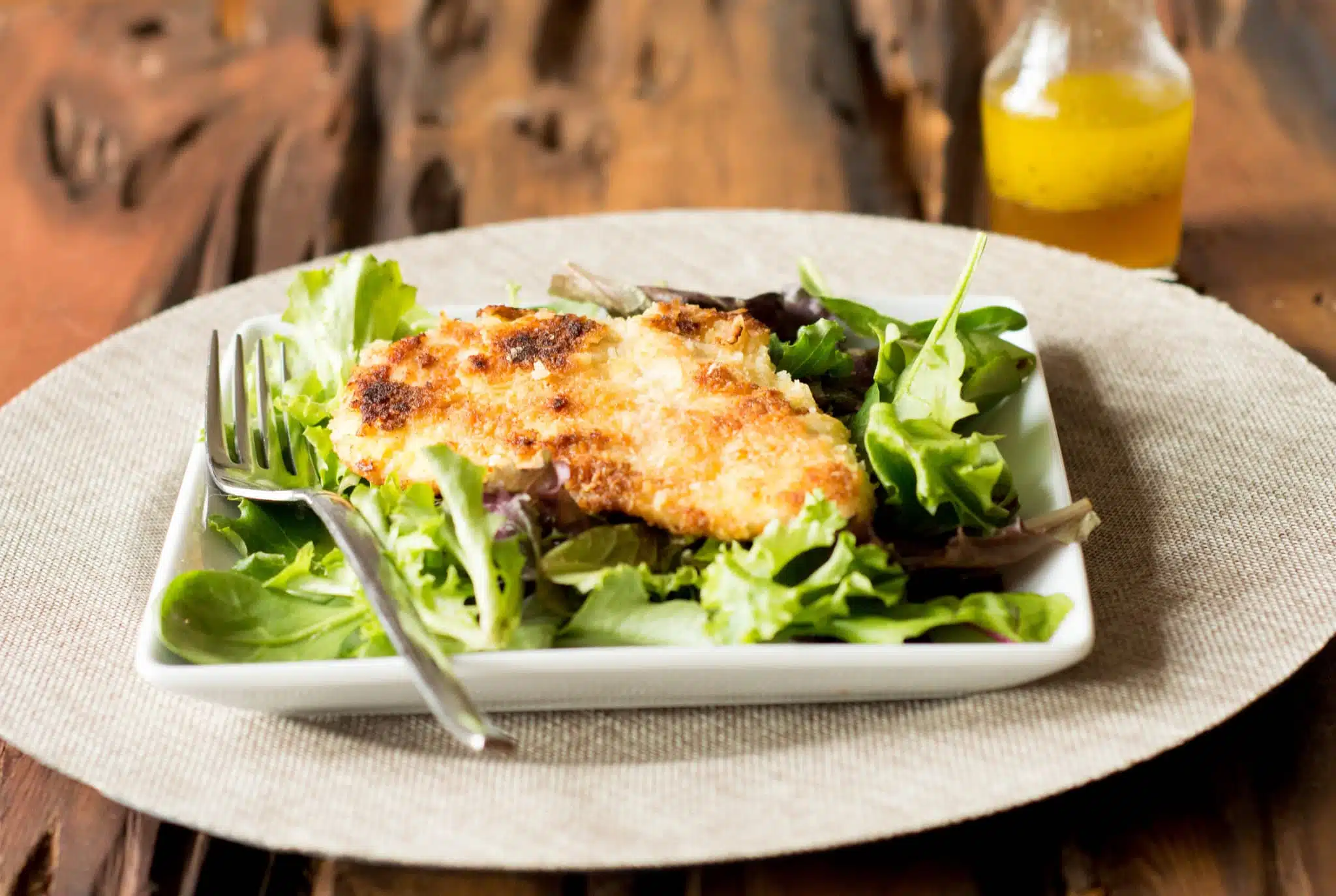 As healthy eaters, we are used to having lots of salad. And Chicken Salad is a favorite dish of almost everyone. It has a lot of variations from different style of cuisine such as European style, Asian style or American style. No matter what type of cuisine you used your chicken salad to be, everyone would still love the taste of how the chicken blends with the other ingredients you add in.
Typically, it is made with leftover or canned chicken. It may also be used for sandwiches. Chicken Salad is usually mixed with mayonnaise, hard-boiled egg, celery, onion, pepper, avocado, lettuce, tomato, pickles and a variety of mustards. But, when you decide to switch to a Paleo lifestyle, you sometimes feel like you eat more meat than vegetables. And if you are not on Paleo diet, you mostly feel like you are eating too much of something that you weren't suppose to consume too much of.
This Chicken Salad we have for you is one unique and crunchy recipe that everyone would surely love to munch without the feeling of guilt.
This recipe will take you back to the days of salad lunches and deliciously crispy chicken. The coconut is adds a nice crunch and offers a nice sweetness when paired with leafy greens and a tangy apple cider dressing. Enjoy!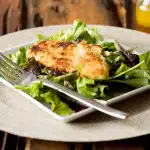 Coconut Crusted Chicken Salad
Ingredients
2

tbsp

Coconut flour

2

tbsp

Unsweetened flaked coconut

2

Chicken fillets

1

Egg

(beaten)

2

cups

Spring mix salad greens

3

tbsp

Apple cider vinegar

1

tsp

Honey

3

tbsp

olive oil

2

tbsp

Coconut oil

Salt and pepper

(to taste)
Instructions
Create a breading/dredging station with three plates or shallow bowls.

Add the coconut flour to one, the the egg to the second plate and the flaked coconut to the third.

Heat the coconut oil in a skillet over medium-high heat.

Dredge each chicken fillet in the coconut flour first, followed by the egg, coating each evenly. Then the flaked coconut. Be sure the fillet is coated well.

Place each fillet into the hot skillet. Cook on each side, about 5 minutes. Until the chicken is golden in color and cooked through.

Add the apple cider vinegar and honey to a bowl. Whisk to combine. Continue to whisk while drizzling in the olive oil until well combined and becomes creamy. Season with salt and pepper.

Place the spring mix in a mixing bowl. Drizzle the dressing over and toss to coat. Reserve ½ to serving.

Plate the spring mix evenly then serve the chicken on top. Serve with additional dressing on the side. Season with salt and pepper, to taste.
Nutrition Facts
Coconut Crusted Chicken Salad
Amount Per Serving
Calories 368
Calories from Fat 351
% Daily Value*
Fat 39g60%
Sodium 17mg1%
Potassium 1mg0%
Carbohydrates 11g4%
Protein 3g6%
Iron 0.4mg2%
* Percent Daily Values are based on a 2000 calorie diet.
Download Your FREE Paleo Starter Kit Today!
3-Day Paleo Diet Meal Plan
Comprehensive Paleo Diet Shopping List
5 of Our Favorite Paleo Diet Recipes