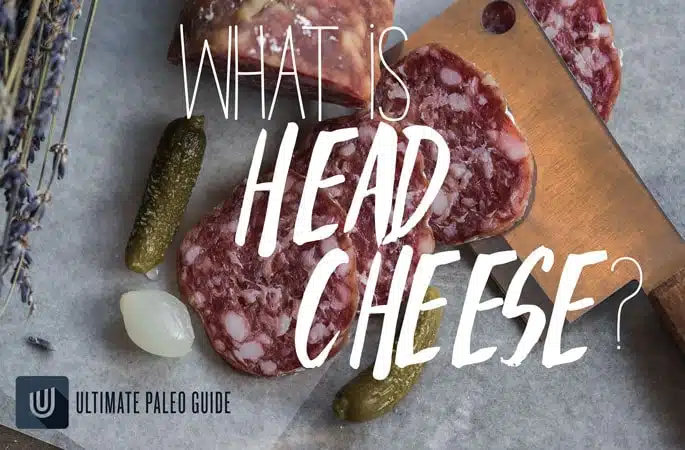 Head cheese might just be the most misleading name for a food ever. Let me go ahead and tell you that there is no cheese involved. Head cheese is in fact a delicacy dish and recipe made of meats and fats and it's suprisingly good!
In this article, we'll dive into what exactly is head cheese – how to make it, a foolproof recipe for head cheese and everything else you need to know.
Oh and if you were wondering – the "head" part of the name rings true, though – the use of that term comes from the fact that a whole pig's head is used to make this stuff.
What Is Head Cheese?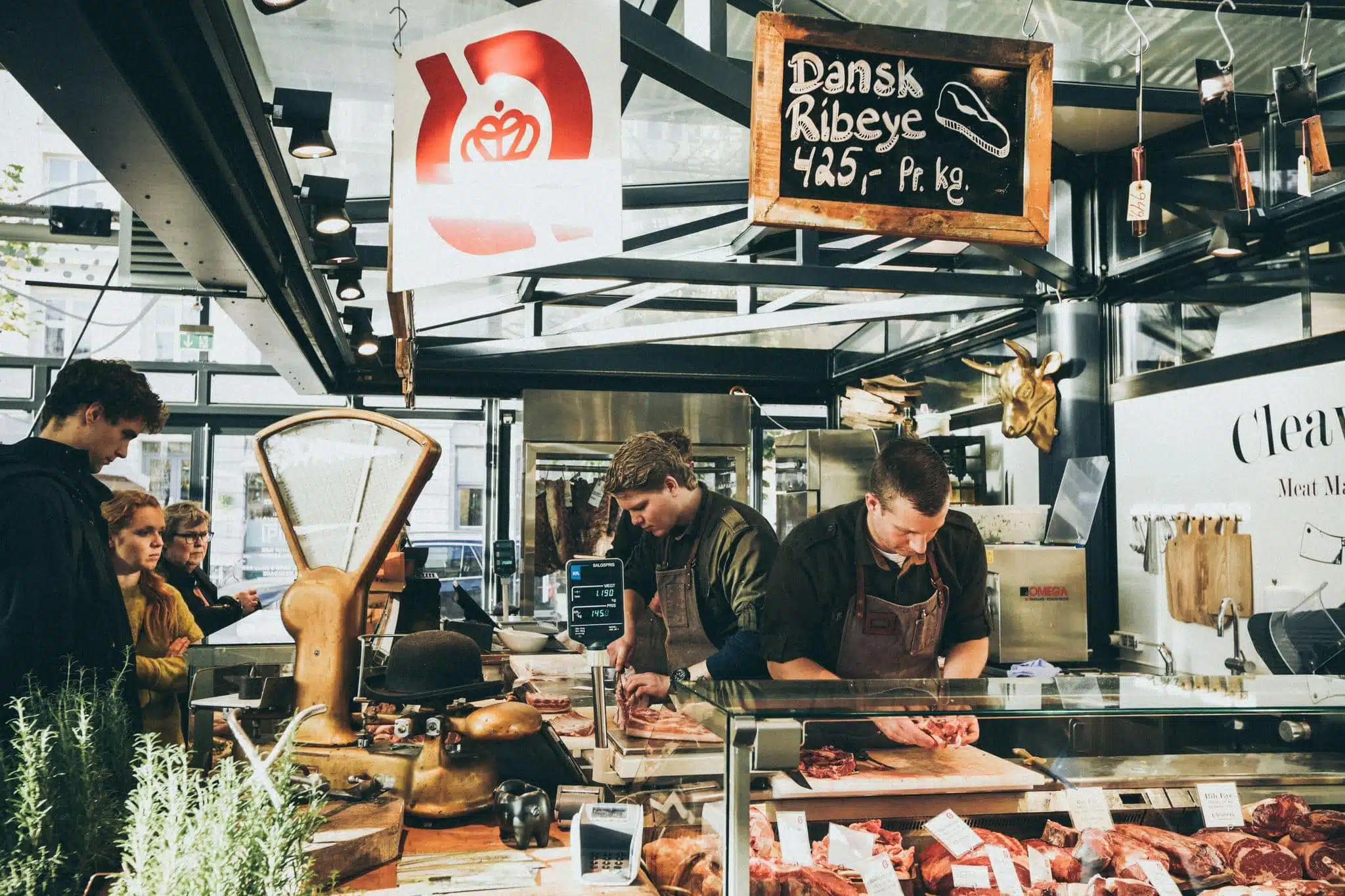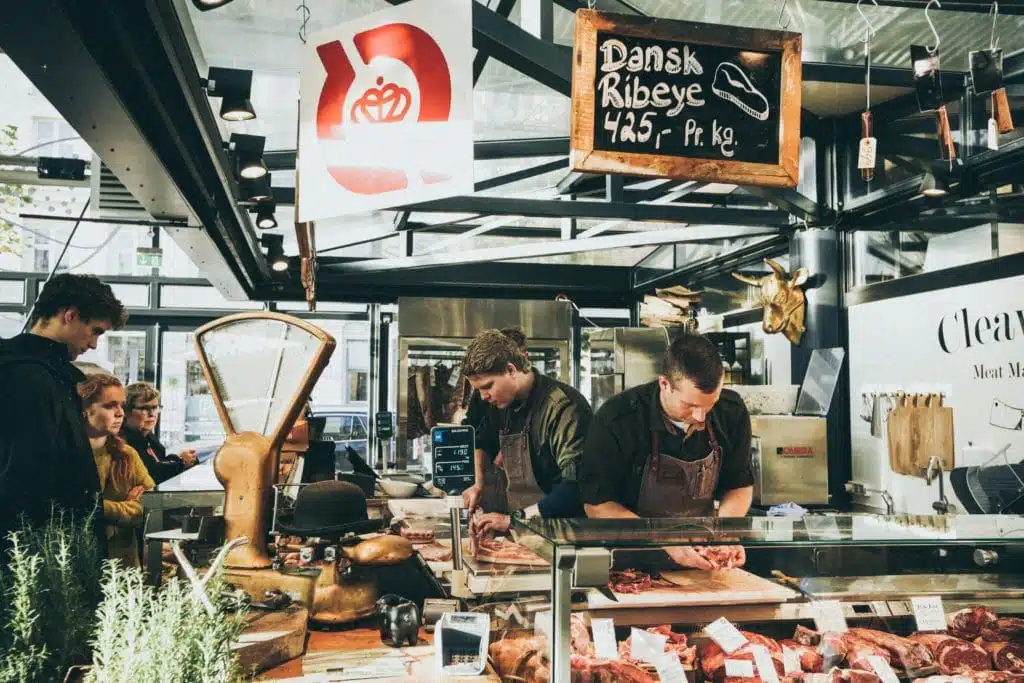 Traditionally, head cheese is a cold cut that comes from the meat of a pig's (or sometimes a calf's) head.
Nowadays, when pig's heads aren't so easy to come by, pig's feet are commonly used. Either way – that's where the name of the dish gets it's name.
This part of the pig houses collagen from the skin, joints, and tendons which lends to nourishing qualities and is enjoyed in places around the world.
What Is In Head Cheese?
While you can often be creative and make your own head cheese, there's a few common ingredients no matter what:
pigs feets or pigs head
salt and pepper
all spiece
vinegar
any other seasonings you like
additional collagen if you like
What Are The Benefits of Head Cheese?
Many people tout drinking bone broth for the healing properties – thanks in part to the collagen content. Head cheese can be beneficial in the same way.
Collagen is the main structural component of various connective tissues in the body including tendons, ligaments, hair, nails, organs, cartilage, and vasculature.
As our body ages, the collagen in these connective tissues decreases. Our bones weaken, muscles atrophy, and skin and joints can become drier, thinner, and weaker.
Consuming collagen-rich foods, like head cheese and bone broth, can help build healthier, stronger tissues. The collagen also helps the head cheese maintain its structure when it's cooled.
How To Make Head Cheese?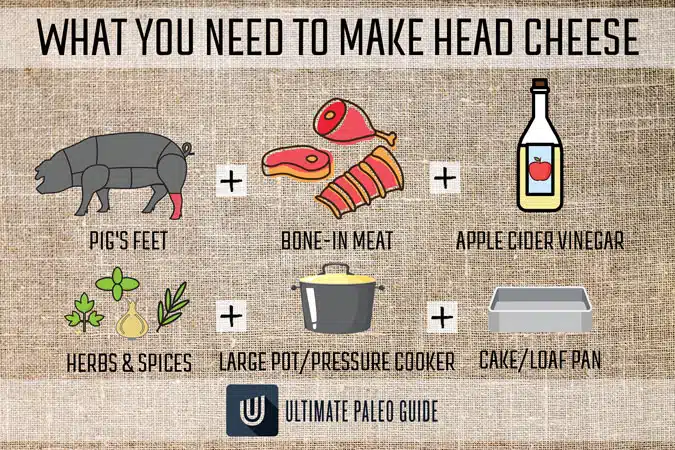 Mark Sisson, from Mark's Daily Apple, has a great tutorial on how to make your own head cheese.
To make it, you'll need:
Pig's feet (or a whole head if you're feeling adventurous)
Bone-in meat
Apple cider vinegar
Your choice of herbs and spices (commonly used spices include black pepper, onion, bay leaf, allspice, salt)
Pressure cooker or very large pot
9×13 cake pan, loaf pan, or terrine
Head Cheese Recipe
Here's a foolproof way to make head cheese. If you end up making it – let us know!
Wash the pigs feet (or head) and remove any dirt or residue on it.
Put the cuts of meat in a pressure cooker with seasonings (salt, pepper, and vinegar) and cover with cold water.
You can add any other spices you prefer to flavor with as well.
Cook in the pressure cooker for one hour or until tender. You can also cook in a normal pot for 3-4 hours, but check the tenderness of the meat to determine the right time for your tools.
Drain the liquids (save it in a jar) and separate out the solids.
Let the meat, bones, and fat on a board to cool and remove the bones. Then chop the meet up until it's fine. You can remove the fatty pieces if you like – but we recommend saving them for other cooking adventures later.
Seasons the meat again.
Mix with the broth again and pour into a cake pan (you can also pour it into smaller pans as well).
Cover the pan and let it firm up in fridge for 8+ hours.
After it's set for a while, you can scrape off any extra fats that are unwanted.
Once everything is cooled – cut the head cheese into slices and enjoy!
How To Eat Head Cheese
After it's made and sets up, you can cut the head cheese into squares and enjoy. Serve cold or at room temperature. Depending on how you choose to make it (whether you leave a lot of the meat in or take it out), the texture could be meaty or smooth like butter. Enjoy it like other charcuterie.
Be sure to download the paleo.io app – the #1 Paleo diet app – so you always know what's Paleo.
Other Names for Head Cheese Around The World
As a delicacy, head cheese is known by different names around the world:
Austria: Presswurst
Bulgaria: Pacha
Croatia: Hladetina
Czaech Republic: Sulc
Denmark, Norway, Sweeden: Sylte
Estonia: Sult
France: Fromage de tete
Germany: Zulze
Greece: Pichti
Hungary: disznosajt
Iceland: Svioasulta
Ireland: Brawn
Italy: Testa in cassetta
Latvia: Galerts
Lituanania: Galerts
Luxemburg: Jelli
Netherlands: Zult
Poland: Salceson
Portugal: Cabeca de xara
Romania: toba
Russia: Saltison
Serbia: svargla
Slovakia: tlacenka
Slovenia: tlacenka
Spain: Cabeza de jabali
Ukraine: kovbyk
UK: Brawn
South Africa: Sult
Other Head Cheese Recipes
Other head cheese recipes from around the internet:
Other Resources
You might also find these articles helpful:
Download Your FREE Paleo Starter Kit Today!
3-Day Paleo Diet Meal Plan
Comprehensive Paleo Diet Shopping List
5 of Our Favorite Paleo Diet Recipes