They may be little, but sardines are a nutrient-dense powerhouse. Often overshadowed by bigger fish, like salmon or tilapia, sardines offer incredible health benefits and are so simple to add into your diet.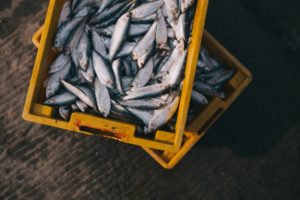 Take a quick look at the nutrition facts for sardines and it won't take long to realize why people talk up the benefits of these little fish. In a standard 3.5oz can of sardines, you'll get 23 grams of protein and 10.5 grams of fat. This isn't your standard old fat though. Sardines are one of the richest sources of omega-3 fatty acids on the planet. By eating a can of sardines, you'll receive 61% of the daily recommended value of omega-3 fats. The small fish also provide many important vitamins and minerals like vitamin B12, calcium, vitamin D, and selenium. Thanks to the standard American diet, many Americans are deficient in essential micronutrients. Nutrient-dense sardines are an easy food to incorporate that can be a major game-changer in your vitamin and mineral status.
High Micronutrients = Lots of Benefits
Sardines are incredibly beneficial for the health of your heart. The fish contain both EPA and DHA omega-3 fatty acids; this combination of fatty acids has been shown to reduce triglycerides and cholesterol levels. Omega-3's also fight inflammation in the body. Inflammation is at the root of many common diseases in our society today. Studies have shown that omega-3 fatty acids help maintain cardiovascular health, improve brain function, decrease joint pain, and improve mood disorders like depression.
Not only will you get a major boost of omega-3's with a can of sardines, but you will also receive over 100% of the daily recommended value of vitamin B12. This is important considering that statistics put a vitamin B12 deficiency in the United States at 40%. The high vitamin B12 content in sardines helps support many processes within the body. The vitamin is a key player in metabolism, DNA synthesis, and creating and maintaining the health of red blood cells and nerve cells. Vitamin B12 deficiency is also linked to elevated homocysteine levels in the body. High homocysteine levels are often a precursor to cardiovascular disease.
A can of sardines contains about 40% of the recommended daily value of vitamin D as well. Surprisingly, there are not a lot of food sources that contain vitamin D, so incorporating these into your diet is a great way to boost your vitamin D status. This is essential for bone health since it facilitates the absorption of calcium in the bones.
A worry for many people who eat fish is contamination. Due to the high levels of pollution in our oceans, this is definitely a valid concern. The great thing about sardines, though, is that they are at the bottom of the aquatic food chain. Because they only consume plankton, they don't concentrate heavy metals in their bodies like other bigger fish. That being said, it is still advised to choose sardines that are wild and sustainably caught.
Choosing and Eating
You can eat sardines either canned or fresh. You can often find canned sardines at the grocery store. When buying sardines in the can, always look for fish packed in olive oil or water. Canned sardines can be kept in the cabinet and will last for a few months. Fresh sardines are much more perishable and should be kept on ice in the refrigerator. Eat them within a few days.
These little fish can be eaten straight out of the can if you are a fan of their flavor. Feel free to drizzle some lemon juice or balsamic vinegar on top for some zestiness. They also make great salad toppers or a quick snack when mixed with tomatoes and herbs. Or stuff them with pesto and become a fan instantly.
However you choose to do it, there's no denying that sardines will be a worthy addition to your diet!
Download Your FREE Paleo Starter Kit Today!
3-Day Paleo Diet Meal Plan
Comprehensive Paleo Diet Shopping List
5 of Our Favorite Paleo Diet Recipes