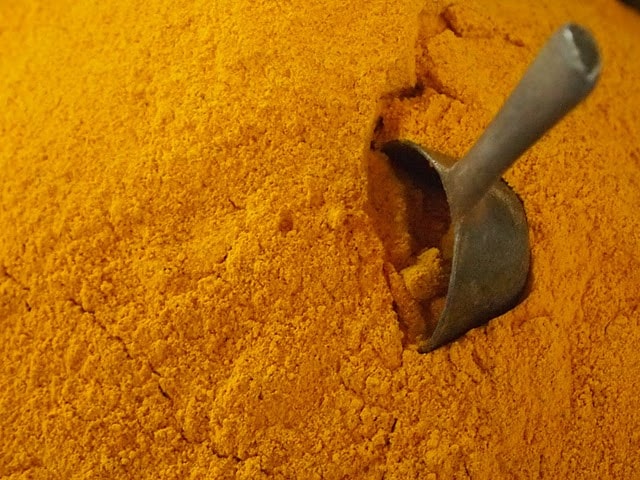 As one of the longest used medicinal herbs in the world, turmeric has loads of impressive health benefits, even when used in small amounts.
Deeply-yellow colored turmeric is often called a "superfood" because it can do everything from detoxify the liver to help prevent heart disease. Turmeric root is a great way to boost glutathione production and also a very powerful anti-inflammatory root. Additionally it contains curcumin, a compound helpful in restoring healthy blood pressure, improving circulation, and fighting disease.
One of the best perks about adding it into your healthy diet is that it won't break the bank or be difficult to find (like some other superfoods). This traditional spice is available in most grocery stores for under $10 and can even be conveniently taken in concentrated tablet form for higher doses.
The magic behind turmeric lies in its ability to naturally detox the body, boost immunity, and lower inflammation.
It's a true superfood as its been shown to have remarkable anti-inflammatory properties that fight the underlying cause of illness, often at the root of most chronic diseases like cardiovascular disease, arthritis and even cancer. When it comes to different herbs and spices, turmeric often comes out on top according to many experts, for its ability to not only help with reducing inflammation, but also oxidative stress caused by toxin exposure, a poor diet, too much exercise, and high stress levels.
Health Benefits of Turmeric
1. High Source of Anti-Aging Antioxidants
Turmeric contains curcumin, a powerful antioxidant, and amazingly it is the fourth highest antioxidant-rich herb, according to studies. Oxidative stress is what ages the body and causes loss of muscle and joint health, heart function, brain function and digestive health. With a high ORAC score, its active phytochemical ingredients are able to eliminate the free radical damage which the body naturally produces daily that build up over time.
2. Improves Liver Function
Turmeric has the ability to help clear the body of infections more quickly, such as skin irritations, common colds, wounds and bug bites. In fact in places like Asia and India, turmeric is often given to sick patients to help them recover more quickly. It's also beneficial for lowering the effects of toxins that enter our body every day through the air we breathe, the water we drink, the products we put on our skin and the foods we eat.
Turmeric is known to support liver health, which is key because the liver's job is primarily to clean the body of foreign substances, extracting and distributing valuable nutrients throughout our body while helping to expel harmful chemicals out. Without a properly functioning healthy liver, blood cannot be purified, sugars from foods cannot effectively be turned into usable glucose that provides bodily energy, hemoglobin cannot carry oxygen to cells efficiently and bile cannot be produced that digests fats.
3. Helps Relieve Pain and Inflammation
Turmeric is praised for its ability to lower pain associated with inflammatory conditions like PMS cramps, arthritis, headaches, fevers and infections. It's a key superfood for muscle pain relief and muscle building since it's been shown to help accelerate the healing process associated with painful injuries. How can it help decease pain? It improves blood flow, lowers inflammation, might be able to lower stress levels, and some think it can contribute to a sharper focus too.
4. Improves Digestion
Many cultures around the world use turmeric as a natural digestive aid since it has the ability to help relieve symptoms like nausea, stomach pain, heartburn, diarrhea, bloating and more.
How to Use Turmeric
To help fight inflammation, reduce symptoms of pain from various ailments, and to improve your mood, focus, immunity, and ability to recover more quickly from muscle and joint recovery, try to have some turmeric as often as you can.
How can you start using turmeric? Luckily this is easy–you can use turmeric the same way you would use any other strong tasting herb or spice. Start by adding it to simple homemade recipes like an egg scramble or your favorite smoothies. Some of the most popular and simple uses of turmeric are also teas and detox juices, often called "tonics".
Keep in mind that it has a strong taste, so just a little bit goes a long way. Some other ways to include turmeric into your meals at home are:
Sprinkling it over salads
Adding it to curry's or soups
Mixing it into any marinades for meat, fish or chicken
Using it in hamburgers or any other type of meat, chicken, fish or veggie patty
Stirring it in to hummus
Having turmeric with some tea infused with lemon and good-quality honey (this is fantastic for boosting immunity!)
Putting a pinch of turmeric to a "superfood green smoothie", like one using a banana, spinach, and flax seeds for example
Turmeric can be found in regular ground form, as a whole turmeric root, in supplement form and also within many "superfood green powders" or other similar products; all are fantastic options for adding this powerful herb to your diet regularly.
Sign up for our meal plan so you'll never have to ask "what's for dinner?"
—
Photo credit: photo credit: Tumeric via photopin (license)
Download Your FREE Paleo Starter Kit Today!
3-Day Paleo Diet Meal Plan
Comprehensive Paleo Diet Shopping List
5 of Our Favorite Paleo Diet Recipes