The sea taste sometimes haunts us we find ourselved unguarded – well here's the Paleo Shrimp Stir Fry for you! A very tasty, versatile cuisine that will sure satisfy the belly. It's super easy to make and is very healthy!
This is a guest contribution from Vic Magary, the author of Easy Caveman Cookbook 2.
Let's face it… cooking can be a pain! Between the time it takes to prep and cook a meal and the time needed to clean up afterwards, cooking can throw a serious monkey wrench in your schedule. That's why I tend to gravitate towards cooking methods that are either fast (stir fry) or hands off (Crock-Pot) and use only one cooking vessel. Below is my favorite paleo stir fry recipe for minimum clean up and maximum flavor.
Paleo Stir Fry: Shrimp Fried "Rice"
Truth be told, personally I'm not afraid of a little white rice and I do eat the stuff occasionally. But for the paleo purists, I've gone with the oh-so-popular method of mimicking rice using cauliflower. It's a pretty damn good switch. Try it yourself with this Asian flavored flair and see what you think.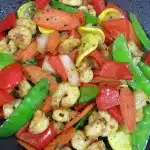 Paleo Stir Fry: Shrimp Fried "Rice"
Ingredients
1

head of cauliflower

1/2

lb

Shrimp

(medium-sized, peeled and deveined)

1/2

cup

Snow peas

1/2

cup

Carrots

(peeled and chopped thinly)

1

Red bell pepper

(chopped)

1

Yellow squash

(chopped)

1/2

yellow onion

(minced)

1

tbs

fresh ginger

(minced)

3

tbs

Coconut oil

2

tbs

Coconut aminos

1/4

tsp

Red pepper flakes

1/4

tsp

Salt

1/4

tsp

Black pepper
Instructions
Using a cheese grater, grate the head of cauliflower into rice-sized pieces. If you're fancy and have the equipment, use a food processor works instead of the cheese grater. If you are as averse to doing the dishes as I am, you can grate the cauliflower right into a wok or large skillet after step two. But if you're the more civilized type and don't mind the extra clean up, using a large bowl may be preferable.

Heat one tbs of the coconut oil over medium heat in a large skillet, pan, or wok. Add the onion and half of the garlic and sauté until the onion is translucent. Add the grated cauliflower, salt, and black pepper and continue to cook, stirring often until the cauliflower reaches the desired texture (about five minutes).

Remove the cauliflower from the skillet and set aside.

Placing the wok back on the heat, add another tablespoon of coconut oil. Once the oil is melted and hot, add the remaining garlic, half of the ginger, and the red pepper flakes and sauté briefly.

Add the carrots, yellow squash, red bell pepper, and snow peas to the skillet. Stir fry until just tender crisp (still below your desired level of doneness). Remove vegetables from skillet and set aside.

Placing the skillet back on the heat, add the remaining coconut oil. Once the oil is heated, add the remaining ginger and the shrimp. Stir fry the shrimp until cooked. Add the vegetables back to the skillet and stir fry with the shrimp for a minute or two. Add one tablespoon of the coconut aminos and continue to stir fry.

Place as much of the cauliflower rice into the skillet as you would like with the meal. If you grated the entire head of cauliflower, it is likely that you will have plenty for leftovers. Reduce the heat and add the remaining coconut aminos.

Stir the mix together until all components are cooked to your desired taste and the coconut aminos has coated the mixture well. Remove from the wok and serve immediately.
Nutrition Facts
Paleo Stir Fry: Shrimp Fried "Rice"
Amount Per Serving
Calories 135
Calories from Fat 108
% Daily Value*
Fat 12g18%
Sodium 308mg13%
Potassium 172mg5%
Carbohydrates 8g3%
Protein 1g2%
Vitamin A 5250IU105%
Vitamin C 27.2mg33%
Calcium 30mg3%
Iron 0.7mg4%
* Percent Daily Values are based on a 2000 calorie diet.
Paleo cooking does not have to be complicated. Chop up some vegetables, select your protein source, throw it all in a wok or skillet, and stir fry until done. Easy. And easy is just the way we like our paleo stir fry recipes.
For more easy paleo recipes, be sure to check out Easy Caveman Cookbook 2. This recipe book covers forty delicious dishes with easy cooking methods such as stir frying, baking, using the Crock-Pot, and grilling. Get Easy Caveman Cookbook 2 for FREE from Friday March 7 – Sunday March 9 2014 on Amazon by clicking here.
Download Your FREE Paleo Starter Kit Today!
3-Day Paleo Diet Meal Plan
Comprehensive Paleo Diet Shopping List
5 of Our Favorite Paleo Diet Recipes