Robb Wolf – one of the premiere names in paleo nutrition has a several products available. They're pretty awesome and we're excited to share them with you. He's got several on his site, but these are some of our favorite resources of his. Be sure to check out all of Robb's free resources at the links below:
Robb Wolf Printable Paleo Guides & Info
Robb Wolf Books
Robb has contributed to many books including:
30 Day Paleo Transformation Guide
Robb Wolf's 30 Day Paleo Transformation is a complete guide to your first 30 days on the Paleo diet, much like our own 30 Day Challenge. This guide includes a meal plan, shopping lists, and an exercise guide to get you started with the paleo diet.
Paleo on a Budget Guide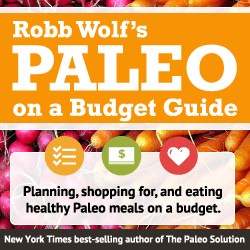 Robb Wolf's Paleo on a Budget Guide is full of simple and practical tips, tricks, and strategies for saving money while eating paleo.
Paleo Dining Out Guide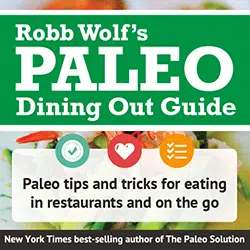 Robb Wolf's Paleo Dining Out Guide includes tips on what to order in restaurants, tips for getting the most paleo items, and trips on consuming alcohol while living a paleo lifestyle.
Simply right click and choose "download" or "save as" to download the files themselves.
Robb has a few more paleo resources & links on his site that you can view right here. Also, if you want more paleo resources, sign up for our newsletter and get a bunch of free paleo guides.
Download Your FREE Paleo Starter Kit Today!
3-Day Paleo Diet Meal Plan
Comprehensive Paleo Diet Shopping List
5 of Our Favorite Paleo Diet Recipes