Sweet Potato Lasagna
Sweet Potato Lasagna! All I can say is yummy! This special treat will have even your non-paleo friends running back to the table for seconds.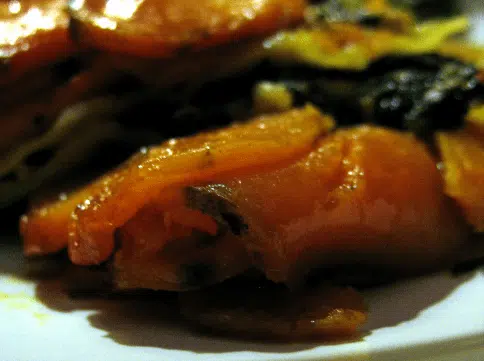 Before we begin I want to give you a fair warning, we will be dirtying a few cooking vessels for this scrumptious recipe. But I promise it will all be worth it in the end.
We are using the ever delicious, yet filling, sweet potato again to work around the gluten found in regular lasagna noodles. So this may not be the best recipe for you if you're looking for something to eat regularly while cutting weight. However, it does make a great weekend indulgence and the perfect dish to take to a potluck to sneak some healthy food into those attendees plates that are not down with paleo.
The sauce for this dish has a mixture of the most amazing Italian flavors including garlic, onion, diced tomato, tomato paste, Italian seasoning, and black pepper which ties everything nicely together.
When the sauce is mixed with the ribbons of sweet potato, you end up with a hearty, filling and delicious plate of Sweet Potato Lasagna!
Oh, and if you want to take your Italian cooking to the max, go ahead and throw some raw grass-fed cheese up in here if you are so inclined. It will be the perfect touch to an already amazing dish that will make you wish you had found this recipe sooner. Mange bene!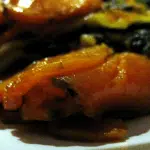 No Noodle Sweet Potato Lasagna
Ingredients
Main lasagna
2

Sweet potatoes

(medium, peeled into ribbons)

1

lb

Ground beef

1/2

lb

Pork sausage

1

yellow onion

(large , finely chopped)

1

Green bell pepper

(finely chopped)

3

cloves

garlic

(minced)

1

package

Frozen spinach

(thawed)

2

tsp

Italian seasoning

1/2

tsp

Red pepper flakes

1/2

tsp

Salt

1/2

tsp

Black pepper

3

tbs

Grass fed butter
Sauce
28

oz can

Tomatoes

(diced)

Small can

Tomato paste

2

tbs

Extra virgin olive oil

2

cloves

garlic

(minced)

1/2

yellow onion

(medium, minced)

3

tsp

Italian seasoning

1

tsp

Black pepper
Instructions
Start the sauce prep first. In a saucepan, heat the oil and then sauté the garlic and the onion until the onion is translucent. Add the diced tomato, tomato paste, Italian seasoning, and black pepper. Stir and cook on a low heat until desired thickness is reached.

While the sauce is cooking, prepare the main ingredients for the lasagna. Peel the skin off of the sweet potatoes and discard it. Then, using the peeler, shred the potatoes into long ribbons. Use some "oomph" and push hard into the potatoes to try to make the ribbons as thick as possible. Set the ribbons aside.

In a skillet or pan and over a medium-high heat, begin to brown the ground beef and the sausage. Add the onion, garlic, green bell pepper, Italian seasoning, red pepper flakes, salt, and pepper, and continue to cook until the meat is done.

Grease the inside of a large baking dish with the butter. Preheat the oven to 375 degrees F. Now get ready to layer the lasagna!

Place a layer of the sweet potato ribbons on the bottom. Next add a layer of the sauce (I find a wooden spoon works great for this). Add a layer of the spinach on top of the sauce and then place more sweet potato over the spinach. On top of the second sweet potato layer, I like to go sauce, then meat, then potato. Depending on the depth of your dish and the thickness of your potato ribbons, you may be able to get in another layer or two. Use the spinach/meat/sauce combo as you see fit. Just be sure to top the final layer with sweet potato and then pour the remaining sauce over the top.

Place the baking dish in a preheated oven and bake for 45 minutes. Then set it aside and allow it to cool for ten to fifteen minutes before serving.
Recipe Notes
This sauce recipe is from the first Easy Caveman Cookbook recipe, "No-Breadcrumb Meatballs In Red Sauce".
Nutrition Facts
No Noodle Sweet Potato Lasagna
Amount Per Serving
Calories 560
Calories from Fat 396
% Daily Value*
Fat 44g68%
Cholesterol 140mg47%
Sodium 1053mg46%
Potassium 485mg14%
Carbohydrates 3g1%
Protein 38g76%
Vitamin A 50IU1%
Vitamin C 0.8mg1%
Calcium 30mg3%
Iron 4.1mg23%
* Percent Daily Values are based on a 2000 calorie diet.
Useful Links
Photo credit: Vidya Crawley
Download Your FREE Paleo Starter Kit Today!
3-Day Paleo Diet Meal Plan
Comprehensive Paleo Diet Shopping List
5 of Our Favorite Paleo Diet Recipes