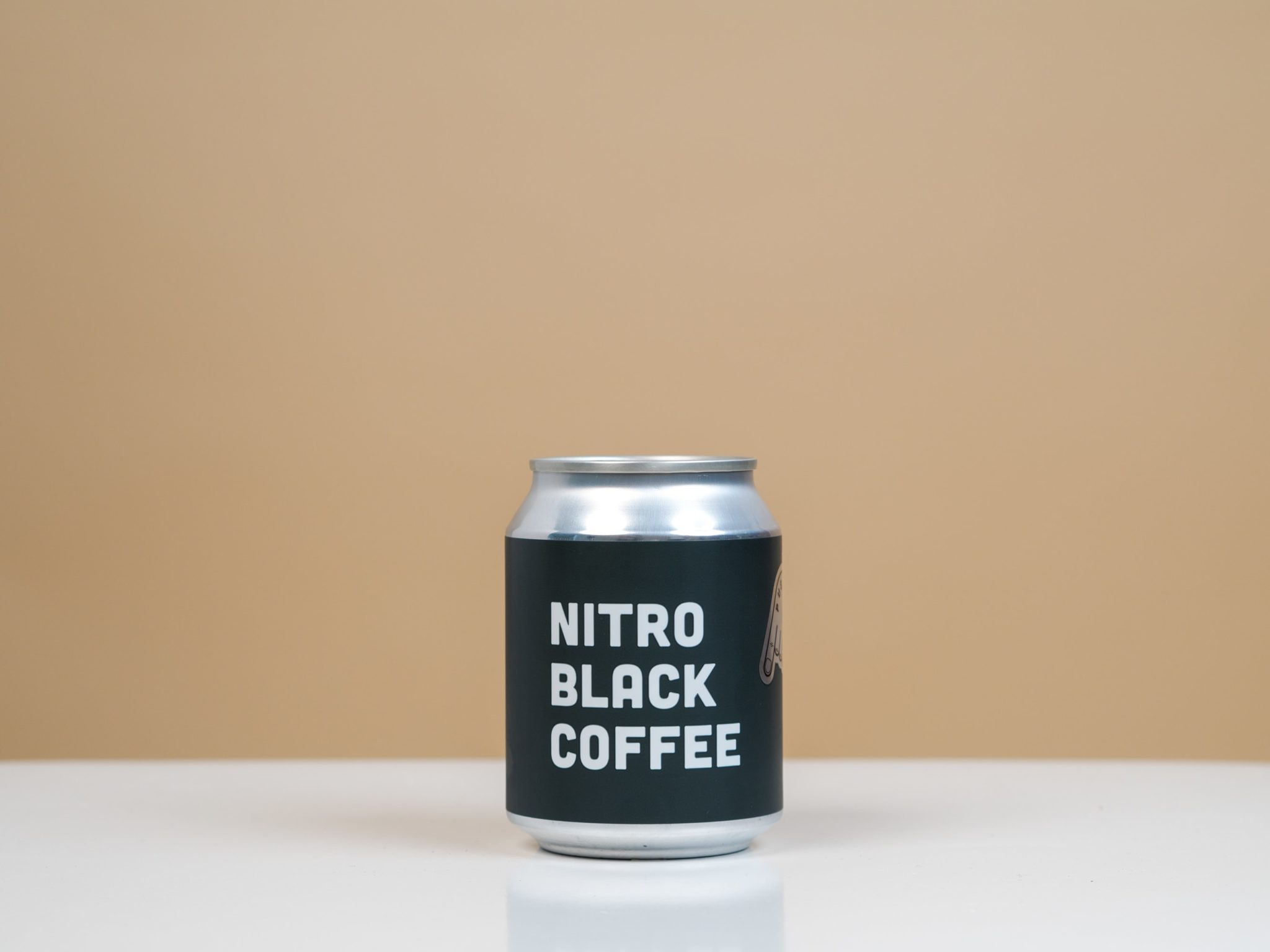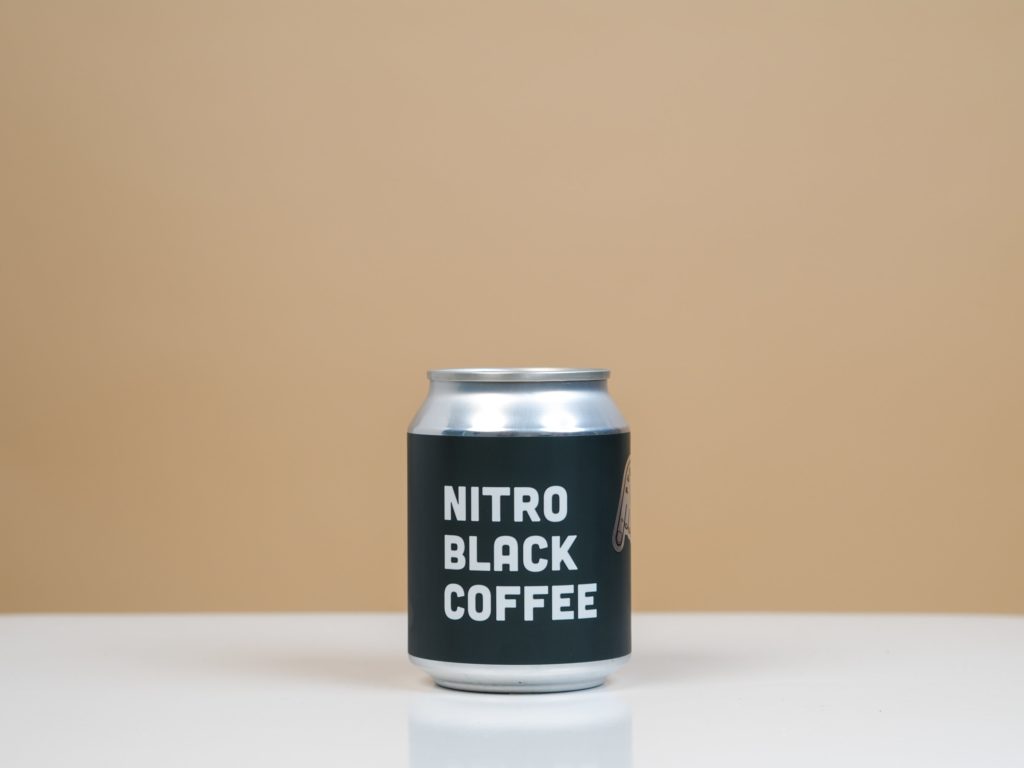 If you are a coffee aficionado, or even just a self-proclaimed lover of Starbucks, then chances are you have heard about nitro cold brew. It burst onto the coffee scene over the last few years and shows no sign of slowing down on the popularity front. And while it is not exactly simple to make nitro cold brew, that has not seemed to stop coffee shops near and far from offering this caffeinated beverage.
So, what exactly is nitro cold brew? What does it taste like? How is it made? What brand is our favorite? If you are looking for the answers to any of these questions, well please, look no further than our guide on nitro cold brew.
Here at Ultimate Paleo Guide, it is our goal to bring you the best information on any variety of health, nutrition, food and drink, and wellness related topics. And society's obsession with nitro coffee is no exception to our rule. Without further ado, let's dive into the fascinating topic of nitro cold brew. Keep reading for our comprehensive guide to all things nitro coffee as well as our top three favorite brands.
What is nitro cold brew?
While the exact origins of nitro cold brew are somewhat disagreed upon, with people arguing that it was originally created by a third-wave coffee shop in either Austin, Portland, or perhaps New York City, the recent popularity of this richly caffeinated drink cannot be argued. And while people can seem to agree that it had small coffee shop roots, the chain giant Starbucks even offers its own version of nitro cold brew nowadays.
Nitro cold brew is essentially exactly what it is called. It is cold brew that is put into a bottle or keg after steeping. Then, when the cold brew is poured out of the keg, it is charged with nitrogen. Just like a beer comes out foamy when tapped from a keg, so does nitro cold brew. Its signature look is just a bit foamy on top. You will find that nitro cold brew is served chilled – but in a perhaps surprising twist, there is no ice added. This is done so that the deliciously foamy top on the cold brew is not ruined. That foam layer is what sets this coffee apart after all.
How is nitro cold brew made?
The production setup for nitro cold brew is quite complex, as you might imagine. To infuse the cold brew with nitrogen requires an elaborate system of hoses, tubes, valves, kegs, and dispensers. This might explain why nitro cold brew is commonly at the top price-wise on your local coffee shop's drink menu. You can quite often expect to spend at least $6 for a cup of nitro cold brew.
To make the nitro cold brew, first you need to make regular cold brew. This is done by steeping coffee beans in water for at least 12 hours but up to a complete 24 hours. Once the cold brew has completed its brewing process, then the nitrogen infusion can happen via a pressurized valve. Nitrogen bubbles are smaller than the common carbon dioxide bubbles than many of us are used to in carbonated beverages. This is an important distinction as these bubbles give nitro cold brew its signature mouth feel.
What does nitro cold brew taste like?
The resulting beverage has been described in a number of ways. Thick, foamy, and velvety are all common adjectives for this nitro drink. The cold brew technique cuts down on the acidity of the coffee which results in a slightly sweeter drink than your average iced coffee. It's a drink that feels quite rich and indulgent even with no added cream, milk, or sugar.
For health conscious people, nitro cold brew is often seen as a way to sip on a fancy coffee drink without succumbing to the likes of the sugar-laden lattes and frappuccinos as made popular by Starbucks. Drank as is, nitro cold brew can definitely have a place on a diet such as paleo or keto. Not only could this drink be considered a "healthy" alternative to a sugar-packed iced latte, but it will also deliver a bigger caffeine punch. Nitro cold brew is attributed as being higher in caffeine than a standard cup of coffee. A 16 ounce cup of nitro cold brew rings in at 280 milligrams of caffeine.
Our Top 3 Brands of Cold Brew – Ranked
As you can imagine, with nitro cold brew popularity going off the charts, there are now a ton of different nitro brands on the market. With so many choices, and with the expectation that you will be paying a bit more than you would for a regular coffee, it can be hard to know which one is best.
While conducting your own nitro cold brew taste test experiment may sound fun for some people, if you just need a few solid recommendations on brands that won't steer you wrong – we've got you. Below, we share some of our favorite tried and true nitro cold brew brands.
Happy sipping!
Caveman Coffee Co. Cold Brew Nitro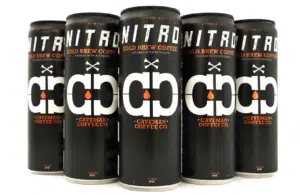 We're massive fans of the Caveman Coffee Co. brand and their Cold Brew Nitro is rightly at the top of our list. They pride themselves on using the best ingredients for their blend by choosing clean and simple options. Their Cold Brew Nitro is a delicious, smooth and low acid product that delivers maximum nutrition and powerful energy. This nitro is cold water brewed for 12+ hours with their premium blend of beans from South America.
If you're looking for an option that is silky smooth, slightly sweet, and will give you that boost of energy you need, this is the one. It's so good that this particular product has sold out over 20 times since it's been released.
We love it so much – and know that you won't be disappointed with this product – that we've teamed up with Caveman Coffee Co. to bring you a deal. Use this link to get 20% off of your order from Caveman Coffee Co. While we couldn't recommend their nitro cold brew more, you can actually use that link to purchase any items from their storefront. Not only do they offer amazing nitro cold brew, but they also have various coffee roasts, coffee mugs, MCT oil, herbal tea, and apparel if you want to rock your brand loyalty.
Again, use our link to get 20% off your purchase with Caveman Coffee Co. No matter which product you choose, we promise you won't regret it.
Stumptown Coffee Nitro Cold Brew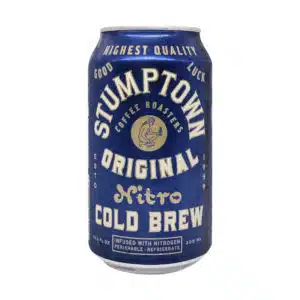 A coffee shop out of Stumptown – aka Portland, Oregon – Stumptown Coffee is known nationwide for their delectable coffee products. And their nitro cold brew is absolutely no exception. In fact, this option has somewhat of a cult following – which can make it quite difficult to find if you are not located in Portland. But the hunt is worth the difficulty once you get your hands on this liquid gold.
This cold brew is often described as having a rich, chocolatey flavor. Sold in 10.3-ounce pop-top cans, each can packs in a loaded 330 milligrams of caffeine which is simultaneously impressive and mystifying.
Tracking this product down is quite tricky, so we suggest scouring Amazon when you can as well as the Stumptown website. Better yet, if you plan to visit Portland, you may just want to leave extra room in your suitcase so you can stock up and bring them home with you.
RISE Brewing Co.
Rise Brewing Co. was created out of sheer necessity with a focus on health. According to their website, "We created RISE because we were tired of the coffee products we saw on the market – loaded with sugar, calories, harmful chemicals and words we couldn't spell. Our mission is to create the best tasting organic products on the planet and make them available for all to share."
Well, thankfully they did, because they have created a great tasting nitro cold brew for the masses. Unlike the other two brands listed above, Rise's nitro cold brew comes in a smaller serving. This is perfect for days when you want a small punch of caffeine and not a deluge. This option comes in a 7 ounce can with 180 milligrams of caffeine. This is a clutch move for an afternoon pick-me-up when you need a bit of a boost but still want to be able to sleep at night. Rise is 100% organic made with purified water and has zero sugar. This is another great option if you adhere to a specific diet or eating approach.
You can learn more about Rise Brewing Co's nitro cold brew here.
Get caffeinated (but keep it healthy)
If you want a silky smooth coffee experience, without the normal acidity of a regular brew and a bit more caffeine, then give nitro cold brew a try. With its velvety mouthfeel and slightly sweet taste, you might never go back once you've had this version.
Download Your FREE Paleo Starter Kit Today!
3-Day Paleo Diet Meal Plan
Comprehensive Paleo Diet Shopping List
5 of Our Favorite Paleo Diet Recipes