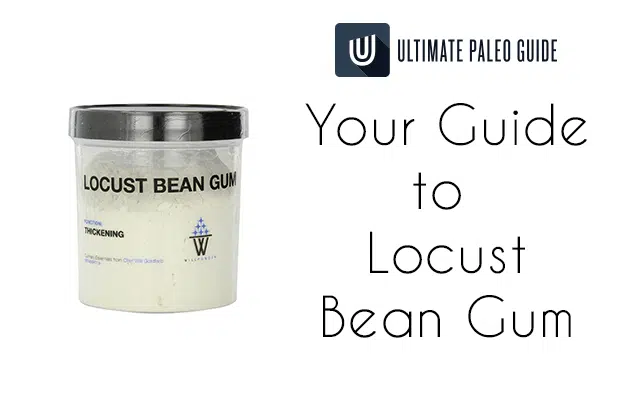 Locust bean gum – have you heard about this bizarrely-named ingredient and you're curious to know more? Perhaps you already know what it is, and you're wondering if it's healthy or not.
This article is the guide to locust bean gum. We answer all the questions you may have about one of the most prevalent food additives.
From nutritional benefits to side effects, we'll share what you need to be aware of. You'll also learn whether or not locust bean gum is paleo-friendly and worth eating.
What Is Locust Bean Gum?
The name may sound off-putting, but don't worry. There are no locusts or any other insects in locust bean gum.
This compound is a plant-based gum. It's an extract from a tree known as Ceratonia siliqua, also known as the carob tree.
Carob trees have been cultivated for over 4,000 years. They continue to be agriculturally valuable for several reasons.
The pod-like fruit of C. siliqua is sweet and tasty. The powder of carob seeds is collected to use an all-natural sweetener.
Gum from inside the carob tree's seeds is also harvested. This is what we call locust bean gum, or LBD. It also goes under the name of carob seed gum.
This is done by milling each seed's endosperm. The seeds of almost every flower-producing plant have this nutrient-providing tissue inside of them.
LBD isn't gum in a traditional sense—you don't chew it. Rather, it's used in various foodstuffs as a thickening agent, sweetener, or to increase fiber content.
It also has the ability to bond to water molecules and form hydrogen. Plus, this plant-based substance has shown to have positive effects on certain health conditions.
With these versatile abilities, other industries have adopted LBD too. A few examples include oil-well drilling, textile productions, pharmaceuticals, and cosmetics.
Where Can You Find It?
Lots of manmade, processed foodstuffs contain locust bean gum. Remember, it's capable of sweetening and thickening.
You can find it in sauces, or powdered drink mixes—such as hot chocolate. It's used in jams, jellies, chewing gums, and liquid sweeteners such as syrups.
Unless food or drink is wholly natural, there's a good chance it includes locust bean gum. You may find it on labels under one of the other names—e.g., carob bean gum or CBG.
Pharmaceutical companies have also begun to take advantage of it, as we touched on.
Locust bean gum is included within oral medications to control how the drug is delivered within the body.
It isn't common to find LBD powder by itself for purchase. It isn't like cinnamon or mint—both ingredients and standalone herbs and spices.
You may be able to find LBG in specialty cooking stores or online. In these cases, it's sold as a thickening agent for homemade foods and beverages.
Nutritional Benefits
The ground endosperm of carob beans is primarily polysaccharide, a type of dietary fiber.
One hundred grams of locust bean gum is 332 calories. Of this portion, 77 grams are dietary fiber: a whopping 308 percent of your daily required dose.
You'll also find a notable quantity of calcium in a 100-gram serving. That same 100-grams has 29 percent of your daily calcium dose.
If the high-calorie number has you panicking, take a moment. Bear in mind that locust bean gum isn't usually found in such high quantities.
As an additive, it's only a minuscule part of the final product.
Potential Side Effects
There are no side effects to eating locust bean gum. The Food and Drug Administration recognizes LBD as safe.
It is possible to develop or have an allergy to plant-based gums. Still, since LBD is rarely found in substantial amounts, you're not likely to find out if you're allergic to it.
Locust Bean Gum + Paleo?
Locust bean gum isn't easily defined as Paleo-friendly or not. It comes from the seeds of trees—which means it's technically natural.
However, it's found in numerous food items that are decidedly not natural. The same applies to other popular plant-based gum additives, like guar gum.
You'll find Paleo dieters on either side of the debate when it comes to these substances. Let's examine the argument against locust bean gum, and for it.
Stricter proponents of the Paleo lifestyle say that all gums should be avoided. Even if they're in Paleo-friendly products, like almond milk, you shouldn't be consuming them.
Admittedly, it isn't likely that our Paleolithic ancestors indulged in carob tree seeds as a snack.
Other Paleo enthusiasts take a more relaxed approach. After all, food additives are practically unavoidable nowadays, right?
Not every follower of the Paleo diet can keep it 100 percent fresh and natural all the time. We can't time travel back to the Paleolithic era to get our groceries there.
The answer will depend on your own views—and what you can manage. An exclusive diet of organic foods and drinks isn't accessible or affordable for everyone.
Should You Eat It?
For the vast majority of people, locust bean gum won't do any harm. It's probable that you've eaten more than a few foods that contain this plant-based additive.
As for health benefits, LBD has demonstrated promising results. The evidence has cropped up in both animal and human-based trials.
Let's begin with one of the human tests—there's more to get excited about. Adults and children with high cholesterol were given a diet of foods made with LBD.
Good cholesterol (HDL) levels increased, whereas bad cholesterol (LDL) levels went down. None of the participants reported negative consequences from a high-LBD diet.
Babies with gastroesophageal reflux (GER) were given formula thickened with locust bean gum. The LBD-laced formula worked to improve symptoms without triggering other side effects.
Juice from the carob bean worked to combat diarrhea in adolescents and children. As with the other studies we've shared, no adverse effects occurred.
Finally, an experiment involving rats revealed that LBD might have potential as a dietary treatment for diabetes.
What does all this evidence mean for the average person?
Not much, so far. There's much more work to be done before the gum of the carob tree is recommended to eat for our health.
Related Articles:
The Ultimate Guide To A Gluten Free Diet
Paleo 101: The Ultimate Guide To A Paleo Diet
Download Your FREE Paleo Starter Kit Today!
3-Day Paleo Diet Meal Plan
Comprehensive Paleo Diet Shopping List
5 of Our Favorite Paleo Diet Recipes