Tea and the Paleo Diet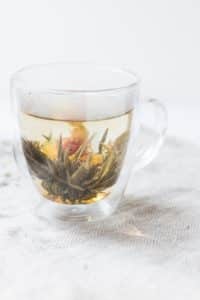 As many know, the Paleo Diet is modeled after the diet of our ancient ancestors and what they used to hunt and gather back in the day.
Read our guide to the Paleo diet
While I understand that neanderthals didn't have vending machines with drinks readily available in caves, I can't help but wonder what the deal is with beverages when it comes to adopting this diet.
According to the Paleo Diet, drinks high in caffeine are not permitted and aside from water, kombucha, sparkling water, and herbal teas are paleo approved.
Fortunately, herbal tea and especially green tea, is given the go on the paleo diet since is provides a large quantity of antioxidants and only small amounts of caffeine.
Despite the belief that coffee it the best part of waking up, herbal tea is just as good and maybe even the better choice.
Why drink it?
When prepared without sugar, tea has been shown to have a myriad of health benefits. Tea is known as one of the best sources of hydration besides water, is jam-packed with antioxidants, can help your heart and it even has been linked with cancer prevention.
For these reasons, tea should be your second choice, right after water, when choosing a beverage. When choosing a tea, it is best to choose one that will help you stay on track with your health and nutritional goals.
If you are on the Paleo Diet, then it is wise to stick with herbal tea, which has a controlled amount with caffeine and a variety of antioxidants. Because of this, it is safe to say that choosing an herbal tea to pair with your breakfast could be a wiser way to start your day.
What kinds are there?
After looking at the top-rated paleo teas on Amazon based on user reviews, we have come up with four tea brands that can help you reap in the benefits of drinking tea while sticking to the Paleo Diet.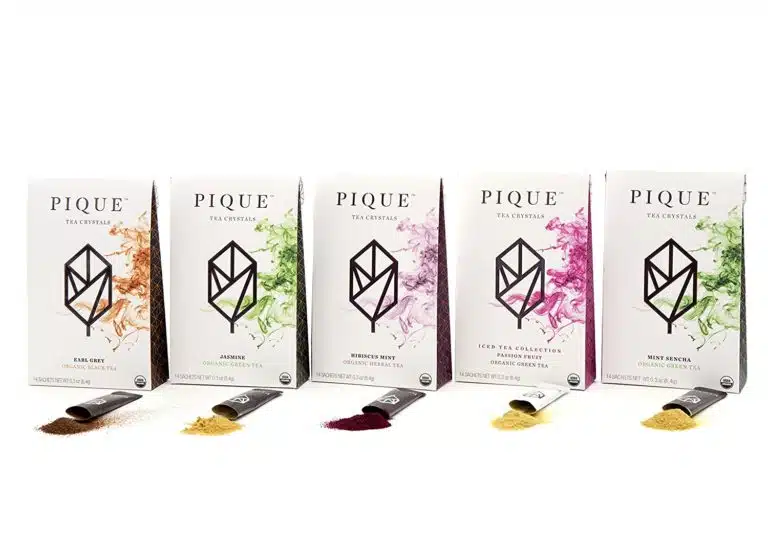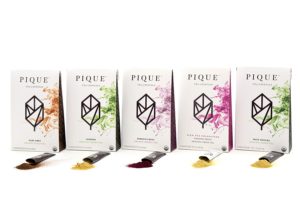 Overview: Pique Tea presents themselves as the first tea brand with cold brew tea crystals, which only require you to tear, mix and enjoy.
These travel-friendly tea crystal packets are made with whole leaf tea through a proprietary process of pressured cold-brewing and provide only clean energy in the form of (L-theanine) and antioxidants to keep you energized. This packet comes with 14 single-serve packets and the flavors offered include: Jasmine Green, Mint Green, Passion Fruit Green, Earl Grey and Hibiscus mint (non-caffeinated).
You can help grow the amount of healthy gut bacteria grow in your body thanks to the polyphenols in these tea flavors. Furthermore, this tea is equipped with L-theanine, which keeps you energized longer without the crash. Lastly, this tea will keep you calm throughout the day and minimize your stress levels.
Multiple customers claimed that once they started drinking Pique tea, they noticed an immediate difference with how their bodies felt overall. A majority of the users found that the tea packets weren't only convenient, but effective in keeping them energized throughout the day without any stomach problems due to the rich, clean flavor of the tea.
A few users claimed that they preferred Pique tea over traditional tea since they didn't have to deal with loose tea while enjoying their drink. Despite this, a couple users made comments about clumping and found that the tea didn't always dissolve as well as they hoped.
Overall, customers were very pleased with the convenience of Pique tea and the flavors that were offered, thus making it a fan favorite.
Rating: 261 Reviews 73% 5 Stars
Price: Tea Sampler (5-Pack)/70 Count: $54.95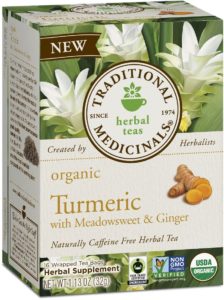 Overview: Traditional Medicinals prides itself on being Kosher and non_GMO certified, having all organic and fair trade ingredients while utilizing the highest quality pharmacopoeial herbs.
Twenty different flavors including: Burdock with Nettle Leaf, Chamomile, Dandelion Leaf and Root, Fennel, Hawthorn with Hibiscus, Hibiscus, Lemon Balm, Linden Flower with Hawthorn and Lemon Balm, Nettle Leaf, Organic Chamomile, Organic Dandelion, Organic Ginger, Organic Ginger with Chamomile, Organic Raspberry Leaf, Organiz Spearmint, Pau D'Arco, Peppermint, Rose with Hibiscus, Tulsi with Ginger and Turmeric with Meadowsweet and Ginger are offered.
When looking at the Peppermint tea and many others, we can see that it is caffeine-free and that it has no added flavors.
Multiple customers were pleased with the tea and claimed that it helped manage their anxiety and many women stated that they loved using this tea while they were pregnant. From liver problems to healthy skin maintenance, Traditional Medicinals has the solution with its many tea flavors with added benefits.
While most users found the tea to be exactly what they needed, some stated that they found it to be a bit expensive to make it a daily habit.
Regardless, the advantages of the tea are evident through how pleased customers were with their purchase, which makes it a top contender in the Paleo Diet world among tea brands.
Rating: 3,587 Reviews 78% 5 Stars
Price:  *Pack of 6: $22.40 *For each flavor, prices vary so these are based off of the Peppermint tea flavor.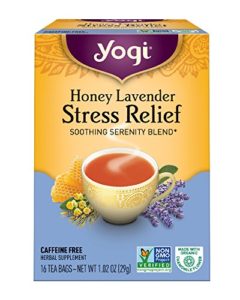 Overview: Yogi tea is another company that is characterized by being non-GMO verified, vegan, Kosher, gluten-free and uses compostable tea bags and no artificial flavors or sweeteners.
Furthermore, Yogi tea is also caffeine-free, which means you can enjoy your tea without expecting a crash later in the day. Six flavors including: Bedtime, Calming, Comforting Chamomile, Honey Lavender Stress Relief, Kava Stress Relief and Relaxed Mind comes from Yogi tea, which gives you many options.
When looking at the Honey Lavender Stress Relief tea, multiple users truly felt that it helped with their anxiety levels and that it made them more calm.
Also, many users were very pleased with the flavors of the tea and found that it was a great way to start their day. Other users were happy with the tea being caffeine-free since they could also enjoy a cup of tea before going to bed.
A few users stated that they felt the flavor wasn't as strong as they would have liked, which then meant they had to use more tea bags. Due to this, these customers found the tea bags to be a little more expensive than they preferred.
Besides this, the majority of customers were happy with Yogi tea and the flavors they provided with their caffeine-free tea.
Rating: 2,257 Reviews 73% 5 Stars
Price: *1 Pack with 16 bags: $3.19 *For each flavor, prices vary so these are based off of the Honey Lavender Stress Relief tea flavor.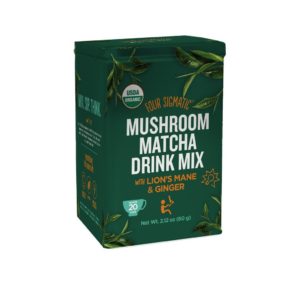 Overview: For those who need to curb their coffee intake, Four Sigmatic offers an alternative through their Mushroom Matcha tea, which contains little caffeine and L-theanine, which keeps you energized throughout the day.
This matcha comes with 1 gram of dual extracted and organic Lion's Mane mushroom per serving, which supports memory and creative benefits in brain productivity.
Additionally, this tea comes with a hint of organic ginger powder to improve digestion and the overall flavor of the tea. This matcha can be prepared hot, cold or even can be added to other foods like smoothies.
Multiple users who suffered from acid reflux disease found that Four Sigmatic's matcha was a great alternative to coffee. Other users consistently found that the tea kept them focused and energized throughout the day without a stomach ache or crashing later when compared to coffee.
A few users stated that while they loved both matcha and mushrooms, they found it hard to enjoy the two flavors together.
Regardless, the majority of users managed to customize their drinks to reflect their drinking preferences, which made Four Sigmatic a favorite among many.
Rating: 101 Reviews 69% 5 Stars
Price: $31.32
Final Thoughts
The benefits of tea have been widely known for centuries as tea has remained a constant favorite when it comes to beverages preferences around the world. From maintaining healthy skin, or a peaceful mind, multiple tea brands offer a variety of flavors that can help virtually anyone. Unlike coffee, tea is known to help individuals feel energized without the crash later in the day, while also providing a myriad of other advantages. If you feel like you need a break from coffee and need to switch it up, then tea may be the drink for you whether you're on the Paleo Diet or not.
Why should I listen to you guys?
More than ever, people are focused on their health and well-being. And, because of this increased interest, that means there are tons of products on the market to help achieve that goal. From kitchen gadgets that make cooking easier, to reusable water bottles, sleep aids, and workout gear, the sheer number of options can be overwhelming.
That's why we wanted to do the hard work for you. We've committed to trying out some of the most popular health and wellness products on Amazon. Here's what happens:
We scour Amazon for the best rated or most reviewed products in health and wellness categories: whether that's something for the kitchen, supplements, or lifestyle products. Then, we order and try them. We give each product a spin – being as unbiased as possible.
Next, we write up our thoughts, our experiences with the product, and any feedback we may have. And we publish it here for you. You'll find the links to the same exact Amazon products we tried in these articles.
Additional Reviews
Best French Press Coffee Makers
Download Your FREE Paleo Starter Kit Today!
3-Day Paleo Diet Meal Plan
Comprehensive Paleo Diet Shopping List
5 of Our Favorite Paleo Diet Recipes