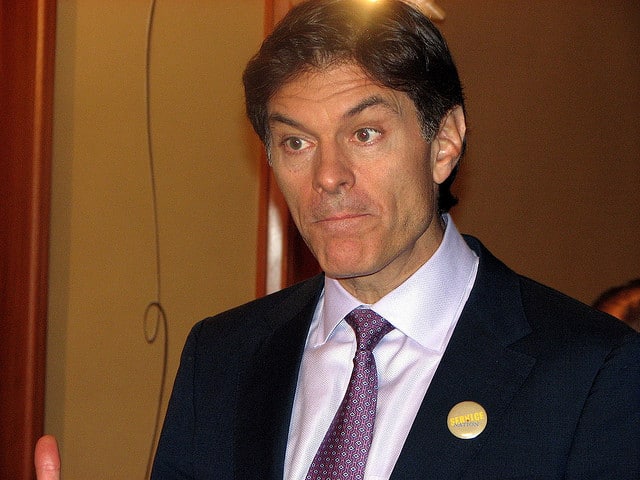 "Bust your body fat"
"#1 miracle to burn fat"
"The #1 fat-fighting pill"
If you've ever paid attention to the Dr. Oz show (we hope for your sake that you haven't), you've probably seen these phrases thrown around like the word "hello."
You might have purchased his stuff, laughed at it, been intrigued, or just been skeptical about it. And if you're skeptical about him constantly finding "miracle cures" at 4pm on a Wednesday, your suspicions are well-founded.
Dr. Oz's karma is catching up with him.
After 800+ shows touting the benefits of pseudo-supplements with little to no scientific backing, Congress has called Dr. Oz in and raked him over the coals. Sen. Claire Mckaskill blasted Mehmet, saying:
"I've got no problem with celebrity endorsements of any product but I do have a problem when a science-based doctor says something is a miracle when there's no science to back it up."
Dr. Oz has been known to promote supplements ranging from green coffee to ketones. Here's what he has to say about the following "nutritional" supplements (which have little to no scientific backing):
Green coffee extract — "You may think magic is make-believe, but this little bean has scientists saying they found the magic weight-loss for every body type."
Raspberry ketone — "I've got the number one miracle in a bottle to burn your fat."
Garcinia cambogia — "It may be the simple solution you've been looking for to bust your body fat for good."
But this isn't just a case of some random guy selling snake oil. Millions of people watch his show and his mentioning a product has a massive impact on the sales of that product. Just one mention can initiate the "Dr. Oz Effect", which sends scales skyrocketing.
That might be okay if it was your crazy uncle in the country promoting this stuff, but this is a doctor with credentials that people trust, spouting rubbish about supplements that have no other benefit than putting money in his pocket.
If you haven't realized this by now, let us say one more time:
Do. Not. Listen. To. Dr. Oz.
Here's an example of what Dr. Oz does (please DO NOT follow his advice in the video – this is for demonstration purposes only):
What To Do Instead
If you're feeling lost because you thought you could trust Dr. Oz and really want help living a healthier, more active lifestyle, here's what we recommend:
There are no secrets. There are no shortcuts. If someone uses the word "miracle" to describe their supplement, run as fast as you can away from them. The best secret when it comes to health is to eat nutrient-dense foods that your body can digest efficiently, while moving on a regular basis.
If you want to see the train wreck that is Dr. Oz trying to defend his behavior, check out his testimony in front of Congress below.
Dr. Oz's Testimony
John Oliver on Last Week Tonight – Takes Dr. Oz To Town
Of course, while some news segments let Dr. Oz off easy, John Oliver took Dr. Oz to church in this segment. It's worth watching (if only for a good fifteen-minute-long laugh)
More on Dr. Oz's Capital Hill Skewering Around The Web
If you want to see more coverage of this story, check out the following links:
Photo credit: David Berkowitz
Download Your FREE Paleo Starter Kit Today!
3-Day Paleo Diet Meal Plan
Comprehensive Paleo Diet Shopping List
5 of Our Favorite Paleo Diet Recipes