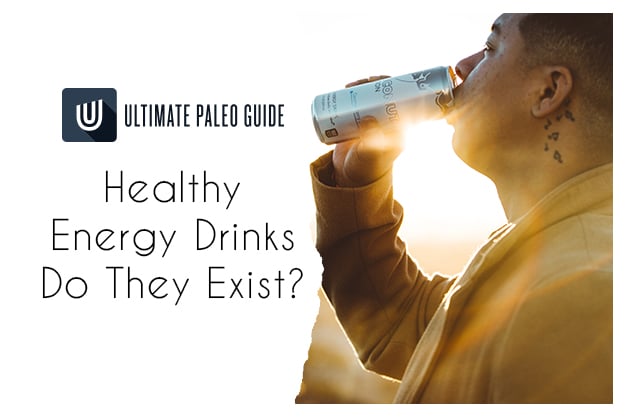 There's nothing like a heavily-caffeinated, sugary drink to transform you from sluggish to sharp-witted.
However, you may be wondering if there are wholesome alternatives to your favorite peppy refreshment. Our article investigates if healthy energy drinks exist.
We discuss traditional vitality-boosting beverages and what they contain, and list substitutes you can try instead. Finally, we'll share tips for you to make your mix at home.
Learn all the facts about healthy energy drinks:
What do energy drinks do to your body?
What makes an energy drink healthy?
Healthy energy drinks to make at home.
Top 5 healthy energy drinks.
What Do Energy Drinks Do to Your Body?
Have you ever wondered how an energy drink wakes you up?
It's simple—these beverages are plentiful in stimulants.
Usually, the main ingredients are caffeine and sugar—although some may also contain added supplements, such as vitamins.
Many brands market their products as capable of keeping you sharp, both mentally and physically.
We've all seen the advertisements touting compounds that are responsible for banishing brain fog and tiredness.
Although the formulas may differ, the miracle component behind the positive effects is almost always plain old caffeine in high doses. It acts to stimulate your central nervous system, which is what revives you from your comatose state in the morning.
This video elaborates if you want to know more:
So, in terms of dose, how high are we talking?
Well, take the average eight-ounce cup of coffee: it contains around 95 mg of caffeine.
Compare that to a 16-ounce can of Monster Energy Drink—it has a whopping 158.4 mg of caffeine. Not to mention 52 grams of sugar, with a total of 226 calories per serving.
To be fair, not all energy drinks are chock-full of this popular stimulant. The caffeine content in a can of Redbull is roughly 20 mg lower than a cup of coffee. Still, if you opt for the standard version, you're drinking nearly 26 grams worth of sugar.
What Makes an Energy Drink Healthy?
By now, you're likely eager to find out what separates a healthy energy drink from the ones you want to avoid. Take a peek at the label to check for these attributes:
Zero or Minimal Added Sugars
Sugar addiction is a real phenomenon—the caffeine might not be all you're relying on when you reach for your favorite drink.
It releases dopamine in the brain, the same way certain habit-forming drugs do. Furthermore, high sugar intake puts you at risk for diabetes and obesity.
This TED Talk explains more:
Artificial sweeteners may not carry the same calorie load, but that doesn't necessarily mean they're healthy. If you fall into one of these categories, watch your intake:
Pregnant or breastfeeding women.
People with diabetes.
Those with epilepsy.
Migraine sufferers.
Fewer Artificial Ingredients
You'll be hard-pressed to find an energy drink devoid of synthetic ingredients, also known as additives.
Preservatives—which keep the beverage stable on the shelves—and sweeteners are both considered such substances.
However, you can opt for one with a lower content of these compounds. For example, bizarrely-colored or flavored drinks are likely higher in additives.
Limited Stimulants
Besides caffeine, other common stimulants belonging to the same family include theobromine and theophylline.
It sounds counterintuitive, but you don't want an energy drink that's flooded with these substances. You may perk up considerably, but it isn't sustainable—or healthy—long-term.
The maximum safety threshold for caffeine consumption is set at 400 mg a day—less if you're pregnant or have a heart condition.
If a single drink has several hundred milligrams and you rely on several to get you through your day, you'll go way over that limit.
Next, you can build up a tolerance over time—meaning you'll need more and more to achieve the same effects. That's why it's best to opt for lower-stimulant options.
Beneficial Supplements
A healthy energy drink isn't all stimulants and sweeteners. You may as well get a dose of helpful supplements while you're at it.
Common examples include:
You won't need to perform an exhaustive search—energy drinks tend to include several of these compounds. It's more of a question of finding a brand that meets the other requirements on our list.
We will warn you, again, to watch how many cans or bottles you're chugging. It's possible you could end up ingesting too much vitamin B6, for example. Don't forget to factor in supplements that you're already taking.
Fruit Juices
Why buy a drink that's artificially flavored like cherry or orange when you can have the real thing?
Some healthy energy drinks are made with all-natural juices rather than the equivalent of synthetic soda pop.
In spite of being rich in natural sugars, most fruits are plentiful in vitamins and minerals and are linked to better health overall.
Can You Make Homemade Energy Drinks?
If you're wary of commercial brands, you can create your customized energy drink at home. That way, you know exactly what you're drinking.
You know all the ingredients—all you have to do is combine them and pick favorites.
Plenty of the supplements we discussed are available in powdered forms, such as this creatine powder from Optimum Nutrition or this organic multivitamin by Emergen-C.
Remember to thoroughly read the labels of everything you use to get the quantities right. For instance, if you're using a caffeinated supplement, you may not need to add coffee too.
Top Five Healthy Energy Drinks
If you aren't keen on going the DIY route, don't worry. We review the top 5 healthy energy drinks here:
Runa Clean Energy Drink is ideal for those of you who can't quite let go of traditional energy drinks but hate the calorie load.
It comes in six flavors – three are their traditional drink (with sugar) and three are Zero variety (no sugar). These drinks are derived from the Guayusa plant. A cup of this tea (brewed from the leaves of the plant) contains more caffeine than a cup of coffee. There's a total of 150 mg of natural caffeine per 12-ounce can.
This drink is certified organic and certified fair trade.
One tube of Zipfizz in your drink of choice will help you progress towards reaching your daily doses of indispensable vitamins and minerals.
You'll get over a staggering 40,000 percent of vitamin B12 and 833 percent of vitamin C. That same serving also contains over 50 percent of your recommended intake of zinc, manganese, vitamin E, and other B vitamins.
Zipfizz is friendly if you're watching your energy or caffeine intake: it's 20 calories with 100 mg of caffeine per serving.
There are three flavors to pick from—Grape, Orange Soda, and Fruit Punch. Note that the nutrient content differs slightly between them.
You can buy this healthy energy drink pre-made in cans or as a powder to take with you anywhere. There are nine fruity tastes to pick from besides Sparkling Orange.
If your principal concern is additives, CELSIUS could be the right brand for you.
Both drinks and powder are free of preservatives, synthetic colorings, or artificial flavors or sweeteners. The formula also includes taurine, guarana, and ginger extract.
At 10 calories per serving, it won't make a dent in your daily calorie intake.
The downside is that it's a little caffeine-heavy—a whopping 200 mg per tube or 12-ounce can.
UPTIME's healthy energy drink comes in an aluminum bottle with a resealable cap. If you have an unquenchable sweet tooth, you can opt for this one, which contains cane sugar.
Otherwise, Citrus Zero Sugar has only five calories and 2 grams of carbohydrates per bottle.
The citrus flavoring is natural rather than artificial, and the full 12-ounce bottle has 142 mg of caffeine.
It also contains ginseng and Angelica root—which could lower fatigue—and coenzyme Q10, a vital nutrient for health.
If you're in need of a quick energy "hit," these shots by Kirkland could work for you. This 2-ounce shot shouldn't take more than a couple of seconds to drink down.
Don't be deceived by the size—you'll ingest an impressive 190 mg of caffeine. It also contains over 100 percent of your daily dose of vitamins B3, B6, B9, and B12.
You have the choice of Grape, Berry, and Pomegranate. Unfortunately, it does include artificial flavorings.
Conclusion
Healthy energy drinks do exist—but you should still consume them with care. Almost all of them contain caffeine in some form or another, which means moderation is key.
If you want caffeine-free or wholly-unsweetened alternatives, you can make homemade energy drinks. You might not get the same kick, but at least you'll be in control of what's in it. 
If you like this article, check out these others:
7 Healthy Alternatives to Coffee
The Ultimate Paleo Guide to Alcohol
Download Your FREE Paleo Starter Kit Today!
3-Day Paleo Diet Meal Plan
Comprehensive Paleo Diet Shopping List
5 of Our Favorite Paleo Diet Recipes