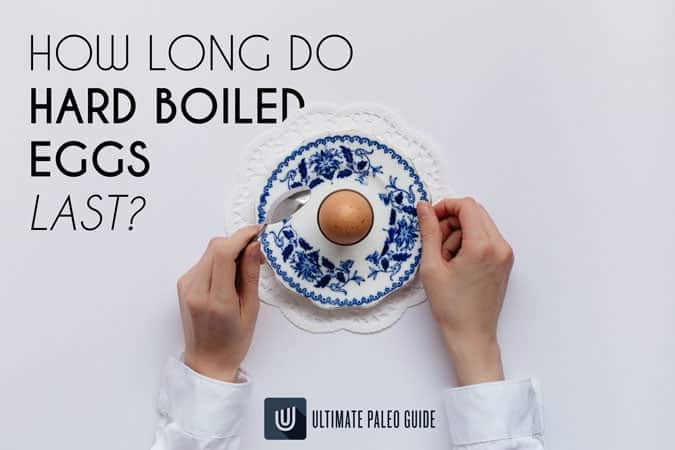 If you're anything like me, hard-boiled eggs are basically an essential part to your meal prep routine. Not only are they incredibly easy to make, but they are the perfect grab-and-go, portable snack when you need a quick protein punch.
But, the typical question arises…how long do they last? The last thing you want to do is crack open the shell to find your snack has gone bad.
How Long Do Hard Boiled Eggs Last?
The general rule of thumb is this: your boiled eggs are good for up to one week if kept in the fridge.
While raw eggs can last up to four or five weeks in the refrigerator, hard-boiled eggs are a different story. The natural coating that protects the porous shell from bacteria washes away in the boiling process. As long as you eat your eggs before that seventh day after boiling, you should be perfectly fine.
To make sure your eggs stay as fresh as possible, stick them in the refrigerator soon after they are done cooking.
Keep your eggs in their shell until right before you eat it. If you do choose to peel the eggs before storing, eat them within five days.
Make note of the date the eggs were cooked. Keep your boiled eggs in a container. Using a piece of masking tape, write the date on the tape and stick it on the lid. That's one less date you have to remember.
How To Make Hard Boiled Eggs
All this talk of hard boiled eggs probably has you craving some for a snack right about now. If that's the case, look no further. We're going to cover exactly what you need to do to make hard-boiled eggs as simple as can be.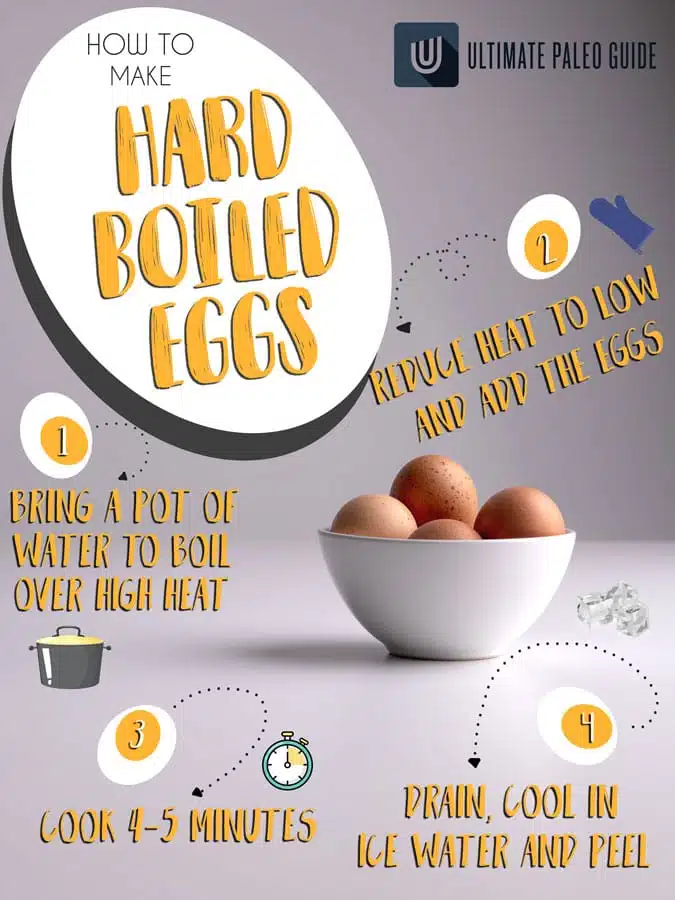 First, you'll bring a pot of water to a rolling boil over high heat. Make sure you have enough water in the pot to cover the amount of eggs you plan to boil.
Reduce the heat to low and add your eggs.
Cook the eggs 4-5 minutes in the pan. When done, drain the water then transfer the eggs into a bowl filled with ice water.
Once the eggs are cooled, peel and enjoy! Or store in the fridge following the guidelines in the article.
Follow these simple tips and never question your hard-boiled eggs again!
For more Paleo-friendly snack options from Ultimate Paleo Guide, click here.
Download Your FREE Paleo Starter Kit Today!
3-Day Paleo Diet Meal Plan
Comprehensive Paleo Diet Shopping List
5 of Our Favorite Paleo Diet Recipes