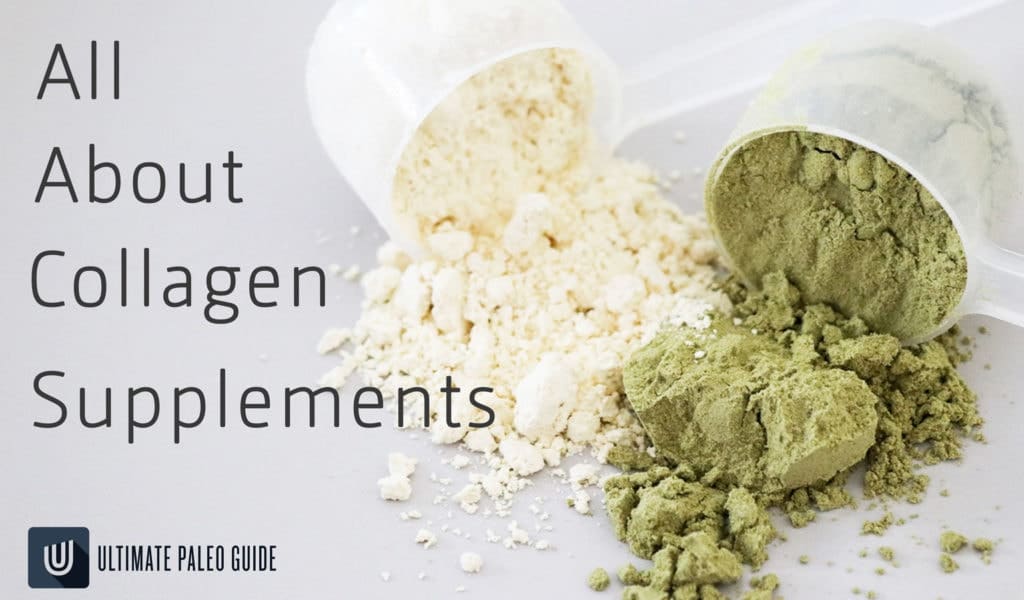 You've probably heard of collagen injections to get plumper lips, right? But what about collagen in edible form? As it turns out, collagen supplements have gained quite the popularity in recent years.
Want to know about other paleo supplements? Read more here.
But what exactly is collagen and what are its benefits? Are collagen supplements actually effective? Here, we're going to go over everything you need to know about collagen supplements.
Collagen Benefits
Collagen is a protein your body needs to bind your tissues together. It's also commonly referred to as your body's "scaffolding." It provides around 75 percent of your body's dry weight and helps to keep your skin plump and smooth.
Collagen is also rich in proline and glycine, two amino acids that are essential the repair and maintenance of bones, tendons, and joints.
There are two main forms of collagen—endogenous and exogenous. Endogenous collagen is the natural form that your body makes itself. Exogenous collagen is the synthetic form you'll find in most collagen supplements.
Aside from those two, there are at least 16 different types of collagen, but the overwhelming majority belong to Types I to III.
To do its job, collagen is secreted mainly by your connective tissue cells. It's found in your extracellular matrix, a network of macromolecules that determine the physical properties of your tissues. 
The dermis of your skin is where collagen does the most work. It's here that the collagen forms fibroblasts to help new cells grow. Some types of collagen also help form protective layers around your organs too.
Health Benefits
Who Needs Collagen?
Long story short, the answer is everyone. However, if you're older or reaching menopause, you may need it more. As you age, your body naturally loses its collagen. Once you reach around the age of menopause (or around your 40s and 50s), your body loses a lot of its types I and III collagen.
Taking a collagen supplement can help prevent that and keep your skin looking young and healthy for much longer.
Incorporating Collagen Into Your Diet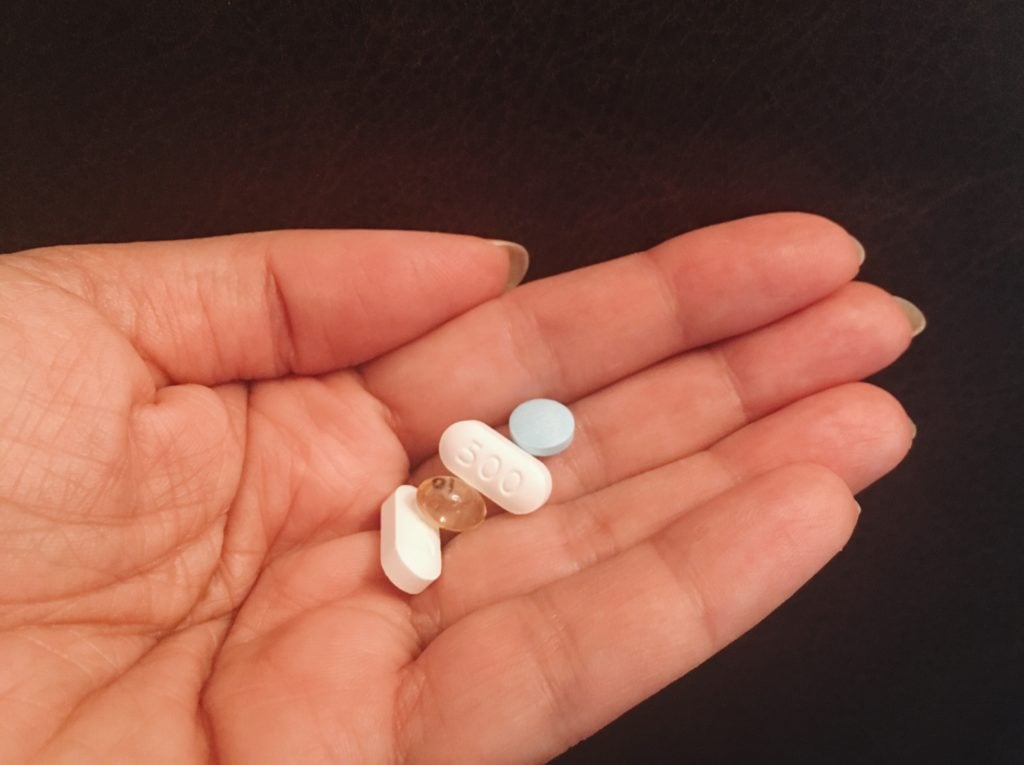 Now that you're aware of collagen's importance and its benefits, you're probably wondering how to incorporate it into your diet. There are a few ways you can do this. The best way, of course, is by consuming collagen-boosting foods.
Collagen-Boosting Foods
Make sure your body is getting plenty of foods packed with proteins, vitamins, and minerals. Along with those, some doctors recommend using a good organic bone broth as well.
Bone broth naturally draws the collagen out of meats like beef, chicken, and fish. Making bone broth is really easy. All you do is let the bones slowly simmer in water for one or two days.
You can do this over the stove or with a slow cooker if you have one.
Collagen Supplements
Another really good way to incorporate collagen into your diet is through supplements. There are two different forms of supplements you can take: powders and pills. There isn't really one form that's better than the other, it's mostly up to your personal preference.
Collagen Powder
Collagen peptide powder, or hydrolyzed collagen, doesn't have any flavor. Some companies may add flavors like chocolate or vanilla, but it's mostly sold in its completely natural form.
Collagen powder is nice because you can use it while you're cooking or making smoothies and it dissolves completely. If you're using the natural, unflavored form, you don't need to worry about any unpleasant tastes.
It's typically recommended to add one or two scoops to your meal or beverage each day.
Personally, we like this option more because it seems much less invasive than swallowing a pill every day.
Collagen Pills
If you don't mind taking pills, you may consider trying your collagen supplement in pill form. Collagen pills are nice because they aren't injected with any added preservatives, additives, or flavors.
Pills are essentially the guaranteed all-natural version of the supplement.
They can prove to be a hassle, though. As we perused different brands, many recommended taking upwards of six capsules two times a day. This can be annoying to try to remember every day
Plus, who has the time or patience for that?
Supplement Brands to Consider
Great, there are ways to keep my body from losing too much collagen. But there are so many brands to choose from. This is probably coursing through your brain right now, right? 
When you're shopping around for a good collagen supplement, whether powder or pill, just make sure you're getting one without any added preservatives or ingredients. The best way to get collagen for your body is as natural as possible.
You don't want to pump your body with gross preservatives. That kind of defeats the whole purpose.
Because collagen supplements come from the collagen of other animals like cows or pigs, you should also look for supplements that come from grass-fed and pasture-raised animals.
Not only is it going to be free of a lot of pesticides and preservatives, but it's also much more environmentally friendly too.
Here are some of our favorite brands.
Vital Proteins
Vital Proteins has a collagen supplement that comes from grass-fed and pasture-raised cows. This is good for ensuring the quality of the supplement. You know you're getting a good, natural product.
They offer it in both a powder and a capsule form so you can take your pick on what you'd rather use. 
The company recommends several ways of using their powder including adding to smoothies and using it in overnight oats.
Dr. Axe
We like Dr. Axe collagen powder because it's tasteless and odorless. This is nice because you won't need to plug your nose before drinking your morning smoothie. Along with the skin and joint benefits, this particular powder also supports gut health too.
Their supplement comes from completely grass-fed, cage-free, non-GMO, and cruelty-free sources. It uses four different food sources: beef, chicken, fish, and eggshell membrane.
It only comes in powder form and one serving is equal to one scoop. This company recommends adding it to your coffee.
Ancient Nutrition
Ancient Nutrition has a few different collagen supplements they offer. They have a multi-collagen supplement as well as a bone broth supplement. Both are also available in capsule form too.
They're also paleo-friendly and they offer a keto collagen supplement too which gives them another gold star with us.
Reserveage Nutrition
This brand has collagen supplements in both capsule and powder form. The capsule form combines type II collagen with other skin-healing ingredients like hyaluronic acid and antioxidants to promote skin health.
It's free of all preservatives, gluten, soy, dairy, sugar, corn, and wheat. This is nice because it shouldn't give your body any negative reactions.
It's recommended to take three capsules daily 
NeoCell
This one is a combination of types I and III collagen. It's recommended mainly for joint health, good skin, and healthy hair and nails too. This collagen powder is super potent so you don't need as much as you would with others.
We like this brand of collagen supplement because it's paleo friendly. It's ethically sourced and comes from grass-fed bovine.
Their bottles are also 100 percent recyclable too so that's definitely a plus.
Are You On Board?
There are all kinds of research and studies that show the amazing benefits supplementing collagen can do for you. From healthy skin and hair to better bone health, collagen is something you should definitely consider adding to your diet.
And there isn't any need to worry about whether or not it's paleo or keto-friendly. As long as it's coming from ethically sourced places, it's completely compliant with the guidelines of paleo and keto diets.
Are you sold on collagen supplements? Do you take any already? We want to hear all of your questions, comments, and concerns. If there's something about collagen we didn't cover here, let us know and we'll provide the answers.
Download Your FREE Paleo Starter Kit Today!
3-Day Paleo Diet Meal Plan
Comprehensive Paleo Diet Shopping List
5 of Our Favorite Paleo Diet Recipes