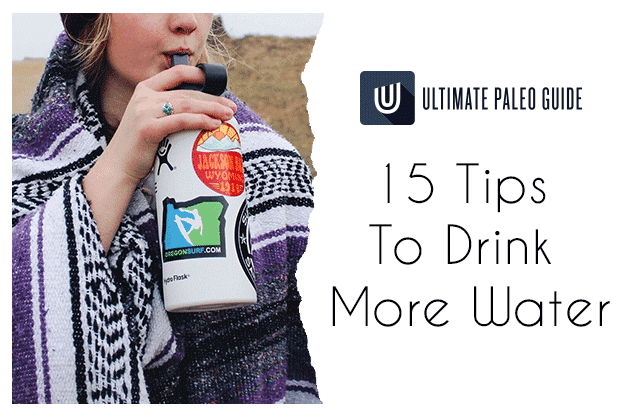 We've all heard the phrase "drink more water" at some point in our lives—whether from our parents, health-conscious friends, or online.
At the same time, most of us encounter the same hurdles when we try to put it into practice. We bring a bottle to work and promptly forget it, or choose tastier beverages over plain old H2O.
Perhaps what feels like never-ending trips to the bathroom act as a deterrent. Either way, our article covers 15 tips to drink more water. We also share motivations to keep you moving in the right direction.
How to drink more water:
Know your body's needs.
Set reminders.
Invest in a bottle.
Set hydration goals.
Why Drink More Water?
One benefit that we can't overstate is that we rely on this liquid to stay alive. Besides the obvious, there are others:
More energy.
Improves cognition.
Lowers risk of constipation.
Boosts fat burning.
Potentially alleviates dry skin.
Limits the risk of kidney stones.
15 Tips to Drink More Water
Are you ready to reap the benefits of complete hydration? Put our 15 tips to drink more water into practice.
1. Know Your Hydration Needs
There's a lot of misinformation regarding appropriate fluid intake. Although drinking more water is encouraged, you don't want to overhydrate—that's equally dangerous as dehydration.
Men should aim for 3.7 liters a day, and women require 2.7 liters. Note these quantities should be from all foods and liquids consumed, not only water!
2. Decide On a Water Source
You need to decide where your H2O will come from—especially if you seldom drink it.
Bottled water may suffice for infrequent drinkers, but are you willing to shoulder the cost—and environmental consequences—of your new, higher demand?
If the tap water where you're located has a gross taste to it or you're not confident in the quality, a water filter might be the way to go. There are options for nearly every budget and home, from pitchers to fancy reverse osmosis systems.
3. Set Goals
Aiming to drink more water is akin to boosting your physical activity levels. Goal-setting is an excellent strategy to promote a healthier lifestyle—make use of it.
For example, write down weekly or bi-weekly objectives. Begin with targets that seem manageable to you—like, start with half a liter.
4. Identify Your Motivations
Ask yourself, why do you want to drink more water?
Perhaps you're working towards a healthier lifestyle. Or, maybe you want to improve your athletic performance—this video elaborates on sports and hydration:
It could be for medical reasons. For instance, to lower the chance of kidney stones recurring.
Either way, figure it out and keep it in the forefront of your mind.
5. Make Rules and Stick to Them
On that note, you need to self-regulate: nobody can force you to drink more water except for yourself.
Take your motivating factor and goal seriously, and remind yourself why you began this journey. If you're lazy about it, you won't get far.
6. Develop a Routine
If you lead a hectic life, you'll need to set a hydration routine. For example, every time you get up to go to the bathroom, take a chug from your bottle.
At the gym, sip after each set of exercises. Down a cup of water before or after meals and snacks.
7. Accessibility is Key
Make your bottle of choice your constant companion. It should be as essential to you as your wallet or your car keys. Adapt to taking it everywhere you go.
8. Invest In Your Bottle
If you opt for a reusable bottle, pick an enticing one—you'll be using it daily. Buy one in your favorite color, or with a design that appeals to you.
You can get one that's marked with times or water quantities to track your progress, like this one, or a smart model that alerts you when it's time to drink.
9. Try an App or Reminders
Cell phone apps are abundant these days. They exist for pretty much everything, including hydration. You can download a mindfulness app like Aloe Bud or water-tracker like Aqua Alert.
If that doesn't appeal to you, set alarms or reminders throughout the day to drink more water.
10. Use Sugar-Free Enhancements
If you're one of those who find water the dullest drink in existence, there's no reason why you can't make it more interesting.
Try adding some lemon, cucumber, mint, or zero-calorie flavor enhancers.
11. Sip Herbal Teas
If you have a specific drink, you think you can't live without, adding water may have you struggling—or heading to the bathroom regularly.
We're talking to the caffeine-and-soda addicts out there. A high intake of coffee can dehydrate you due to the caffeine content. Sodas are also the enemy of hydration.
Herbal teas are usually non-caffeinated and can help you transition from other, preferred beverages to plain water. Try a peppermint tea or check out our favorite brands on Amazon.
12. Always Refill
As soon as you see you're running on empty, refill your bottle immediately. You don't want to get into the habit of finishing it and then not drinking anymore.
13. Substitute Favorite Beverages With Water
If you're finding the whole ordeal overwhelming, don't despair. Take baby steps—replace one of your regular beverages per day with water.
Say that you have two diet sodas with lunch. Switch out one of them with plain old water.
The same tactic applies to alcohol-heavy events and outings. A recent study revealed that alcohol isn't good for us in any quantity—watch this video to learn more:
However, if you must indulge, don't forget your new friend H2O. Match every alcoholic beverage with a cup of water.
14. Reward Yourself
You deserve a treat for achieving your goals—whatever that entails for you, be it a spa day or a small gift to yourself.
Rewards will help you stay consistent and give you something to look forward to when your motivation drags.
15. Eat Water-Rich Foods
Remember what we said earlier about water in foods? Plenty of fruits and veggies can bring you towards your daily goal. Watermelons are 92 percent water, and cucumbers are another prime supply.
Drink Up
Whether you use one of these tips or all of them, we hope you find it a little easier to stay hydrated. Drink up!
Download Your FREE Paleo Starter Kit Today!
3-Day Paleo Diet Meal Plan
Comprehensive Paleo Diet Shopping List
5 of Our Favorite Paleo Diet Recipes