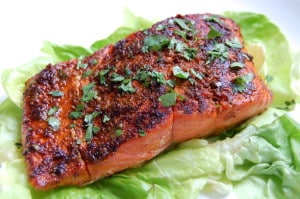 Have you ever wanted grilled salmon, but it was freezing cold and snowing outside? It has happened to me countless times and believe me, that sliver of ice that got into my shoe almost made it not worth it.
Thankfully, there is a solution to having grilled food even in the dead of winter because of the lovely George Foreman grill.
This grill can sizzle salmon, sear steaks, and grill chicken all from the comfort of your kitchen counter.
Additionally, there is less meal-preparation and clean-up, thus making this a fan favorite from parents to college students.
What is a George Foreman Grill?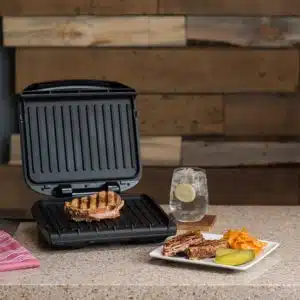 If you haven't figured it out already, the George Foreman grill is a grill that can be used indoors. Also, a George Foreman grill comes in a variety of sizes, thus making it easy to cook either a single entree or a meal for an entire family.
GF grills only have "on" or "off" settings, which means it lacks temperature control. Heat is delivered to the top and bottom of food simultaneously, while grease is cooked off the food.
Finally, another perk of a GF grill is that it doesn't need to be oiled prior to use. Due to the design of the GF grill, most believe that this makes it healthier than cooking in a skillet or an oven.
Why should I have a George Foreman Grill?
George Foreman grills allow you to grill a myriad of things in your own kitchen from meats, vegetables, fruits, and even bread.
Furthermore, the best feature of the George Foreman grill is that it can make your meals healthier, by letting extra fat run off the meat, thus reducing the amount of overall calories and saturated fat in your meal.
Some also feel that the GF grill is the healthier choice since there is less of an opportunity for potentially harmful heterocyclic amines to develop on the food.
Also, according to the National Cancer Institute, outdoor grilled meat can also contain carcinogenic compounds known as polycyclic aromatic hydrocarbons. Through using a GF grill, you not only keep yourself healthy with lighter calories in your meal, but also by having less cancer-causing agents in the food as well.
Which George Foreman Grill Should I Buy?
After looking at the top-rated George Foreman grills on Amazon based on user reviews, we have come up with three GF grills that can help you make quick healthy meals with the click of a button.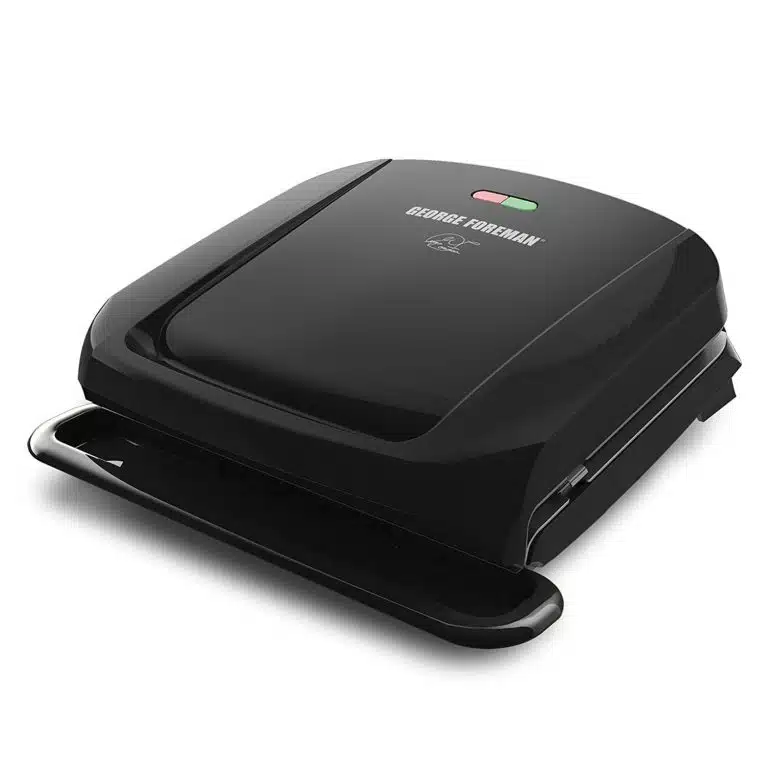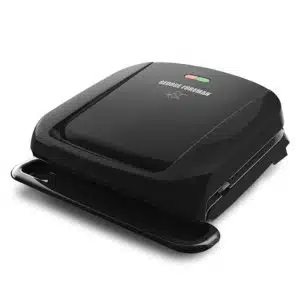 Our first pick was the 4-serving GF grill measuring at 23-ounces. This grill measures at 12.28"x6.5"x13.27" and comes equipped with a non-stick surface 2x more durable than previous versions and removable plates.
Furthermore, the grill is dishwasher safe and is known to have a 35% faster heat-up time than previous models . You can enjoy a quality meal within 10 minutes.
63% of the 3,197 reviews rated this grill with 5 stars since it performed as expected and maintained functionality. Multiple users found that this GF grill was perfect for two people and loved the food they cooked with it.
Some users had difficulty with keeping the removable plates in one position during grilling, which made cooking with the grill a challenge. Despite this, clean-up was simple since the plates were easily cleaned in the dishwasher.
Due to this, it is clear that users were happy with their purchase and felt it was worth taking up the extra space on the kitchen counter.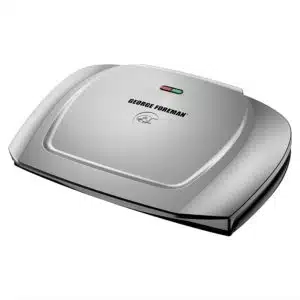 Our runner up was the 9-serving George Foreman grill, which measures up at 19"x14.5"x5.5" and weighs 8 pounds.
Like the 4-serving grill, this grill has nonstick plates. The grill also features a preheat indicator light and the temperature on the grill is fixed.
With 975 reviews and 66% of users rating the grill with 5 stars, it is clear that customers were pleased with their product. One user said that they had been using GF grills for years and that this one was their favorite. Another user said that they loved their grill since it allowed them to grill vegetables quickly which helped them eat healthier and lose weight.
One user said that they bought this model after their other grill of 8 years stopped working, but were happy to make the purchase again. The only complaint from users was that the plates were not removable, which made clean-up a little difficult.
Overall, customers were very happy with their product and were glad to see how well it performed when cooking their food.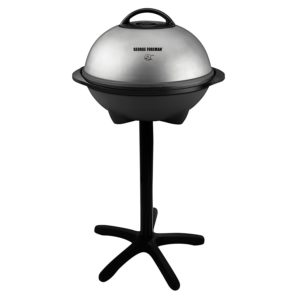 Whether you are tailgating, or have guests coming over, the 15-serving GF grill can help you prepare all the food you need. This 240 square inches of circular grilling lets you cook large batches of food at the same time.
Additionally, the nonstick coating on the grill makes it durable and easy to clean. This grill differs from the other grills since it offers temperature control and 5 different settings to choose from.
Also, the GF grill comes with a removable stand, which makes it easy to move from backyard to kitchen countertop in minutes.
Of 2,360 reviews, 73% of users found this grill worth the 5 stars and were very happy with how well it cooked their food. People who were living in apartments found this grill most useful since it was apartment friendly.
One user had issues with connectivity and found that it was grilling unevenly.
Despite this, the majority of customers had no issues and were very pleased with this grill.
Final Thoughts on The George Foreman Grill
From family gatherings to dinner for two, the George Foreman grill continues to perform and get you the meals you crave. Vegans and meat-eaters can all agree that this grill cooks all types of food to perfection. Cooking has never been simpler and your favorite cookout meals can be made healthier. If that doesn't get you excited to buy one of these grills, then I don't know what will.
Why should I listen to you guys?
More than ever, people are focused on their health and well-being. And, because of this increased interest, that means there are tons of products on the market to help achieve that goal. From kitchen gadgets that make cooking easier, to reusable water bottles, sleep aids, and workout gear, the sheer number of options can be overwhelming.
That's why we wanted to do the hard work for you. We've committed to trying out some of the most popular health and wellness products on Amazon. Here's what happens:
We scour Amazon for the best rated or most reviewed products in health and wellness categories: whether that's something for the kitchen, supplements, or lifestyle products. Then, we order and try them. We give each product a spin – being as unbiased as possible.
Next, we write up our thoughts, our experiences with the product, and any feedback we may have. And we publish it here for you. You'll find the links to the same exact Amazon products we tried in these articles.
That's it – easy! And if you have a product you'd like us to try before you buy, let us know.
Additional Reviews
Download Your FREE Paleo Starter Kit Today!
3-Day Paleo Diet Meal Plan
Comprehensive Paleo Diet Shopping List
5 of Our Favorite Paleo Diet Recipes