The Gift That Keeps on Giving: My Blender Bottle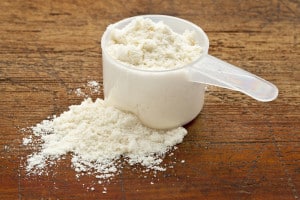 I remember what I thought when I received my first blender bottle. "All I need to do is add water?"
Yes. It is that simple. All you need is protein powder, water, and a blender bottle to have a delicious snack after a workout or even at an airport.
Read our guide on Paleo protein powder
While I only use my blender bottle for protein shakes, these bottles can also be used for a variety of other things, which makes them a favorite for fitness fanatics, people on-the-go, and those who love kitchen hacks. If you haven't purchased a blender bottle yet, here are some reasons why you should get one as soon as possible.
What exactly can this bottle do?
Blender bottles are most well-known for their ability to create quick protein shakes within seconds while their simple design allows for quick clean up since they are dishwasher safe.
Blender bottles consist of a cup, a tight-sealing lid and a whisk, which is made of stainless steel and sometimes plastic. This whisk is the key component of the blender bottle since it helps combine protein powder with a given liquid while breaking down lumps, thus creating a smooth and delicious drink.
Whereas most people only assume a blender bottle is made for protein shakes, they can also help you make scrambled eggs, ice coffee, salad dressings, pancake batter, and even butter.
Blender bottles can be used in the kitchen and in the gym, thus making them a first choice among many who need a quick and easy fix.
So, which one do I buy?
After looking at the top-rated blender bottles on Amazon based on user reviews, we have come up with three blender bottles that could potentially be your new gym buddy.
You can't go wrong with Blender Bottle's product when buying your first Blender Bottle. This 28oz cup allows you to quickly create ample amounts of protein shakes, scrambled eggs, or iced coffee.
Blender Bottle's patented mixing system utilizes its stainless steel BlenderBall whisk, which can only be found in Blender Bottle products. Additionally, this product is phthalate-free and dishwasher safe, making clean up very simple.
Blender Bottle offers a 28oz 2 pack of these bottles, which gives you the option to alternate between bottles in the week. With 75% of 1,829 users rating Blender Bottle's product at 5 stars, it comes at no surprise that users are pleased with their product.
Users consistently stated that Blender Bottle was their go-to choice when choosing a blender bottle and that it came with them everywhere they went. Customers also were impressed with the anti-leak properties of the bottle and one user stated that the spout prevents any "drip" when drinking from the bottle, which they said they had a problem with their blender bottle from another brand.
One user had an issue with a cracked lid but overall, the majority of the customers found the product to be durable and had no problems after washing it numerous times in the dishwasher. Clearly, Blender Bottle offers a great product that many users found was perfect for their shaker needs.
Blender Bottle offers another version of their blender bottle, which features interlocking jars that can hold protein, supplements and more.
You get a 22oz cup, one 150cc jar, one 100 cc jar and a pill organizer complete with a BlenderBall whisk, and of 2,937 reviews, 80% of customers rated this as a 5 star purchase. Customers loved how they could bring their protein powder with them in the container along with their diet supplements.
One customer had an issue with their cap breaking, since they dropped their bottle when it was full. Despite this, the majority of users who had this bottle thought that it was made of sturdy plastic that would last after continual use.
Through this, it is clear that Blender Bottle's product creates a simple solution for those who need to have their protein and supplements measured before heading out to the gym.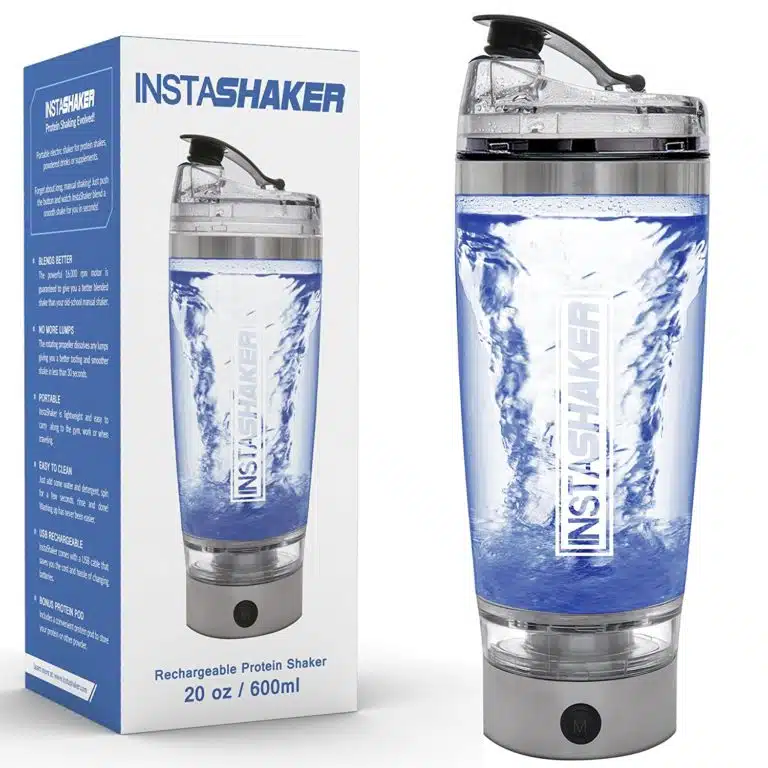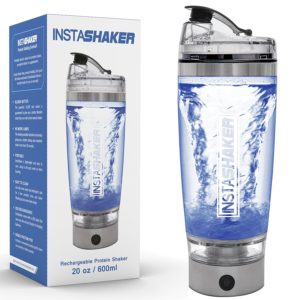 If you like the concept of a blender bottle, but would prefer having something similar to a traditional blender, then InstaShaker's electric blender bottle is what you're looking for. With 69% of 203 reviews being 5 stars, it is clear that users are happy with their purchase.
Many customers bought this product to make Bulletproof coffee, while others used it to make smoothies, milkshakes and even baby formula. The 16000 rpm motor seamlessly dissolves lumps to create a smooth drink that anyone can enjoy. This rechargeable electric blender bottle can make a shake in under 30 seconds wherever you go. The mixing blade is made of plastic, which means that it is best for mixing instead of chopping.
A few customers had some issues with the durability of the product when trying to blend some harder items and wished that a different plastic was used. Luckily InstaShaker offers a 1 year hassle-free warranty, which means you can try out their product risk-free.
Final Thoughts
Whether you find yourself needing a quick meal fix after the gym, or at an airport between  flights, a blender bottle could be your all-in-one solution.
From kitchens to locker rooms, a blender bottle helps you stay on track with your diet and fitness goals. Blender bottles are versatile, easy to use, and require little clean-up or maintenance. Buying a blender bottle will not only change your perspective on food preparation, but it will also make your life easier. It truly is very simple to use and when they say, "just add water," you just add water!
Why should I listen to you?
More than ever, people are focused on their health and well-being. And, because of this increased interest, that means there are tons of products on the market to help achieve that goal. From kitchen gadgets that make cooking easier, to reusable water bottles, sleep aids, and workout gear, the sheer number of options can be overwhelming.
That's why we wanted to do the hard work for you. We've committed to trying out some of the most popular health and wellness products on Amazon. Here's what happens:
We scour Amazon for the best rated or most reviewed products in health and wellness categories: whether that's something for the kitchen, supplements, or lifestyle products. Then, we order and try them. We give each product a spin – being as unbiased as possible.
Next, we write up our thoughts, our experiences with the product, and any feedback we may have. And we publish it here for you. You'll find the links to the same exact Amazon products we tried in these articles.
That's it – easy! And if you have a product you'd like us to try before you buy, let us know.
Additional Reviews:
The Best Blue Light Blocking Glasses
Rootz Paleo Protein Powder Review
Download Your FREE Paleo Starter Kit Today!
3-Day Paleo Diet Meal Plan
Comprehensive Paleo Diet Shopping List
5 of Our Favorite Paleo Diet Recipes