Nothing is more refreshing on a hot summer day than a nice cold drink to quench your thirst. However, a lot of drinks that people reach for first are often filled with sugar and artificial ingredients, thus doing more harm than good to our bodies.
From lemonade to apple juice, these drinks may taste delicious, but they only leave us thirstier and shakier due to spiked glucose levels.
In order to combat this issue, people should be opting for healthier alternatives and the best suggestion is a good ol' fashion iced tea… and I'm not talking about an Arizona Iced Tea.
Instead of going for a sweet tea, there are a myriad of other tea flavors that people can brew in their own home. Before getting out the kettle, keep in mind that there is another method for brewing tea, which leads us to the iced tea maker.
Why drink ice tea?
Across the globe, tea has remained constant at the forefront when it comes to beverages of choice. Tea can be enjoyed a variety of ways and in different flavors such as herbal teas and fruit teas, which makes it a favorite among many.
Unsweetened iced tea is also known to be healthier since it is filled with antioxidants, which help your body fight against illnesses.
Also, it has been studied that iced tea can potentially aid in the prevention of cancer since it contains flavonoids. Aside from these benefits, iced tea keeps you hydrated, prevents tooth loss, maintains a healthy heart, and is a great source of manganese.
With all of these advantages, you should be switching over to iced tea for your drink of choice if you haven't already.
How it works?
Making a batch of iced tea doesn't require an iced tea maker, but it makes it incredibly easier. I remember the days before we had an iced tea maker in our home and my dad would make a hot brew of tea first, which meant that there would be no ice available once he actually iced the tea!
Instead of burning all the ice in the house, opt for an iced tea maker and save yourself the time and the ice. An iced tea maker is easy to use and it allows you to make a batch of tea within minutes.
Additionally, an iced tea maker saves you time since you don't have to wait for water to boil and it also keeps your kitchen cool without having to make tea on the stove first.
Furthermore, if you prefer coffee or live with both coffee and tea drinkers, an iced tea maker can also make iced coffee, thus making it the perfect investment.
So, which one do I buy?
After looking at the top-rated iced tea makers on Amazon based on user reviews, we have come up with three iced tea makers that can help you brew a batch of tea faster than you think.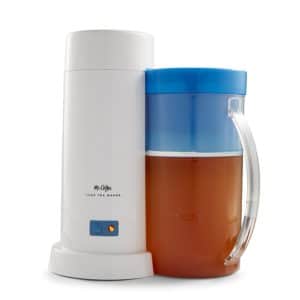 Mr. Coffee's 2-quart iced tea maker was our top pick and with 65% of 1,144 reviews rating it at 5 stars. You can make single or double servings of iced tea or iced coffee in 10 minutes.
Operating the machine is simple and you just place water in the reservoir and place loose tea or tea bags of your preferred tea in the brew basket.
A couple features of the machine include auto shut-off after the tea is brewed, a programmed cleaning cycle and the pitcher is also dishwasher-safe.
When it comes to durability, these iced tea makers are built to last. While they are made of plastic, multiple users stated that they have been using Mr. Coffee iced tea makers since the early 90's.
Additionally, multiple users were pleased with how simple it was to brew tea and that they preferred the simple design. One user wished that they could customize the strength of the brew, and that they didn't have to use more tea bags.
Overall, customers were very happy with their purchase and found that the Mr. Coffee iced tea maker consistently performed in making them their favorite iced tea.
Cusinium offers a 1.5-quart iced tea/coffee maker and with 86% of 165 reviews giving it 5 stars, we can see this is a quality product.
This professional grade cold brew machine comes with a 2-in-1 spoon to scoop and seal loose coffee and tea bags and is also the perfect size to store in a refrigerator or kitchen cabinet.
The device comes with a through filtration system featuring a stainless steel 0.40mm mesh size thus resulting in incredible iced tea or coffee brews. The lid is also made of stainless steel, and the pitcher is made of glass.
Multiple customers were very pleased with how nice Cusinium's cold brew machine looked, but found that it was too delicate.
Also, one user stated that they wished the center was larger so they could add more coffee/tea to make a stronger brew.
Unlike the Mr.Coffee iced tea maker, this device takes 12-24 hours for the brewing process to complete and the cold brew tea or coffee lasts up two weeks.
Despite the lengthy process, customers were glad that they purchased this cold brew machine and found that it performed perfectly.
For those who prefer a more modest amount of iced coffee/tea, Ovalware offers a 1.0 iced tea/coffee maker.
Of 979 reviews, 71% of customers gave this device 5 stars and many users were happy with how straightforward and easy the machine was to use. The iced tea/coffee maker has an airtight seal, easy-grip handle and it can fit conveniently on a fridge self or kitchen cabinet.
Furthermore, the filter is made of 18/8 rust-free superfine dual mesh, medical grade stainless steel, which is also dishwasher safe.
Like the Cusinium tea maker, Ovalware's device takes 12-24 hours to complete the brewing process, but customers believe that it is worth the wait.
Final Thoughts
Evidently, tea has been shown to have a multitude of perks when it comes to overall wellness. Unsweetened iced tea can keep you properly hydrated throughout the day, let you have cavity-free teeth and even prevent you from getting cancer. Thankfully, obtaining this drink isn't difficult since you can now make iced tea from the comfort of your own home. Furthermore, these iced tea makers double as iced coffee makers, which gives others the opportunity to have their own beverage as well. Whether it be a hot summer day or a sunny winter morning, you can have your iced tea whenever you want.
Why should I listen to you guys?
More than ever, people are focused on their health and well-being. And, because of this increased interest, that means there are tons of products on the market to help achieve that goal. From kitchen gadgets that make cooking easier, to reusable water bottles, sleep aids, and workout gear, the sheer number of options can be overwhelming.
That's why we wanted to do the hard work for you. We've committed to trying out some of the most popular health and wellness products on Amazon. Here's what happens:
We scour Amazon for the best rated or most reviewed products in health and wellness categories: whether that's something for the kitchen, supplements, or lifestyle products. Then, we order and try them. We give each product a spin – being as unbiased as possible.
Next, we write up our thoughts, our experiences with the product, and any feedback we may have. And we publish it here for you. You'll find the links to the same exact Amazon products we tried in these articles.
That's it – easy! And if you have a product you'd like us to try before you buy, let us know.
Additional Reviews
Best French Press Coffee Makers
Download Your FREE Paleo Starter Kit Today!
3-Day Paleo Diet Meal Plan
Comprehensive Paleo Diet Shopping List
5 of Our Favorite Paleo Diet Recipes