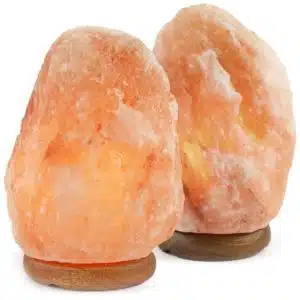 Before you think that Himalayan salt is just another fancy thing to add to your kitchen, think again.
Lately, salt lamps or Himalayan Pink Salt lamps have become quite popular due to their decorative qualities and warm glow that they give off when being lit.
Himalayan pink salt (HPS) lamps are soothing and relaxing, which offers an ambiance at home that is similar to being around a campfire.
Additional theories have explored the potential benefits of salt lamps and their ability to improve air quality. Through this, it is evident as to why people have become interested in this latest trend.
What are salt lamps?
Himalayan salt lamps are made of 98% sodium chloride (like table salt), yet they also contain trace minerals such as: magnesium, potassium and zinc. The lamps have a hue that ranges from light pink to dark orange/pink due to the trace minerals found in them.
The theory behind salt lamps is that they attract water molecules in the air, thus purifying the air you breathe. This means if you suffer from allergies, or are affected by pollutants and even bacteria in the air, then these substances get attracted to the lamp, thus improving air quality.
Furthermore, heated salt lamps are thought to dry out water vapor and leave particles attached to the salt.
As a result, it is recommended that salt lamps are wiped down often for cleaning.
Why should I have a salt lamp?
The most obviously benefit of a salt lamp is that it is very attractive when it is on, thus making it aesthetically pleasing when trying to reach a certain level of ambience in a room.
Some health professionals recommend avoiding blue light after sunset to help with regulating sleep patterns. Because of the HPS lamps warm hue, it is a perfect alternative to a traditional desk lamp and will leave you feeling more relaxed.
Additionally, HPS lamps are thought to also improve air quality through attracting pollutants in the air and potentially neutralizing the effects of electronics.
Some people who suffer from SAD (Seasonal Affective Disorder) have found that HPS lamps have helped them feel more calm and boosted their mood as well.
Despite whether is it knowns or not that HPS lamp will help your allergies, it is clear that it will brighten up a room and make you feel relaxed, which makes it worth a try.
So, which one do I buy?
After looking at the top-rated Himalayan salt lamps on Amazon based on user reviews, we have come up with three HPS lamps that could potentially help you feel more relaxed and breathe better.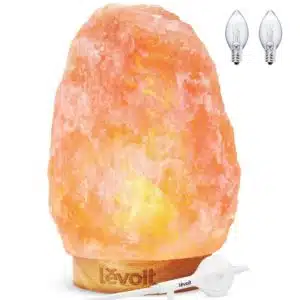 Levoit offers HPS lamps ranging from 5 to 8-pounds, 8 to 11-pounds, and 11 to 15-pounds. This lamp comes with a 15 watt incandescent light bulb and a rubber wood base, thus making it one of the most stable candles offered.
The lamp has a dimmer switch, which means you can customize the intensity of the light depending on your needs as you illuminate your room with a warm and pleasant glow.
With 85% of 1,482 customer reviews rating this lamp with 5 stars, it is evident that this lamp delivers. Users consistently praised how relaxed they felt after using the lamp and believed that it truly helped them feel more calm.
Multiple customers felt that the dimmer switch was very responsive and convenient. Other customers found it to be the perfect addition to their office or bedroom and were very glad they made this purchase.
A few users had some issues with delivery but the performance of the product was consistent, thus making it our top pick.
WBM has a few lamps including a 2-pack of naked salt lamps, a set of 2 salt lamps, and a 7-11-pound salt lamp. WBM lamps are from Pakistan and these lamps come with a dimming light feature and 15 watt bulbs. The lamps are made of intertwined metal and features a polished finish.
Users found that this lamp was perfect for their bedrooms, offices, spas, yoga studios and even restaurants. 69% of 11,182 ratings gave this lamp 5 stars, which shows that customers were pleased.
A few users had issues with the dimmer switch and wished that a different one had been used.
Despite this, customers were happy with their purchase and felt that their lamp truly helped them.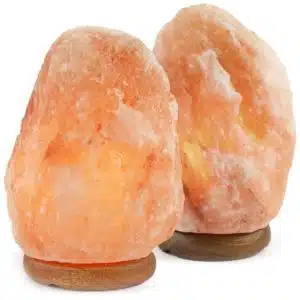 From Crystal Allies, you can have a set of 2 HPS lamps weighing 5-8-pounds. Multiple users were happy with their lamps and of 2,061 reviews, 70% believed they deserved 5 stars.
Furthermore, customers felt that the lamps did their job and that they felt more at ease with these on. The main complaint from customers was that they wished that packaging was better since some experienced issues with delivery.
Regardless, the lamps performed well and customers thought they were worth the money.
Final Thoughts
If you find yourself wanting to test out the probability of a HPS lamp purifying the air or just want a warm cozy light on your nightstand, then a salt lamp is for you. From offices to dorm rooms, these lamps can really make you feel relaxed while also potentially causing multiple other health benefits. Try it out and jump on the bandwagon, because a salt lamp is worth it.
Why should I listen to you guys?
More than ever, people are focused on their health and well-being. And, because of this increased interest, that means there are tons of products on the market to help achieve that goal. From kitchen gadgets that make cooking easier, to reusable water bottles, sleep aids, and workout gear, the sheer number of options can be overwhelming.
That's why we wanted to do the hard work for you. We've committed to trying out some of the most popular health and wellness products on Amazon. Here's what happens:
We scour Amazon for the best rated or most reviewed products in health and wellness categories: whether that's something for the kitchen, supplements, or lifestyle products. Then, we order and try them. We give each product a spin – being as unbiased as possible.
Next, we write up our thoughts, our experiences with the product, and any feedback we may have. And we publish it here for you. You'll find the links to the same exact Amazon products we tried in these articles.
That's it – easy! And if you have a product you'd like us to try before you buy, let us know.
Additional Reviews
Best French Press Coffee Makers
Best Himalayan Pink Salt Lamps
Download Your FREE Paleo Starter Kit Today!
3-Day Paleo Diet Meal Plan
Comprehensive Paleo Diet Shopping List
5 of Our Favorite Paleo Diet Recipes