What are blue light blocking glasses?
Blue light blocking glasses are glasses meant to be worn once the sun starts to set. They are like sunglasses, but intended to block blue light from your eyes instead of sunlight. Most people wear them during the evening when they are at home to help promote restful, deep sleep. These glasses have special yellow or amber lenses that filter out blue (or artificial) light.
What's the importance of blocking blue light once the sun sets?
Well, for starters, our body naturally wants to wake up when the sun rises and wind down when the sun sets. This is called our circadian rhythm – or our body's internal clock. Our internal clocks can be influenced by outside factors – including light – or other aspects of our environment like temperature.
Before artificial light was a problem, our ancestors' circadian rhythms were most definitely in sync with the sun and the moon. Nowadays, though, it's impossible to escape artificial light at night. Whether it comes from light bulbs, phone screens, or the television, it's all around us. Our body can't differentiate between different types of light. So when our eyes receive blue light at night, our bodies understandably get confused.
How can blue light impact my body?
Obviously, blue light can impact the quality of sleep we receive each night. This happens because the light disrupts our body's ability to produce melatonin – the sleep hormone. When we can't properly regulate our melatonin production, our sleep suffers.
We are a culture obsessed with screens. Staring at screens can start to cause strain to our eyes. These glasses can help ease that strain by preventing glare. There's also some evidence to show that excessive screen-time can cause long-term damage and lead to macular degeneration in animals (although this hasn't been shown to be true in humans, yet.)
It's worth noting that blue light can be a good thing – at the proper time of day! Blue light helps the body identify that it is actually day time and that we should be awake. It gets harmful when all of that blue light seeps into our eyeballs at night.
Blue Light Blocking Glasses
To combat the blue light problem, you can wear these blue light blocking glasses. There are some researchers who believe that these glasses should be worn by EVERYONE – but especially those who work the nightshift or use screens at night (so basically everyone…) We've tried out some of the most popular pairs of blue light blocking glasses on Amazon. Check out our review and let us know if you pick up a pair!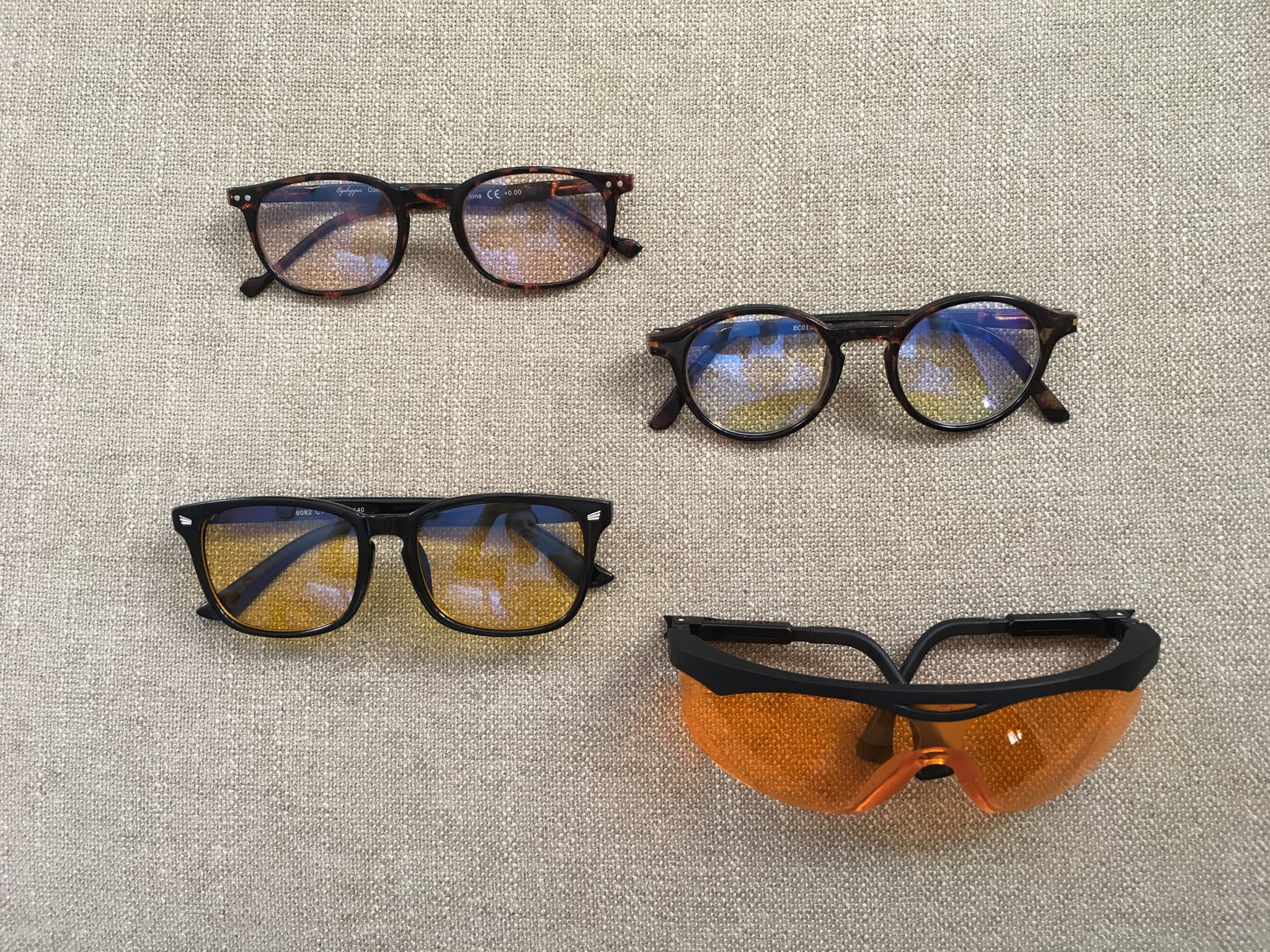 Eyekepper Vintage Computer Glasses-Anti-reflective,Anti-glare,Clear Lens,Uv Protection
These glasses got our top pick for a number of reasons. First off, the frame is stylish and feels light on the face. I much prefer this to some of the other options that sat heavier or took up more space across my face. If you are wearing these at the office or have company over, these glasses look enough like regular glasses so that you don't feel awkward wearing them in front of others. I would also consider these glasses to be unisex. My boyfriend and I tried them out and we both felt comfortable wearing them.
These lenses don't seem to distort anything, and unlike other blue light blocking glasses, this pair can be bought without any magnification. The lenses are plastic, and, therefore, smudging can occur. I experienced lens smudging with each pair I tried. As long as proper care is taken, this can be fixed easily. The glasses come in a hardshell black glasses case and a cleaning cloth is included. I would definitely recommend using the cloth to wipe down the lenses when needed. This seemed to do a much better job at cleaning the lens than anything else I tried.
What I like about these glasses is that the tint of the lenses isn't dramatic. There is a yellowish color that appears when you put them on, but it's not distracting like I found some of the harsher lenses. When looking at a someone who is wearing the glasses, there is a noticeable reflective glare that appears on the lenses. If you're wearing these glasses in a public space, that may be something you should keep in mind.
The frame is sturdy and has been durable thus far. The hardshell case that comes with the glasses make it easy to transport these glasses without worrying that they would get cracked in your backpack or suitcase. As someone who has broken at least 10 pairs of sunglasses in the past, this was definitely a selling point for me.
Now – how about the benefits? I can't definitively say that this had any positive (or negative) affect on my quality of sleep. I think I would have to do a much longer, more controlled experiment to make that claim.
That being said, I do feel like the strain on my eyes from extensive screen time was decreased by wearing these glasses. I work in front of a computer anywhere between 5-9 hours a day. When I wore these glasses, my eyes felt less fatigued, scratchy, and fuzzy. My boyfriend, who is an IT specialist and works in front of a screen all day, said he noticed the same benefits.
Again, I'd like to reiterate that I can't speak specifically to the benefits for more restful sleep. But – for me – knowing that my eyes feel better throughout the day and, especially when I'm looking at screens at night, is enough for me to recommend these specific glasses.
For $12, I really don't think that you can lose.
TLDR; stylish frames. Not too much tint. Frames sit light on face, but feel sturdy. Comes with hardshell case. Less strain felt on eyes. Very affordable.
Runner up:
J+S Vision Blue Light Shield Computer Reading/Gaming Glasses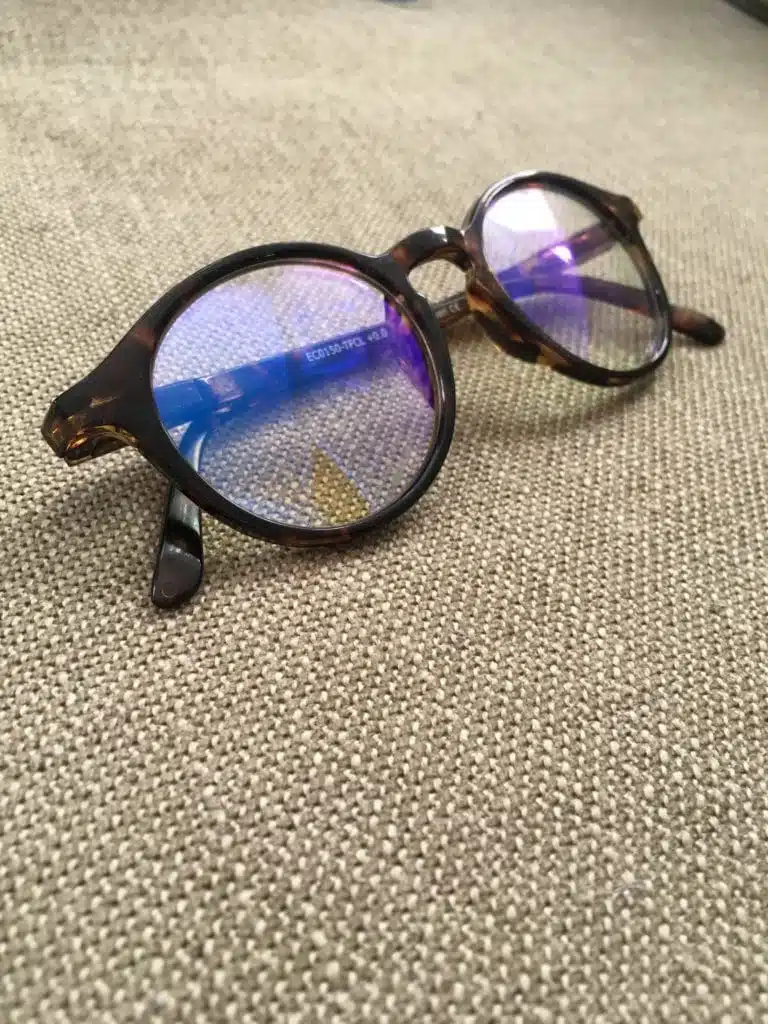 These glasses are similar to the Eyekepper brand, but there are a few differences that struck me as significant. First off, these are a tad bit heavier than the previous frames. As a personal preference, lighter frames feel better on my face. It may be worth noting, though, that these particular glasses are offered in two different shapes on Amazon. I opted for the rounder lenses, and these may be bigger in size than the other option.
They also seem to have a slightly more yellowish tint than the previously reviewed pair. This isn't necessarily a bad thing, but after wearing the other pair that was less-tinted, I found it a bit more noticeable. These glasses are also much more reflective on the front of the lenses. When my boyfriend wore them, the reflection from any source of light was so bright.
Like the other pair, these lenses smudge really easily. This pair of glasses did not come with a cleaning cloth, so I ended up using my shirt to clean them up when they would get unbearably smudgy. This really didn't seem to do the trick, so if you have a glasses cloth, I'd recommend using that to clean these glasses.
These do come with a really nice black hardshell case. The case is slim and would take up minimal room in a purse, backpack, or carry-on bag.
TLDR; These frames are heavier than the previously reviewed pair but the frame feels sturdy. They are more tinted and more reflective on the front of the lenses. They come with a nice case which would be handy for traveling or carrying around in a backpack. They are more expensive than the first pair (about 50% more), but I don't think they vary much in quality than the Eyekepper brand.
The others: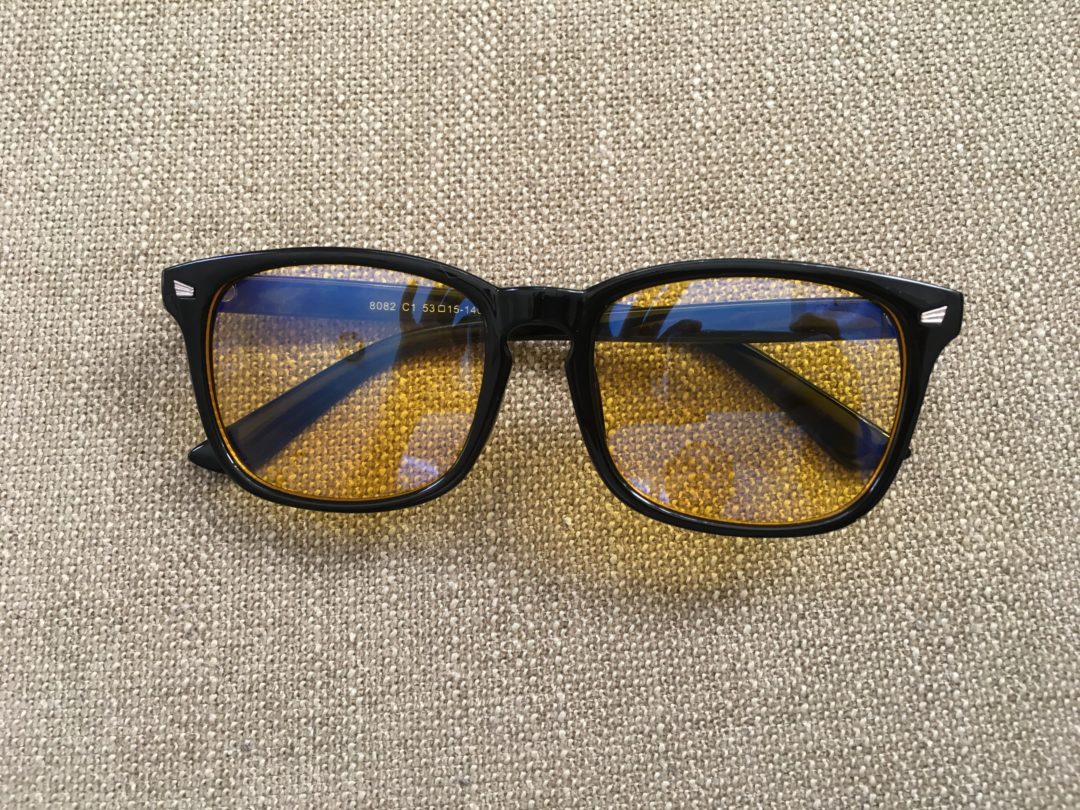 If you're looking for a pair of glasses that will turn your world yellow, these are it. The lenses are so tinted that you don't have to even look through the lenses to notice. For me, this harsh of a tint makes it hard for my eyes to adjust correctly. I felt as if my eyes were straining more when I wore them – especially when looking away from the computer screen. I honestly wouldn't be able to wear these very often or for long periods of time.
The lenses itself were also really big on my face. Again, I'm not a fan of heavy glasses that take up a lot of space. While this particular brand does offer many color choices, all of the frames are the same size. If you like bigger framed glasses, these may be a good option. If you're like me, though, and that's not your thing – I'd avoid buying these.
Like with the other pairs I tried, these also smudged really easily. I think the darker tinted lenses made it easier for the smudges to be seen from the outside looking in. They are hard to clean and to keep clean.
These also came with a hardshell plastic case.
Overall, I wouldn't recommend these glasses. The price is reasonable, but the extreme tint, size of frames, and smudging issue make me hesitant to recommend these.
Uvex Skyper Blue Light Blocking Computer Glasses with SCT-Orange Lens
These are some legitimate blue-blocking glasses. With over 2,300 reviews on Amazon, and an averaged 4 star rating, I wanted to try these out to see what the hype was about.
First off, these look like the safety glasses that you used to have to wear in your college chemistry class. If you're going for style, these are not the ones you want. Also, as you can see from the picture, these lenses are straight up orange. There's no fooling around here. These definitely alter colors – especially blues
They are obviously quite large. That being said, they aren't heavy frames. They actually sit much lighter on the face than I expected. The side arms are also adjustable – which is a nice option to have. They also seem to smudge much less than any of the other frames I tried.
These glasses would be great for people who already wear glasses on the regular. They can fit over other lenses unlike the other glasses we have included in this review.
These glasses seem to be pretty high quality. They are surprisingly comfortable as well. That being said, I didn't like the completely tinted lenses. If you don't mind the color distortion or already wear glasses, these would work well for you. And you can't beat the price.
Ready to buy Your Blue Light Blocking Glasses
If you're ready to buy your own blue light blocking glasses – this is the one we'd recommend: Eyekepper Vintage Computer Glasses-Anti-reflective,Anti-glare,Clear Lens,Uv Protection.
If you want to check out more of our favorite Paleo-friendly products, visit our Product Reviews page.
Some of our other favorite products:
Best Seasonal Affective Disorder Lamps
Our review process
More than ever, people are focused on their health and well-being. And, because of this increased interest, that means there are tons of products on the market to help achieve that goal. From kitchen gadgets that make cooking easier, to reusable water bottles, sleep aids, and workout gear, the sheer number of options can be overwhelming.
That's why we wanted to do the hard work for you. We've committed to trying out some of the most popular health and wellness products on Amazon. Here's what happens:
We scour Amazon for the best rated or most reviewed products in health and wellness categories: whether that's something for the kitchen, supplements, or lifestyle products. Then, we order and try them. We give each product a spin – being as unbiased as possible.
Next, we write up our thoughts, our experiences with the product, and any feedback we may have. And we publish it here for you. You'll find the links to the same exact Amazon products we tried in these articles.
That's it – easy! And if you have a product you'd like us to try before you buy, let us know.
Download Your FREE Paleo Starter Kit Today!
3-Day Paleo Diet Meal Plan
Comprehensive Paleo Diet Shopping List
5 of Our Favorite Paleo Diet Recipes