Best Sleep Masks
Sleep masks – most commonly thought of as an airplane necessity. But as science continues to show us how important consistent deep sleep is for overall health and well-being, these little tools may be vital for getting a good night's sleep – especially if your bedroom isn't completely dark at night. They're also incredibly helpful for people who work shifts and find that they need to sleep during the day.
How exactly are sleep masks beneficial, you may be asking yourself. By blocking out all light, sleep masks help the body switch from producing serotonin to melatonin – the sleep hormone. Less light = a better, deeper sleep.
There are a million options for sleep masks on Amazon. We recently tried out some of the top-rated ones to help you choose wisely. If you're on the hunt, check out our thoughts before making your purchase.
Our pick: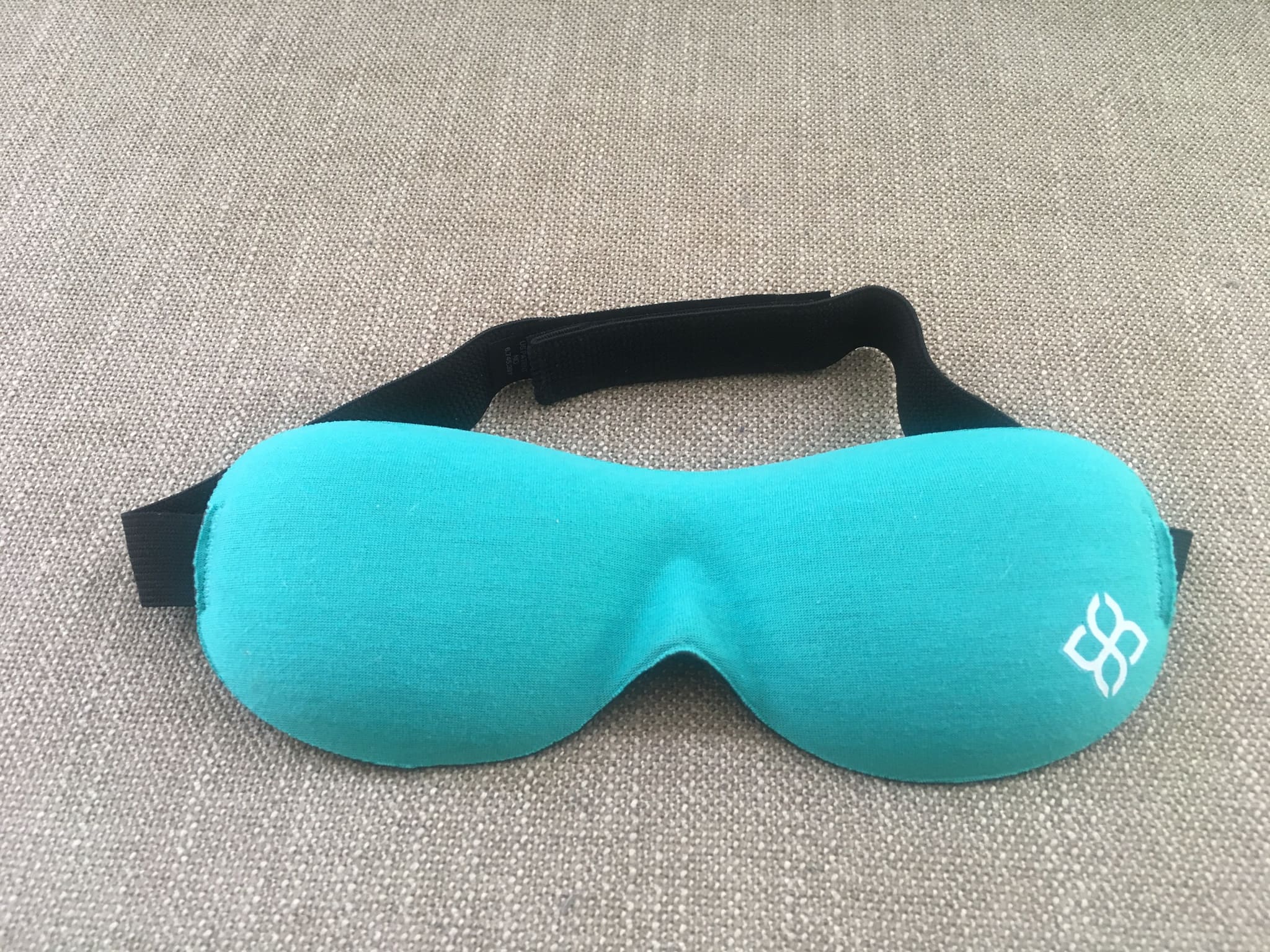 Out of the masks I tried, I liked the Bedtime Bliss mask the best for a number of reasons. With over 9,000 reviews on Amazon, this mask seems to be mostly loved by its users. Here are my thoughts on it:
The Strap
First things first, the strap on the sleep mask matters. This sleep mask straps on with velcro. For me, this is preferable to the other sleep masks that have the plastic slider-clasp. The velcro doesn't dig into your head as you're trying to sleep. It also feels more secure since you can get the velcro as tight as you need it.
That being said, some people with long hair have complained about the velcro getting caught. I can't say that it ever happened to me, but if you have a sensitive head, this is something that you may want to consider.
I was also afraid that the strap wouldn't stay closed through the night, but I never had the problem of it coming unclasped at any point.
The Material
The Bedtime Bliss mask is made from bamboo and cotton. As expected, it's not as slick as the silk masks, but it is surprisingly lightweight and comfortable. It's also not as wide as some of the other masks, so it doesn't feel like it's covering your whole face.
That being said, though, it keeps out most of the light. It has a "nose piece" which I think helps block out more of the light comparatively to the masks that don't. That being said, I noticed some people in the Amazon reviews said that this can be a flaw depending on the size of your nose. So, take that for what it's worth.
The Shape
The mask is constructed in a way so that it doesn't rest directly on your eyes. I like this because I don't particularly like pressure on my eyelids like a traditional mask does. This is also great if you wear makeup and need it to stay in place – say on a flight.You can also open your eyes under this mask if that is important to you.
I tried out this mask during the hottest day during an unseasonably warm Portland summer – which I spent in my apartment with no air conditioning. To be honest, I was pretty miserable.
That being said – the mask didn't make my face hotter than any other part of my body. I think that says a lot.
A Bonus
It's also worth noting that this mask comes with ear plugs. If you're looking to buy this for traveling or if you have a noisy sleep environment, this combo would be beneficial.
As weird as this sounds, I did appreciate that this mask came in multiple color choices. None of the other masks that I tried had any other colors available other than black.
My biggest issues with this mask:
As is expected with any mask, you can feel this on your face. It's not necessarily heavy, but there is some pressure from it. It's mainly on the outside edge since it's contoured over the eyes.
It also seemed like the more I used the mask, the more it lost its shape. The downside to this is that it slowly lets a little more light in over time.
Considering the cheap price of the mask, though, and how much I prefered it compared to the others I tried, I wouldn't mind paying for another one when this one eventually needs to be replaced.
Runner up:
This mask has a velcro strap like the previous mask so it can be adjusted as needed. I compared the strap of this mask and the Bedtime Bliss mask side-by-side, and it's the same size and thickness.
This mask is also contoured around the eyes, so it doesn't sit directly on your eye sockets. In both of these regards, it's pretty similar to the Bedtime Bliss mask.
Distinguishing Aspects
This mask definitely doesn't sit as heavy on the face. It's a little lighter in weight comparatively. To me, it feels flimsier which I one of the reasons why I didn't choose this one as the winner.
It also doesn't include the nose piece. This seems to cause light to get inside the mask. If I open my eyes under the mask, I can see the light around the edges – especially near my nose.
The mask is made of neoprene and has a silkier texture than the Bedtime Bliss mask. The silkier texture is nice and I do prefer it to the stiffer feeling of the Bedtime Bliss.
The only color available is black, so if you prefer a colorful mask (no shame!), you won't get it with this one.
This mask does come in the 2-pack. So, the price equals out to $5.50 per mask. That's a pretty great deal. I noticed some reviews saying that the mask falls apart quickly. Mine hasn't had any wear and tear yet, but if that does happen, it's nice to have a backup.
The Others:
MAGIC BEAR Luxury Silk Sleep Mask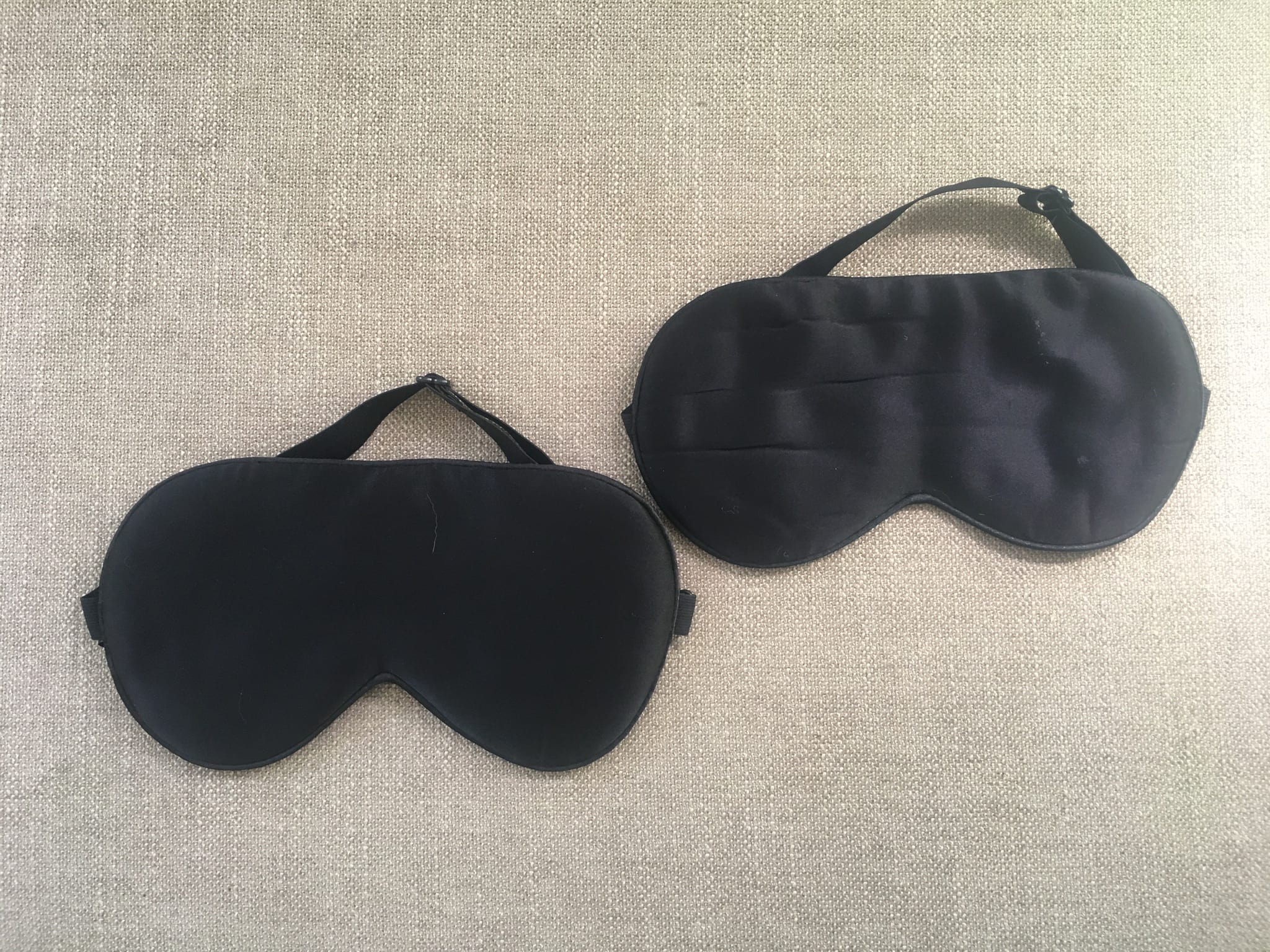 I'm lumping these two masks together in the same category because they are essentially the same mask as far as I can tell.
These masks are very minimalistic. They lie flat against the face with no contouring around the eyes. The behind-the-head elastic strap is thinner than the two previously-reviewed masks, and it has a slider clasp that allows you to adjust the strap to the size of your head.
Because the masks lie flat against the face, they both virtually block out all light. That being said, it's hard to open the eyes when the mask is straight up on your face. It felt a little claustrophobic to me.
It seems like the thinner elastic strap gets stretched out a lot quicker than the thicker velcro straps. I found that it didn't take long before the mask no longer fit snugly on my head because the strap was warped.
The material is silk all the way around. Compared to the contoured masks, that are made with a sturdier material, I actually prefer the silkiness of these. It's soft and seemingly more comfortable. That being said, I'm wearing it to block out the light so that's why I prefer the sturdier masks over these options even though the feel isn't as great to me.
Wrap Up
I prefer the contoured, sturdier masks compared to the more traditional flat, silk ones. This mainly comes down to how much light it blocks out at night. The two other important pieces for me were the velcro strap and the more pronounced nose piece. The combination of these three factors made the Bedtime Bliss mask an easy choice.
Ready to buy?
Are you ready to take your sleep up a level and get your own sleep mask? This is the one we'd recommend. Buy it here: Bedtime Bliss
If you want to check out more of our favorite Paleo-friendly products, visit our Product Reviews page.
Some of our other favorite products:
The Best Blue Light Blocking Glasses on Amazon
Our review process
More than ever, people are focused on their health and well-being. And, because of this increased interest, that means there are tons of products on the market to help achieve that goal. From kitchen gadgets that make cooking easier, to reusable water bottles, sleep aids, and workout gear, the sheer number of options can be overwhelming.
That's why we wanted to do the hard work for you. We've committed to trying out some of the most popular health and wellness products on Amazon. Here's what happens:
We scour Amazon for the best rated or most reviewed products in health and wellness categories: whether that's something for the kitchen, supplements, or lifestyle products. Then, we order and try them. We give each product a spin – being as unbiased as possible.
Next, we write up our thoughts, our experiences with the product, and any feedback we may have. And we publish it here for you. You'll find the links to the same exact Amazon products we tried in these articles.
That's it – easy! And if you have a product you'd like us to try before you buy, let us know.
Download Your FREE Paleo Starter Kit Today!
3-Day Paleo Diet Meal Plan
Comprehensive Paleo Diet Shopping List
5 of Our Favorite Paleo Diet Recipes