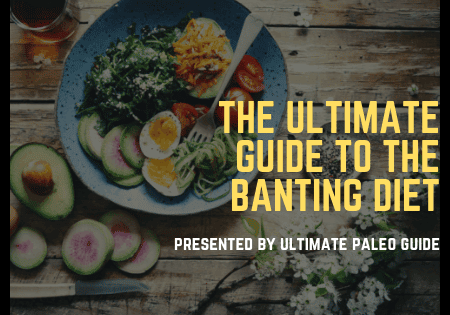 Have you heard of the Banting diet? This diet is popular in South Africa, and though it has been around since the 1800s, it's experiencing a surge in popularity once again.
If you want to learn all about the banting diet, this is the article for you. Our guide lays out all you need to know about this low-carb, high fat dietary approach.
Background
The banting diet was originally created by a man named William Banting. Supposedly, Mr. Banting's doctor advised him to follow a low-carb diet to help with his obesity. What did that diet look like, you might ask? You might be surprised at how similar to the paleo diet it was – an emphasis on meats, vegetables, fats, and fruits.
William Banting wrote an article called "Letters on Corpulence" in which he outlined his approach. He specifically states that his success could be attributed to his avoidance of starches and saccharins and the addition of whole foods such as beef, organ meat, vegetables, fruit, and dry toast. These foods were spread across four meals a day.
And, if we're being completely honest, he was more than upfront about having a few glasses of wine (but no beer).
For anyone who is familiar with today's low-carb diets, this probably sounds pretty similar.
The Banting Diet – Today
Recently, the diet has seen a resurgence in popularity. This is due in part to a man named Prof Tim Noakes. Noakes wrote a book called "Real Meal Revolution" which outlined a 4-phase nutritional approach low in carbs and moderate in protein and healthy fats.
As with any low carbohydrate approach, this is to get the body to switch into a fat-burning mode – also known as ketosis.
Weight loss is always a big draw to low carb diets, but there are a multitude of other benefits a well. On the website, Noakes lists the conditions that the banting diet is said to help. This includes:
Lose weight
Reverse Type 2 Diabetes
Gain control of their blood sugar with Type 1 Diabetes
Cure their IBS
Normalise blood pressure
Reduce skin irritations
Reduce acne
Reverse the symptoms of PCOS
Cure their heartburn and reflux
The Four Phases of Banting
The banting diet is split into four phases.
First phase
The first phase is called Observation. This is a time for you to observe your habits and beliefs around food, appearance, and lifestyle. This also gives you time to prepare for the diet (kitchen clean-out, grocery shopping, meal prepping, etc.) This phase lasts a week.
Second Phase
The second phase is Restoration. This is described as a sugar-free, gluten-free, moderate carb diet. The purpose is to eat nutrient-dense foods, improve your gut flora, and prepare your body for the next phase. In this phase, you cut out all the foods on the Red and Light Red Lists (more on that below…) You stay in this phase one week for every 5kg between your current weight and your goal weight.
Third Phase
The third phase is Transformation. This is when your body switches into that fat-burning state because of the sugar-free, gluten-free, low carb foods you're eating. From the food list, you can eat as many of the Green foods as you like. But completely avoid the Red, Light Red, and Orange B lists. You will most likely see and feel the biggest shifts happening in this phase. This phase is meant to be followed until you've reached your goal weight.
Fourth Phase
The final phase is called Preservation. You will continue to eat sugar-free and gluten-free, but depending on your lifestyle, you have options for adding more carbs back into your diet. This is the phase that is meant to be sustained for your whole life.
Banting Diet Foods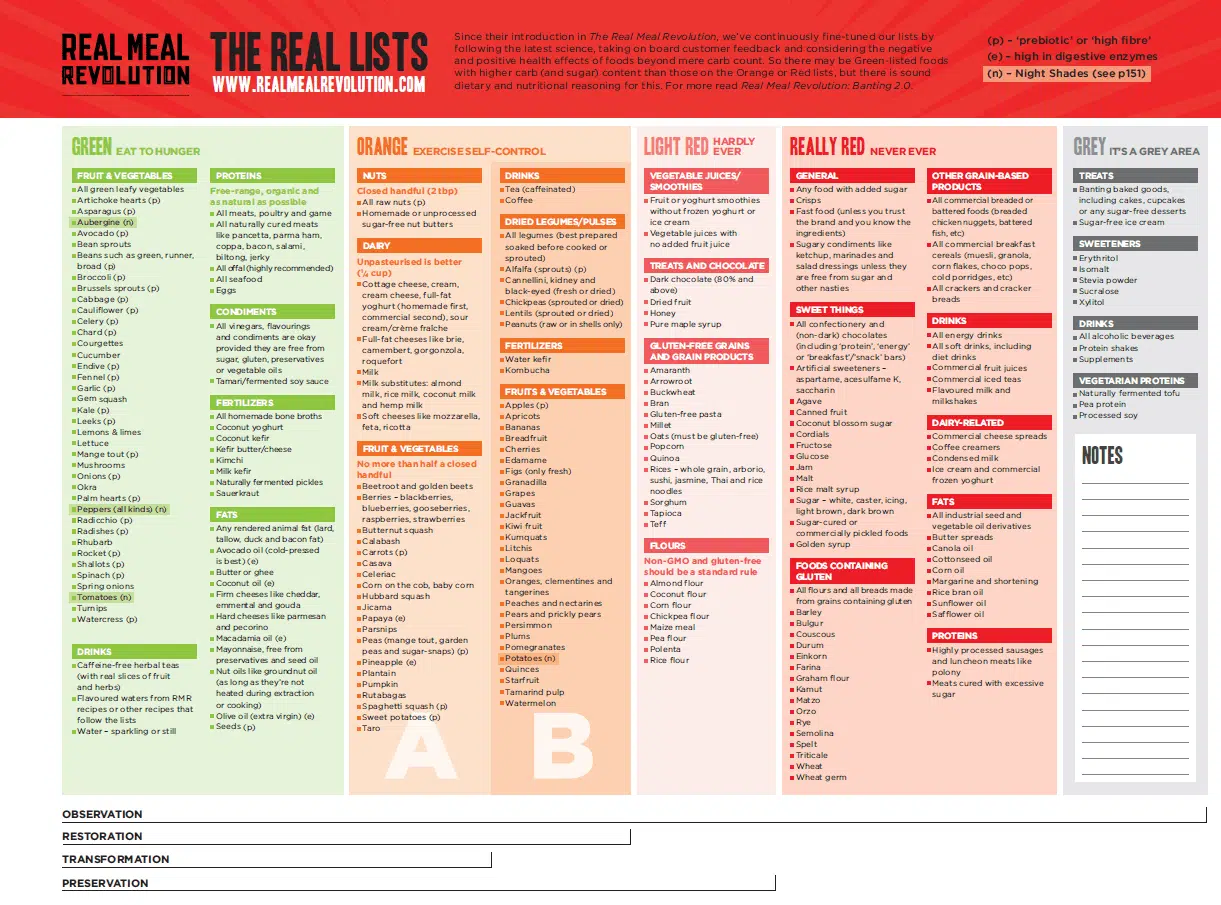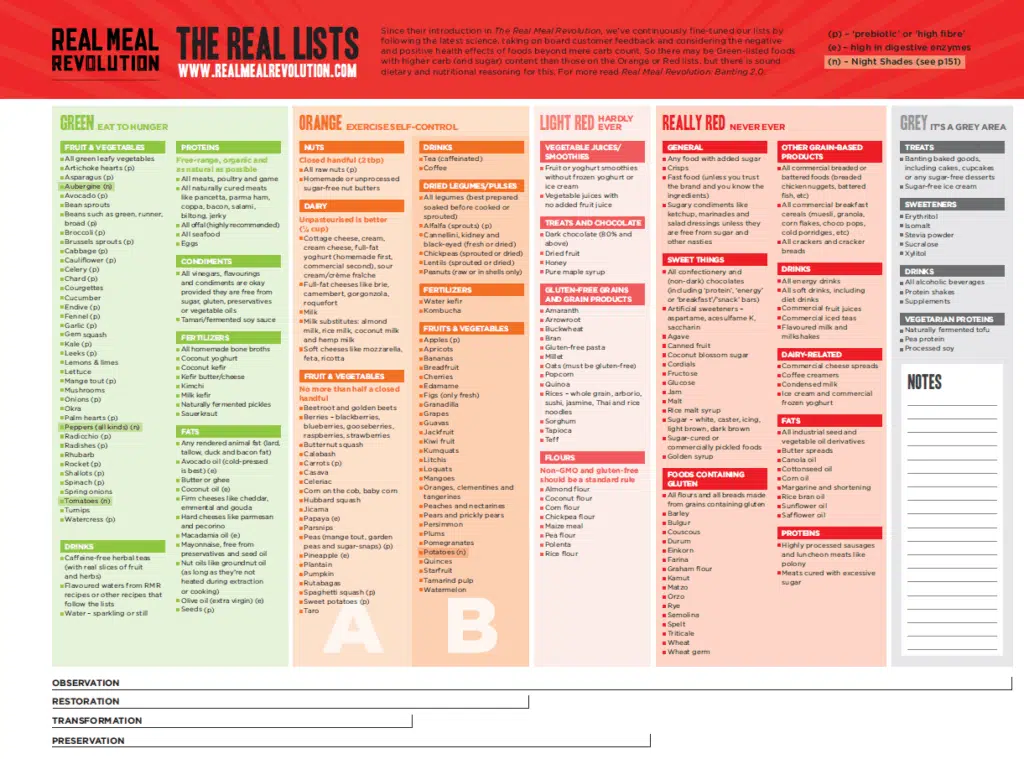 You're probably wondering what you can eat on the banting diet. Noakes developed a food list to help break down the foods you want to build your plate with and the ones you want to avoid. Check out the picture below to get an idea of how to move through the phases using this list.
If you're familiar with the keto diet at all, then you're probably realizing that there are a ton of similarities between these two diets. Just check out our keto diet food list if you're not convinced.
Foods that are always allowed on the banting Diet include:
Proteins
Meat, Seafood, Eggs, Offal. The only exception here being meats that are highly processed (bologna) or have added sugar.
Fruits and Vegetables
These are mostly low-carb, non-starchy fruits and veggies. Fruits and veggies with higher carb content can be found on the Orange list.
Fats
Rendered animal fats, healthy oils (olive, avocado, macadamia, coconut), seeds, butter/ghee, cheeses, and mayo.
Condiments
This includes vinegars and tamari.
Drinks
Caffeine-free herbal teas, flavored waters, and water.
"Fertilizers"
These are foods that are especially good for your gut health. Bone broth, coconut yogurt, kefir, kimchi, sauerkraut, fermented pickles.
There's so much overlap between these two diets that Prof Noakes uses the terms interchangeably on his website.
Banting Diet Benefits
On his website, Noakes has a whole section of success stories following the banting diet. Check that out if you're interested in the potential health benefits of Banting.
Low carbohydrate approaches, like Banting, might be better for quick weight loss.
A 2013 study looking at low carb, high protein, high fat diet vs low calorie, high carb, low fat (conventional) diet found that after 3 months, the low carb group had lost more weight than than the conventional group. The same was found at 6 months.
But by 12 months, there was not a statistical difference in weight loss between the two groups. The low carb group also had a greater increase in HDL cholesterol (the "good" kind of cholesterol) and a decrease in triglycerides – both markers for coronary heart disease.
Another "pro" of banting is that there is no need to calorie count of track your carbs. As long as you follow your food lists, you can eat whatever and however much you like. This is similar to paleo in that way.
Banting Diet Downfalls
Switching your body from using carbs as energy to fats generally comes with flu-like symptoms – sometimes referred to as the "keto flu." This can include symptoms such as headaches, mood swings, fatigue, and brain fog.
So, the argument could be made that the banting diet is certainly restrictive. In the same way that paleo, keto, Atkins, and other low-carb approaches can be difficult to follow, Banting falls in that same category. Of course, eliminating (almost) entire food groups can feel difficult and adherence is generally be short-term.
It's also worth noting that research is decidedly split on whether or not low carb approaches, like the banting diet, are effective, safe, and healthy for the long-term.
Conclusion
As you can tell, the banting diet is incredibly similar to other low-carb, high fat dietary approaches.
If you are considering the banting diet, I'd encourage you to do your research. Work closely with a healthcare professional to determine whether this approach would be good for you or not.
Do you have questions about banting? Drop us a comment and let us know.

Download Your FREE Paleo Starter Kit Today!
3-Day Paleo Diet Meal Plan
Comprehensive Paleo Diet Shopping List
5 of Our Favorite Paleo Diet Recipes