The Whey to Wellness
Traditionally, it has been thought that in order to be fit all you need is to drink water, exercise regularly and eat whole foods. While it can be difficult to manage all of these factors, there has been an addition to this list in recent years, which is: consume protein powder.
Protein powder has been known to not only help with the #gainz, but it also can help you lose weight and achieve new PR's in the gym.
Furthermore, protein powder has come a long way and now comes in a multitude of flavors ranging from salted caramel to cinnamon swirl. This means that hitting your protein macronutrient goal can be met through a dessert in addition to a dinner.
There are different kinds of protein to choose from including: whey protein, casein protein, egg protein, soy protein, rice protein and pea protein.
When trying to choose your first protein powder, starting with whey protein, highly recommended, since it is the most popular protein powder and is available in multiple flavors and comes with a variety of benefits.
What is whey protein?
Whey protein results through the process of turning milk into cheese and is a complete protein by-product that contains all 9 essential amino acids and is low in lactose content.
Milk consists of two proteins: casein (80%) and whey (20%). Whey is the liquid part of milk that separates when you make cheese. For example, if you have ever seen liquid floating on top of your yogurt after opening a container, this is whey.
After the whey is separated from milk, it goes through a series of processing steps to become whey protein powder. Whey protein consists of amino acids that have been found to be absorbed quickly, which makes it the popular dietary supplement that we know today.
Typically, whey protein doesn't taste particularly good so that is why there are many flavors including: cookies n' cream to strawberry flavor.
While these additive flavors make consuming whey protein more enjoyable, it is important to keep an eye out for those products that have refined sugar on the ingredients list.
Why should I use it?
When compared to other forms of protein powders, whey protein has been shown to provide considerable benefits for those who use it frequently and appropriately.
One study published in Nutrition and Metabolism showed that individuals that consumed whey "lost significantly more body fat and showed a greater preservation of lean muscle" when compared to the control group.
Another study published in The British Journal of Nutrition explored the notion of whey protein and its ability to lower cholesterol and the results found that "there was a significant decrease in total cholesterol and LDL cholesterol at week 12 in the whey group compared with the casein (group)."
In addition to these studies, Medical News Today examined other studies that showed whey protein has also been associated with improving the immune response in children with asthma, reducing blood pressure in patients with hypertension, reducing weight loss in people with HIV and even anti-cancer properties.Evidently, whey protein has been shown to have many benefits and can help you reach your fitness goals.
So what do I buy?
After looking at the top-rated whey protein on Amazon based on user reviews, we have come up with four whey protein powders that can help you look better and even feel better.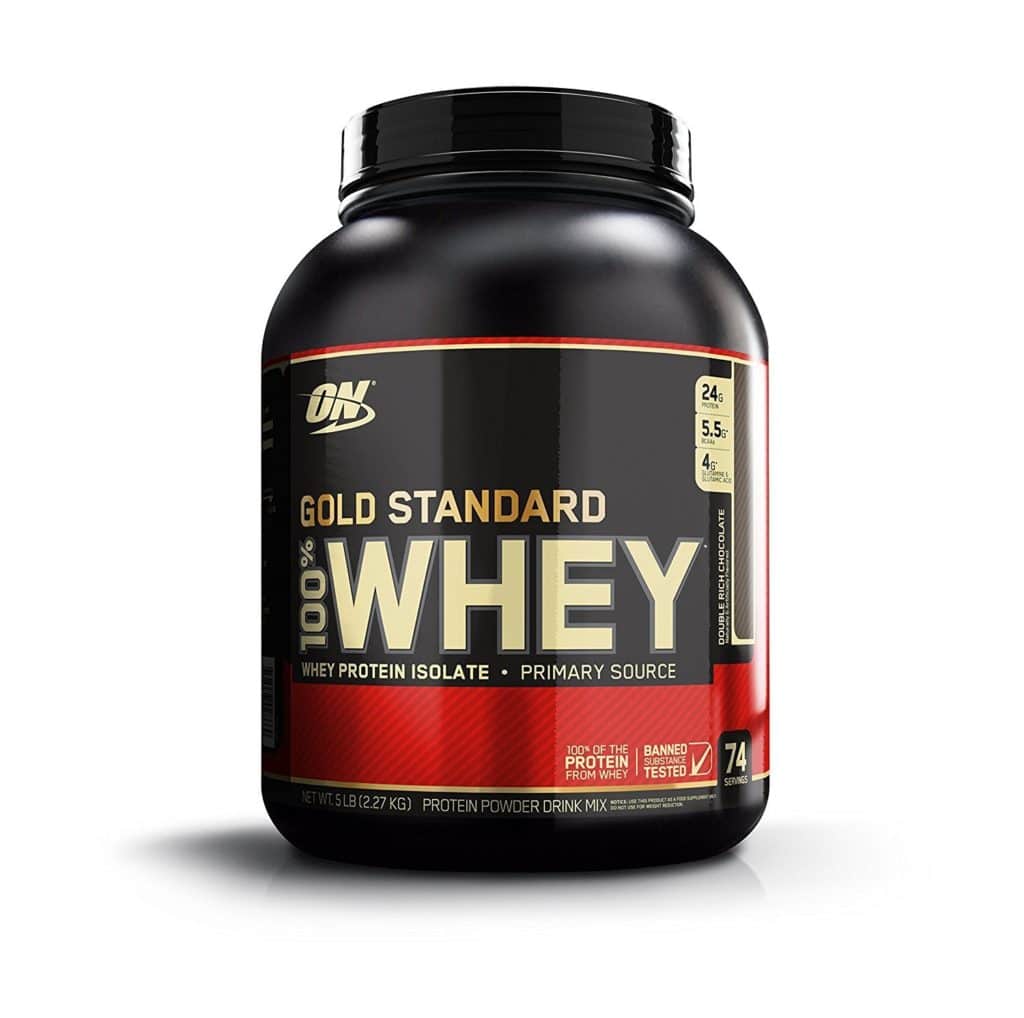 Optimum Nutrition's Gold Standard 100% Whey comes with 24g of whey protein, 5.5g of natural BCAAs and 4g of glutamine per serving and is offered in over 20 flavors including: cake batter, chocolate mint, cookies and cream and rocky road. This whey protein powder is gluten free and comes with whey protein isolates, which are the purest and most expensive form of whey protein that exists. Gold Standard 100% Whey protein powder is best used by men and women first thing in the morning, before exercise or after exercise. With 16,909 reviews, and 75% of which being 5 stars, it is clear that ON's protein powder is a winner. Users were pleased with the variety of flavors and how well this protein powder worked in protein shakes and desserts. Furthermore, some customers were claiming that the formula had changed, but it is only for some of the specialty flavors like: cake batter and banana, which contain sucralose. Overall, the Gold Standard 100% Whey was a top pick among users.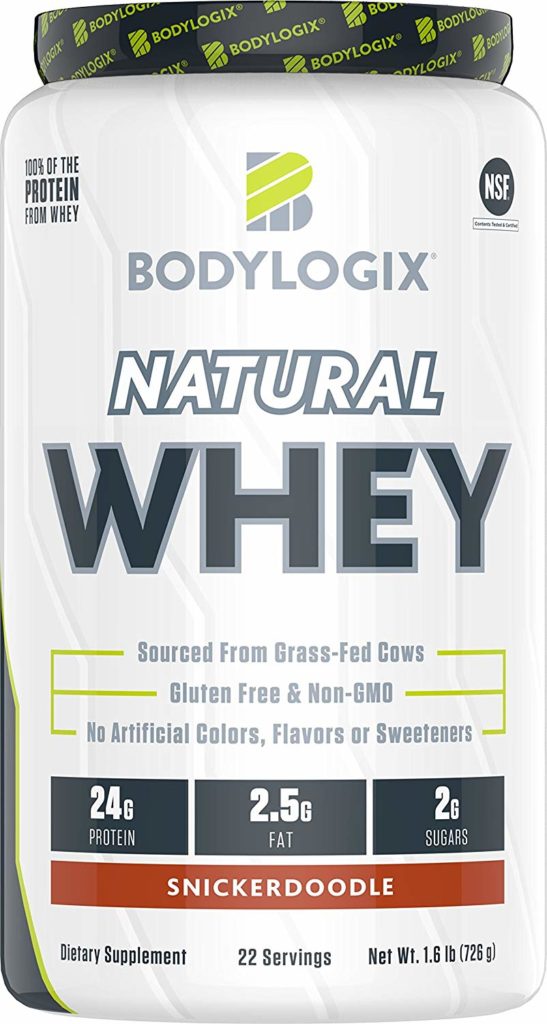 If you are looking for a more natural version of a whey protein powder, then Bodylogix's Natural Grass-Fed Whey Protein Powder is just for you. This protein powder provides 24g of complete protein per serving and is sourced from grass-fed cows.
Additionally, it contains no artificial colors, flavors or sweeteners, is gluten-free, non-GMO and produced in a peanut-free facility.
Furthermore, this protein powder is made entirely from whey and also comes with over 5g of naturally occurring BCAAs. Bodylogix's protein powder comes in 5 flavors including: caramel chocolate, decadent chocolate, snickerdoodle, vanilla bean and unflavored.
Of 900 reviews, 64% of users gave this protein powder 5 stars and loved the taste. Multiple users found that the decedent chocolate flavor tasted like brownie batter, which made it perfect for desserts. Some users were not as pleased with the vanilla flavor, but they were still pleased with the overall result of using this whey protein.
Due to this, it is clear that many would simply choose another flavor in order to experience all the benefits associated with this protein powder from Bodylogix.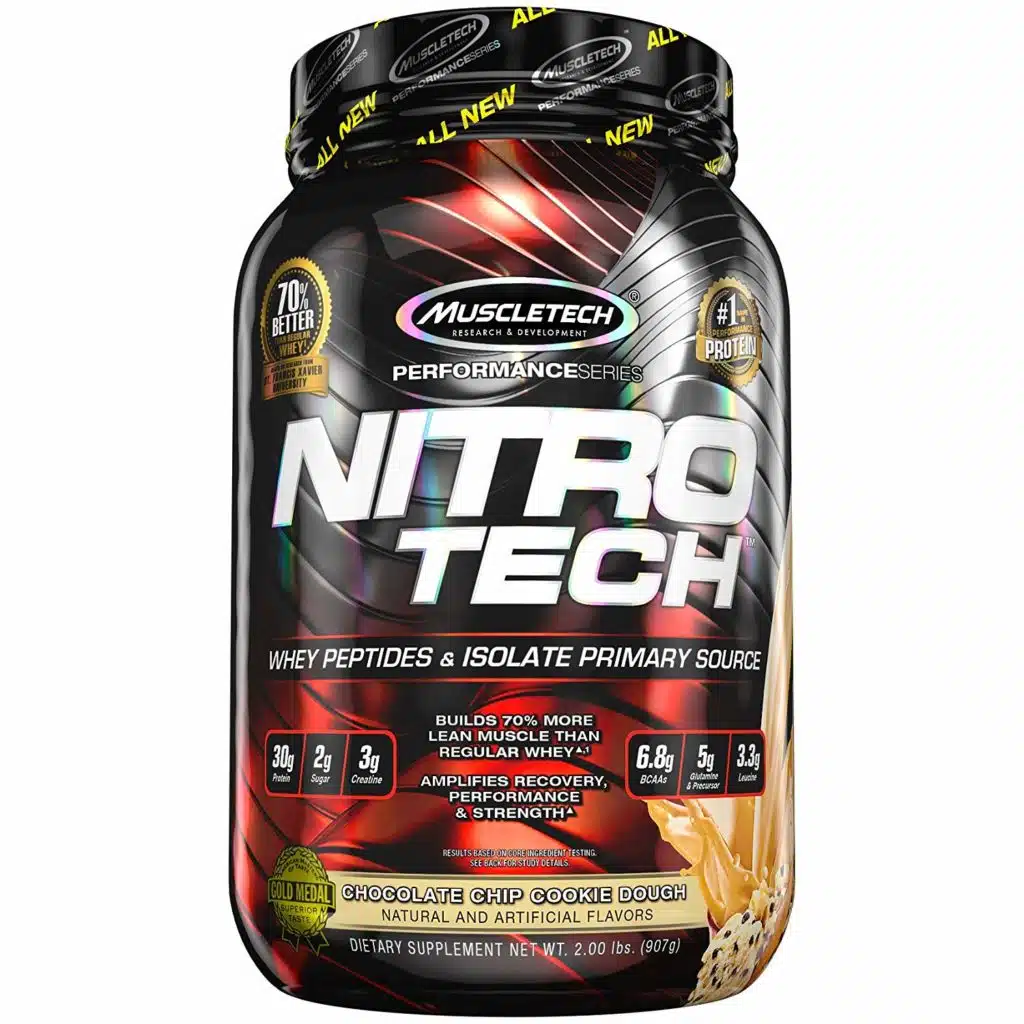 Those who are looking to gain a considerable amount of muscle mass should consider MuscleTech's NitroTech protein powder. This protein powder delivers 30g of premium 100% whey protein primarily from whey protein peptides and whey protein isolate.
Also, this protein powder from MuscleTech has been shown to build 70% more muscle than regular protein alone and comes with 5g of glutamine & precursor, 6.8g of BCAA amigos plus a 3g dose of HPLC-Tested creatine monohydrate in each serving.
Additionally, this protein powder comes in 17 different flavors such as: chocolate mint, lucky marshmallow and toasted s'mores. 70% of 1,419 reviews rated this protein powder with 5 stars, which shows that it is a favorite among many.
This protein powder was used mostly by powerlifters and endurance athletes who found that this formula from MuscleTech best suited their needs. While most were pleased with no additive sugars in this protein powder, some found that there were a few flavors that were too sweet for their liking.
Overall, the grand majority of customers were very glad they made this purchase and stated that they would happily make the same purchase again.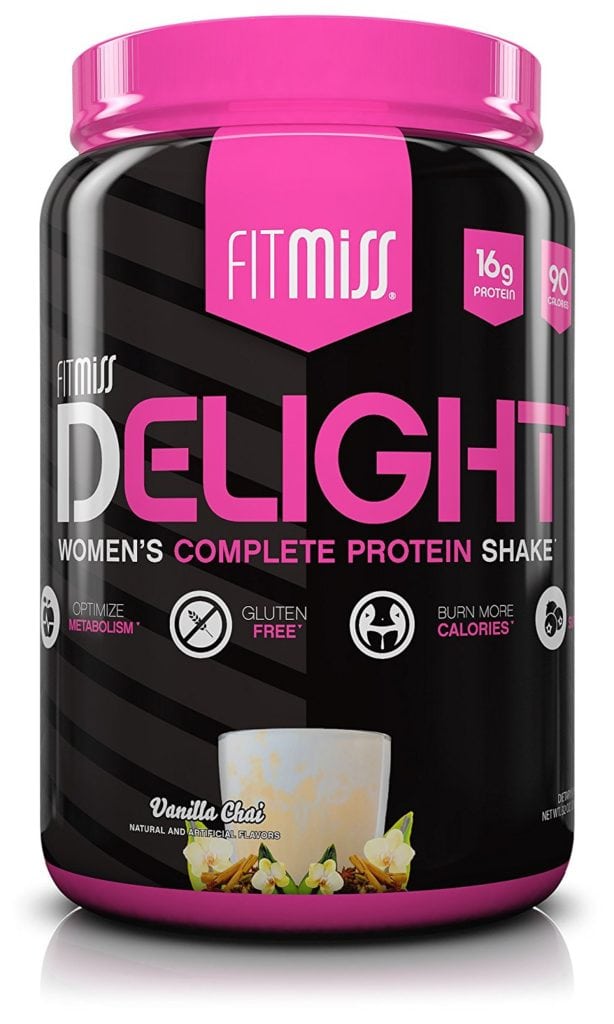 While women are free to use the protein powders mentioned previously, it is important to note that there are a wide range of protein powder products specifically designed for women and their needs. This protein powder from FitMiss is gluten-free, low carb and is made from a unique blend of vegetables and fruits.
Furthermore, FitMiss Delight protein powder comes in three flavors: vanilla chai, chocolate delight and cappuccino.
One serving of the Delight protein powder includes 16g of protein and 4g of carbohydrates and is 90 calories.
Of 4,524 reviews, 54% of customers thought this protein powder deserved 5 stars. Users loved the taste and consistency of the product and found that it was perfect for smoothies and shakes. Some thought it was a little sweeter than expected but were happy making it a snack or into a dessert.
Multiple customers found that the Delight protein powder helped them lose and maintain their weight also while toning their muscles with exercise. Customers were very pleased with the protein to carbohydrate ratio and believed that FitMiss was the most successful at achieving this.
Final Thoughts
Whey protein has been shown to promote lean muscle growth and fat loss as well as support cardiovascular health and a healthy metabolism (https://www.ncbi.nlm.nih.gov/pubmed/23075559). Furthermore, whey is absorbed quickly by the body, which makes it useful for post-workout recovery. Another benefit of using whey protein powder is the fact that it is offered in a variety of flavors, which makes it perfect for having a complete breakfast or even a tasty dessert. Whether you need a post-workout recovery drink or simply want to satisfy your sweet tooth without overdoing it, whey protein is the solution you have been looking for.
Why should I listen to you guys?
More than ever, people are focused on their health and well-being. And, because of this increased interest, that means there are tons of products on the market to help achieve that goal. From kitchen gadgets that make cooking easier, to reusable water bottles, sleep aids, and workout gear, the sheer number of options can be overwhelming.
That's why we wanted to do the hard work for you. We've committed to trying out some of the most popular health and wellness products on Amazon. Here's what happens:
We scour Amazon for the best rated or most reviewed products in health and wellness categories: whether that's something for the kitchen, supplements, or lifestyle products. Then, we read through the reviews and summarize them all for you. We provide takeaway points for each product – being as unbiased as possible.
Next, we write up our thoughts based on others experiences with the product, and any feedback we may have. And we publish it here for you. You'll find the links to the same exact Amazon products we tried in these articles.
That's it – easy! And if you have a product you'd like us to try before you buy, let us know.
Additional Reviews
Check out some of our other product reviews:
Download Your FREE Paleo Starter Kit Today!
3-Day Paleo Diet Meal Plan
Comprehensive Paleo Diet Shopping List
5 of Our Favorite Paleo Diet Recipes