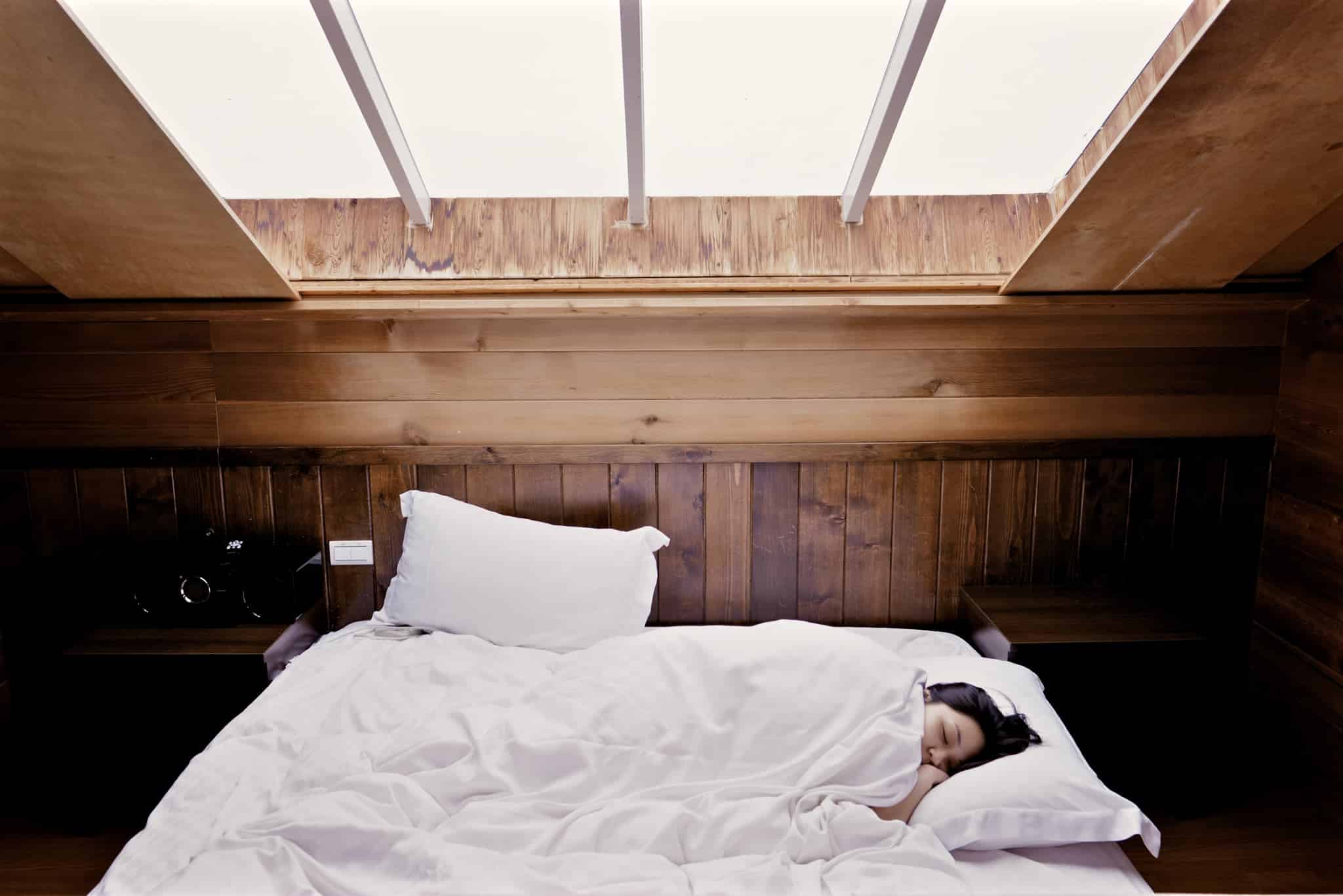 We all know that having a good night's sleep is a vital portion of our day and without quality sleep, we can be left irritable and even sick. Many swear that in order to have great sleep, they need blackout curtains, or even a sound machine.
If you find yourself utilizing these resources, but still can't seem to get that deep sleep you have been yearning for, then maybe you need to take a look at gravity blankets.
These premium-grade, therapeutic weighted blankets have been well-known within the medical community for decades since they have been used as a natural stress reliever.
Luckily, gravity blankets are now becoming more common, thus allowing many to purchase a gravity blanket and use it from the comfort of their own homes.
Why use gravity blankets?
Gravity blankets are unlike your typical comforter since they, as you may have guessed, weigh a bit more. These blankets are weighted since when on top of an individual, it simulates the feeling of being held or hugged, which also stimulates the nervous system.
Furthermore, this has been shown to decrease cortisol levels or feelings of stress, while serotonin and melatonin levels are increased to improve one's mood and promote a quality night's sleep. These blankets are engineered to be about 10% of one's body weight to create the hugging sensation and in turn more relaxation.
More specifically, gravity blankets help those with anxiety, ADHD, autism, insomnia or stress since these individuals are less likely to have great sleep without some extra assistance.
Nevertheless, anyone can use a gravity blanket since they come in all shapes and sizes and have enough hugs to go around.
What kinds are there?
Like other comforters, blankets come in a variety of fabrics depending on what you prefer and the conditions around you while you sleep. The majority of these blankets are made from breathable cotton and the weight comes from glass beads that are sewn into small compartments, which keep the beads in place to prevent movement and noise when using the blanket.
Furthermore, the design of the blankets allows them to provide an evenly-distributed weight that gently conforms to one's body.
Blankets come in a number of sizes to fit any mattress and they also are offered in varying weights so people of all shapes and sizes can use them.
So what do I buy?
After looking at the top-rated gravity blankets on Amazon based on user reviews, we have come up with four weighted blankets that can help you have some deep sleep and feel great.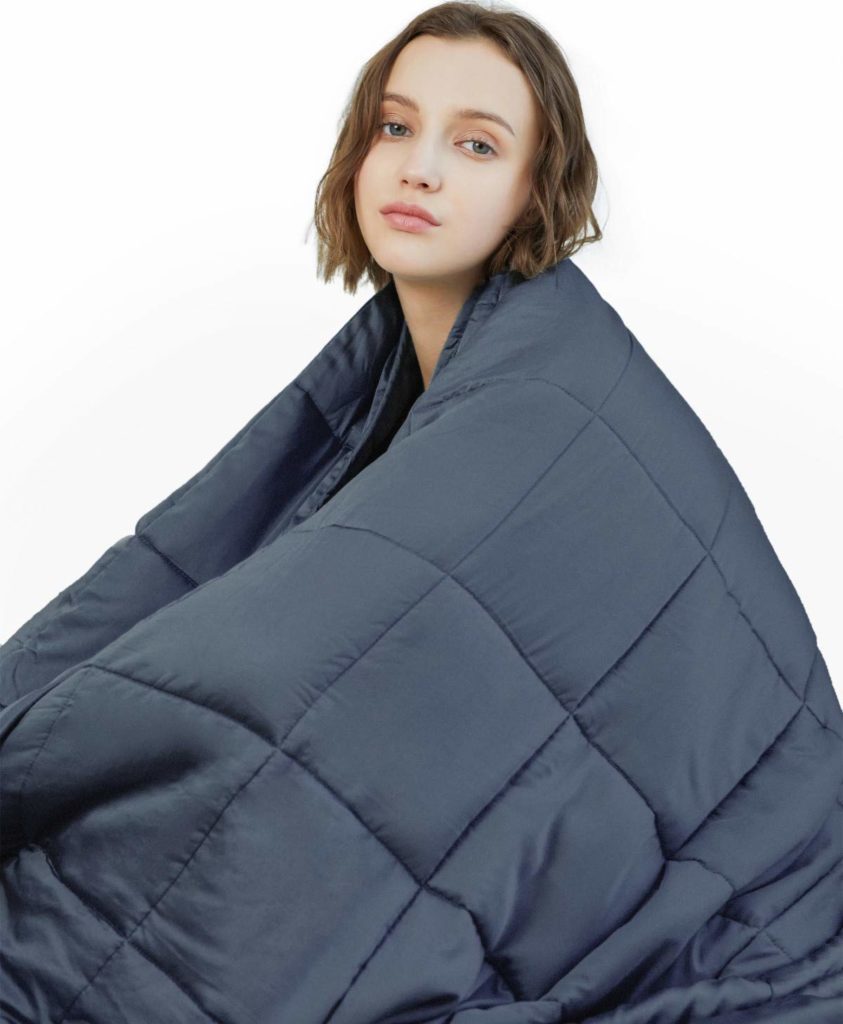 Our first pick comes from YnM and 70% of 1,306 reviews were 5 stars for this gravity blanket. YnM prides itself on having blankets with less fiber fill, breathable fabric, durability, evenly distributed weight and easy to clean features.
The majority of customers were very pleased with their gravity blanket from YnM but found that it took some getting used to. Users discovered that they slept indifferent positions with the gravity blanket, which took some time adjusting to their comfort.
Once, they were able to find what they preferred, users were extremely satisfied with the performance of the weighted blanket and its ability to relieve their anxiety and sleep issues. Some customers found that they felt too hot under the blanket and were not happy that they had to have the blanket dry cleaned.
Due to this, most recommend using a cover to avoid paying for dry cleaning on multiple occasions.
Overall, customers were happy with their gravity blanket from YnM and felt that it soothed their nerves better than some medications could.
Our next gravity blanket also comes from YnM, but the key feature of this one is that it is a cooling weighted blanket. This blanket is made from silky smooth 300 thread count bamboo cotton filled with glass beads, thus making this blanket the top choice for those who tend to perspire while they sleep.
Furthermore, this blanket's breathable fabric and moisture wicking keeps hot sleepers drier and cooler while cool sleepers still feel cozy when sleeping with the YnM gravity blanket. 70% of 1,311 reviews came in as 5 stars since customers were happy to have the cooling effect that came with their YnM gravity blanket.
Many users found that it was easy to clean, very comfortable and that they could sleep without feeling too hot. Some customers found that buying a cover for the blanket was the best way to make maintenance easier.
Truly, this blanket had all the best features of a gravity blanket along with keeping one cool while using it.
For those who like to have softer blankets with more detailing, then the gravity blanket from Quility might be your best option. This weighted blanket is made from 100% cotton material and filled with non-toxic hypoallergenic glass beads, which are placed in polyester pockets to keep the beads in place. The blanket also comes with a removable cover to keep you cool during summer nights and makes it easier to do laundry. Of 798 reviews, 81% of customers gave the Quility blanket 5 stars since it rated high in durability, easiness to clean and quality. Multiple customers loved the cover and found that it was very comfortable. Furthermore, users felt like their gravity blanket truly helped relieve symptoms of stress and anxiety after continual use. Some customers felt that the cover was too hot for their liking, but still really liked the blanket itself. Due to this, customers were very satisfied with their purchase.
Our last pick from Rocabi is the luxury weighted blanket with a plush cover made from silky-soft micro-fiber with a polyester base. The cover is removable, which means this blanket can be used year-round and the cover can be machine washed, thus making cleaning a lot easier.
Additionally, the cotton inner weighted summer sleeve is made from 100% breathable cotton, which is ideal for hot sleepers or summer nights.
73% of 131 customers were very pleased with their purchase from Rocabi and gave it 5 stars. One user commented that sleeping with this blanket was like "being hugged by a tames Bengal tiger", which can only mean it's heavenly. Many customers stated that this blanket greatly helped them with depression and anxiety and that it made sleep an overall better experience.
Like many of the other weighted blankets, some felt that the blanket kept them too help while sleeping, but the majority found that this problem was solved after taking off the cover.
Despite this, users were very happy with their weighted blanket from Rocabi.
Final Thoughts
Gravity blankets have been designed to help those with anxiety, stress, insomnia, autism or ADHD, but now anyone can experience the many benefits that come when sleeping with a weighted blanket. These blankets create a hugging sensation or a feeling of being held, which in turn stimulates the nervous system causing users to feel more relaxed. Without any medication, these blankets decrease cortisol levels and increase serotonin and melatonin levels so individuals can have a restful night's sleep.
If you find yourself trying every trick in the book from blackout curtains to sound machines, but still can't seem to get some quality shut eye, then maybe you should consider buying a gravity blanket.
Remember that great and consistent sleep is an important component in maintain overall health and well-being so keep that in mind as you weigh in on your decision.
Why should I listen to you guys?
More than ever, people are focused on their health and well-being. And, because of this increased interest, that means there are tons of products on the market to help achieve that goal. From kitchen gadgets that make cooking easier, to reusable water bottles, sleep aids, and workout gear, the sheer number of options can be overwhelming.
That's why we wanted to do the hard work for you. We've committed to trying out some of the most popular health and wellness products on Amazon. Here's what happens:
We scour Amazon for the best rated or most reviewed products in health and wellness categories: whether that's something for the kitchen, supplements, or lifestyle products. Then, we read through the reviews and summarize them all for you. We provide takeaway points for each product – being as unbiased as possible.
Next, we write up our thoughts based on others experiences with the product, and any feedback we may have. And we publish it here for you. You'll find the links to the same exact Amazon products we tried in these articles.
That's it – easy! And if you have a product you'd like us to try before you buy, let us know.
Check out these other reviews
Download Your FREE Paleo Starter Kit Today!
3-Day Paleo Diet Meal Plan
Comprehensive Paleo Diet Shopping List
5 of Our Favorite Paleo Diet Recipes