Let's Get French
It is no secret that people love coffee. In fact, according to a report conducted by Acorns Money Matters, the average American spends $1,100 a year on coffee. With the availability of coffee drinks ranging from espresso to cappuccino, it is clear why more people are indulging in this morning luxury.
Check out our favorite Paleo mocha recipe
 Most believe that only a barista can make a cup of coffee specifically catered to their taste, but thanks to many coffee machines being offered in department stores, the average Joe can now make his own customized coffee beverage from the comfort of his own kitchen.
In 2012, Kevin Johnson, the CEO of Starbucks commented that the best cup of coffee could be made at home, but not with a Mr. Coffee maker. Instead, he stated this could be done simply with a French press.
How Does It Work?
When first seeing a French press, some may feel intimidated and wonder why someone has a hockey puck maker in their kitchen.
However, upon further inspection, they are not as complicated as one may think since a French press merely consists of: a lid, a plunger, a filter, and a beaker.
A French press is used by many around the globe since you do not need paper filters, elaborate equipment, or even electricity to brew coffee with it.
When using a French press, coffee grounds are placed at the bottom of the beaker and steeped with hot water for 3 minutes until being slowly pressed down with the plunger, which leaves you with rich and flavorful coffee.
It is important to note that the last 10% of brewed coffee has a high concentration of silt, which few people enjoy drinking when finishing their cup of coffee. However, this is no reason to deter you from trying something new.
Why a French Press and not a Mr. Coffee?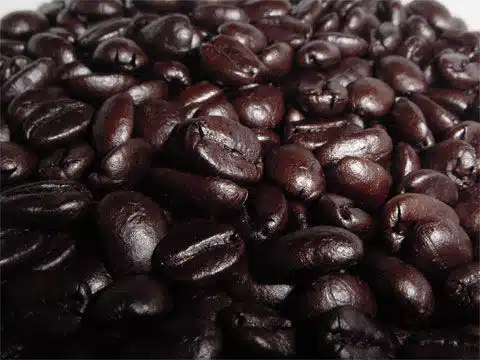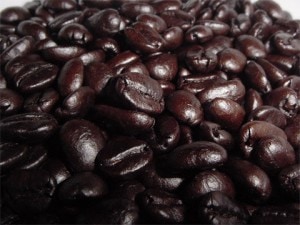 The difference between a French press and a drip coffee maker lies in the functionality and the portability of the two machines. While an automatic coffee maker allows you to make a cup of coffee with minimal effort while half asleep in the morning, the French press does have more manual functions.
Despite requiring more effort to use, the French press benefits truly shine during taste tests since a French press allows an individual to make coffee accommodated to his palate while also retaining more of the natural oils from coffee grounds.
Additionally, a French press coffee maker is portable and requires no electricity to function, which allows travelers and hikers to bring it along on trips.
Finally, the French press has more surprising capabilities. Reader's Digest explored these abilities and found that a French press can froth milk, strain grains, make whipped cream, cook soup, and even create cocktail infusions.
If that doesn't convince you to introduce a French press to your kitchen lineup, I don't know what will.
So What Do I Buy?
After researching the top French presses found on Amazon, we came up with a list that would be best suited for beginners looking for their first French press and professionals needing an upgrade.
This 34oz French press from Kitchen Supreme stands out with 89% of the 4,327 reviews giving it 5 stars. Majority of the reviews commented on the quality of the materials used to make the coffee maker—stainless steel and unbreakable glass.
One user raved about the sustainability of the steel and its resistance to corrosion, thus allowing the French press to shine like new even after months of use. Along with being durable and safe, this French press has been described as being "elegant enough to use when company comes," which shows that it would fit perfectly on any kitchen countertop.
Additionally, one user, a former barista, explained that the instructions provided with the product had great tips on creating the best coffee, which perfectly illustrates the possibility of anyone making their ideal cup of coffee.
Unsatisfied customers commented on the delivery of the product, but not the quality of the product itself. Kitchen Supreme provides not only an excellent product, but also an affordable one, which can cater from college students to coffee enthusiasts alike.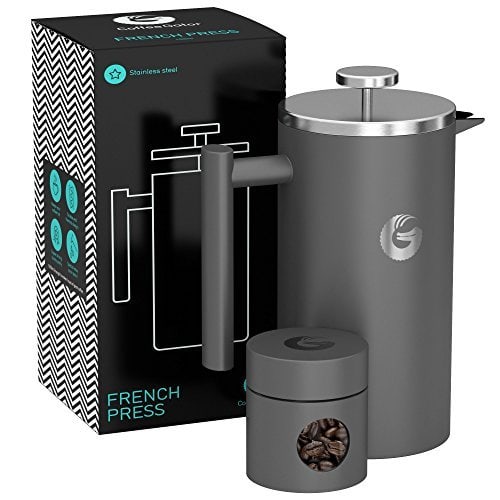 Coffee Gator truly steps up the French press game with this coffee maker that not only is made with stainless steel, but can also keep your coffee hot for 60 minutes after brewing, when compared to glass alternatives.
Users praised the rustproof quality and durability of the coffee maker and even described it as being "built like a brick", which means a longer shelf life for this product.
Furthermore, this French press is offered in 5 different colors, comes with a coffee canister, and even an ebook illustrating how to explore different flavor profiles of coffee you can brew with your new coffee machine.
Multiple customers loved the product, but saw no use for the coffee canister. One customer mentioned how the first thing that attracted them was the color, which nicely complimented their preexisting kitchenware, but then was pleasantly surprised when this coffee maker turned out to be "the best French press" they ever owned.
With 1,555 reviews coming in with 86% giving the product 5 stars, it comes at no surprise when users exclaim that this French press "OMFG delivers". One user even commented that Coffee Gator goes above and beyond with emailing coffee hacks to customers and also offering codes for 15-20% off additional items.
So if you want a funky twist on an old favorite with a little bit extra, Coffee Gator has got your back.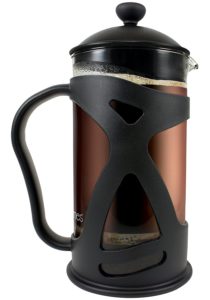 If you're in college, or someone who is still paying for their time in college, Kona offers a French press that doesn't break the bank.
When compared to other French press coffee makers, users clearly favor the design of the Kona French press since the glass carafe was well protected with a plastic grip, thus making it a lot stronger and also the press more durable.
As well as a sturdy build, the Kona French press is adapted to prevent any plastic from touching the hot water while the coffee is brewing. Multiple customers commented on how even after months of use, the coffee maker still performed very well.
However, due to the lower price point, a few users also noted the need to replace the filter on the French press. So if you are a beginner with a French press and need to save a couple dollars while keeping in mind potentially needing to replace components, the Kona French press may be the best fit for you.
Final Thoughts
Whether you drink coffee, tea or even strained orange juice in the morning, a French press could be the solution to all your beverage needs. The capabilities of the French press can't be beat when compared to a traditional coffee maker, which makes it the next best thing to join your kitchen appliance squad.
French press coffee makers not only maintain the full flavor and oils of coffee grounds, but they are also undeniably flexible. From dorm rooms to camp grounds, the French press can be brought virtually anywhere to make coffee catered to your specific palate. A French press has become a favorite in the kitchen due to its abilities and surprising hacks that it can deliver. If you want to spice things up in the kitchen, then why not do it like the French with one of these coffee makers. You won't be disappointed.
Why should I listen to you?
More than ever, people are focused on their health and well-being. And, because of this increased interest, that means there are tons of products on the market to help achieve that goal. From kitchen gadgets that make cooking easier, to reusable water bottles, sleep aids, and workout gear, the sheer number of options can be overwhelming.
That's why we wanted to do the hard work for you. We've committed to trying out some of the most popular health and wellness products on Amazon. Here's what happens:
We scour Amazon for the best rated or most reviewed products in health and wellness categories: whether that's something for the kitchen, supplements, or lifestyle products. Then, we order and try them. We give each product a spin – being as unbiased as possible.
Next, we write up our thoughts, our experiences with the product, and any feedback we may have. And we publish it here for you. You'll find the links to the same exact Amazon products we tried in these articles.
That's it – easy! And if you have a product you'd like us to try before you buy, let us know.
Additional Reviews
Download Your FREE Paleo Starter Kit Today!
3-Day Paleo Diet Meal Plan
Comprehensive Paleo Diet Shopping List
5 of Our Favorite Paleo Diet Recipes