We have all had that day after the gym where we felt like we got beaten with a piece of plywood. The slightest movements, like brushing your teeth or squatting down to pick up a something make you feel like you are way older than you are.
Luckily, there is a way to combat these stiff muscles and aches and pains through self-myofascial release, also known as "foam rolling". When foam rolling, one is simply massaging their muscles to release tightness in muscles or trigger points to get back to normal function.
Truly one can massage themselves with their hands, but foam rollers prove to be most effective when doing this solo.
How does it work?
Foam rollers are exercise devices that are typically long and cylindrical in shape. They can vary in texture, shape and size. These rollers are used to create length change in your muscle fibers based on autogenic inhibition.
Furthermore, another study explored the theory that foam rolling creates friction between the roller and the muscle, thus making the tissue more pliable and gel-like. Overall, foam rollers are used to allow normal blood flow to return to muscles and the restoration of healthy tissue.
What else can I do with a foam roller?
Along with returning your body to a healthier state, a foam roller can also be used for many other purposes. Foam rollers can aide in extending your stretches, building your balance, serve as a yoga prop and strengthening your core.
These inexpensive and versatile pieces of equipment can help you either sculpt some abs or roll out kinks in your back. Evidently, there are numerous benefits and so if you don't own a foam roller yet, you are definitely missing out.
So, which one do I buy?
AmazonBasics offers their 12" foam roller, 18", 24", and 36" in black and speckled colors. This lightweight foam roller is ideal for strengthening, balance, flexibility, and rehab exercises and is made from molded polypropylene.
With 75% of 2,752 reviews rating this product at 5 stars, we make it our first pick. One user said the foam roller made them "cuss like a trucker" but that it works very well. Another user stated that they were very happy with purchasing the 18" roller since it was large enough to cover big areas like their back and thighs, but small enough to store in a closet or under the bed.
One complaint from a user was that after 2 months, they felt that the foam roller wasn't as dense as before.
Overall, customers found that this foam roller consistently performed and was perfect for rolling out tense muscles and IT bands.
Rolling With It introduces their foam roller in 3 different sizes: 13"x6", 18"x6", and 36"x6" in one color. This EVA foam roller prides itself as being recommended by professionals like physical therapists and medical professionals alike and also eco-friendly since it is not made with chlorine and is 100% recyclable.
With 76% of 864 reviews giving this EVA foam roller 5 stars, it is clear that the satisfaction is undeniable. One user who identified as a physical therapist stated that they felt this foam roller was the highest quality that they ever used. They also said that they now only recommend the EVA foam roller to their patients and they are never disappointed. Additionally, another user felt that the quality of the foam roller was clear and that it was very firm.
One complaint from a customer was that the foam roller was too hard and uncomfortable.
Regardless, this foam roller was well-received by many, thus making it to the second place position.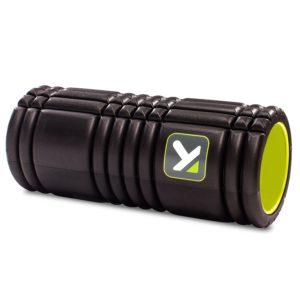 Trigger Point Performance features a grid foam roller in black and green, yellow, orange, and pink. This foam roller measures at 13"x5.5" and has a 500-pound weight limit. The foam roller is designed with multi-density exterior constructed over a rigid, hollow core.
Of 3,214 reviews, 81% of users rated this foam roller with 5 stars, which shows how pleased customers were with this product. One user said they had this foam roller for a year and that it continued to perform like it did the first day they had it.
Additionally, another user stated that they preferred this grid texture on the foam roller since it preserves its shape. One complaint came from a user who felt that the foam roller was too hard, thus making it uncomfortable to use.
Despite this, Trigger Point Performance successfully offers a quality product that we had to mention in our foam roller lineup.
Final Thoughts
From perfecting yoga poses to rolling out those tight muscles, a foam roller can help you reach all of your health and fitness goals. Foam rollers are affordable and durable, which makes them a favorite among many.
Depending on what you need, there are many options to choose from, which means you can quickly get on your way to being your best self.
Why should I listen to you guys?
More than ever, people are focused on their health and well-being. And, because of this increased interest, that means there are tons of products on the market to help achieve that goal. From kitchen gadgets that make cooking easier, to reusable water bottles, sleep aids, and workout gear, the sheer number of options can be overwhelming.
That's why we wanted to do the hard work for you. We've committed to trying out some of the most popular health and wellness products on Amazon. Here's what happens:
We scour Amazon for the best rated or most reviewed products in health and wellness categories: whether that's something for the kitchen, supplements, or lifestyle products. Then, we order and try them. We give each product a spin – being as unbiased as possible.
Next, we write up our thoughts, our experiences with the product, and any feedback we may have. And we publish it here for you. You'll find the links to the same exact Amazon products we tried in these articles.
That's it – easy! And if you have a product you'd like us to try before you buy, let us know.
Additional Reviews:
Download Your FREE Paleo Starter Kit Today!
3-Day Paleo Diet Meal Plan
Comprehensive Paleo Diet Shopping List
5 of Our Favorite Paleo Diet Recipes