Refills, Not Landfills
According to scientists, 8 million metric tons of plastic end up in our oceans every year and that figure is expected to double by 2025. Additionally, there is up to 245,000 metric tons of plastic floating on the surface of the oceans now, which makes it hard to imagine enjoying a sunset with that feature. Considering these numbers, it is hard to imagine solving this problem as an individual. Luckily, there are small steps we can take in the right direction and that starts in the kitchen. In 2017, Americans spent $16 billion dollars on bottled water according to the Beverage Marketing Corporation. This expensive habit is not only putting a dent in our wallets, but also in the ecosystem. Therefore, more and more households are considering alternatives to using plastic water bottles, which leads us to faucet water filters.
What is a faucet water filter?
Many reports have researched the levels of contaminants such as: bacteria, lead, and pesticides in tap water. Due to this, multiple households have opted for a more permanent solution to having purified water in their homes by using faucet water filters. Water filters prove to be the better solution when compared to buying water bottles since they cost less in the long run and have less adverse effects on the environment.
These filters work through reverse-osmosis, activated carbon or UV rays to purify water. Reverse-osmosis water filters are best for removing inorganic chemical such as: salts, metals, nitrates, asbestos and some organic chemicals.
Next, carbon water filters work best for water that tastes, smells or looks bad.
Finally, UV water purifiers kill bacteria and viruses and also clear the taste and odor of the water, but they are not effective against chemical pollutants and may not work against cysts and spores.
Why should I use one?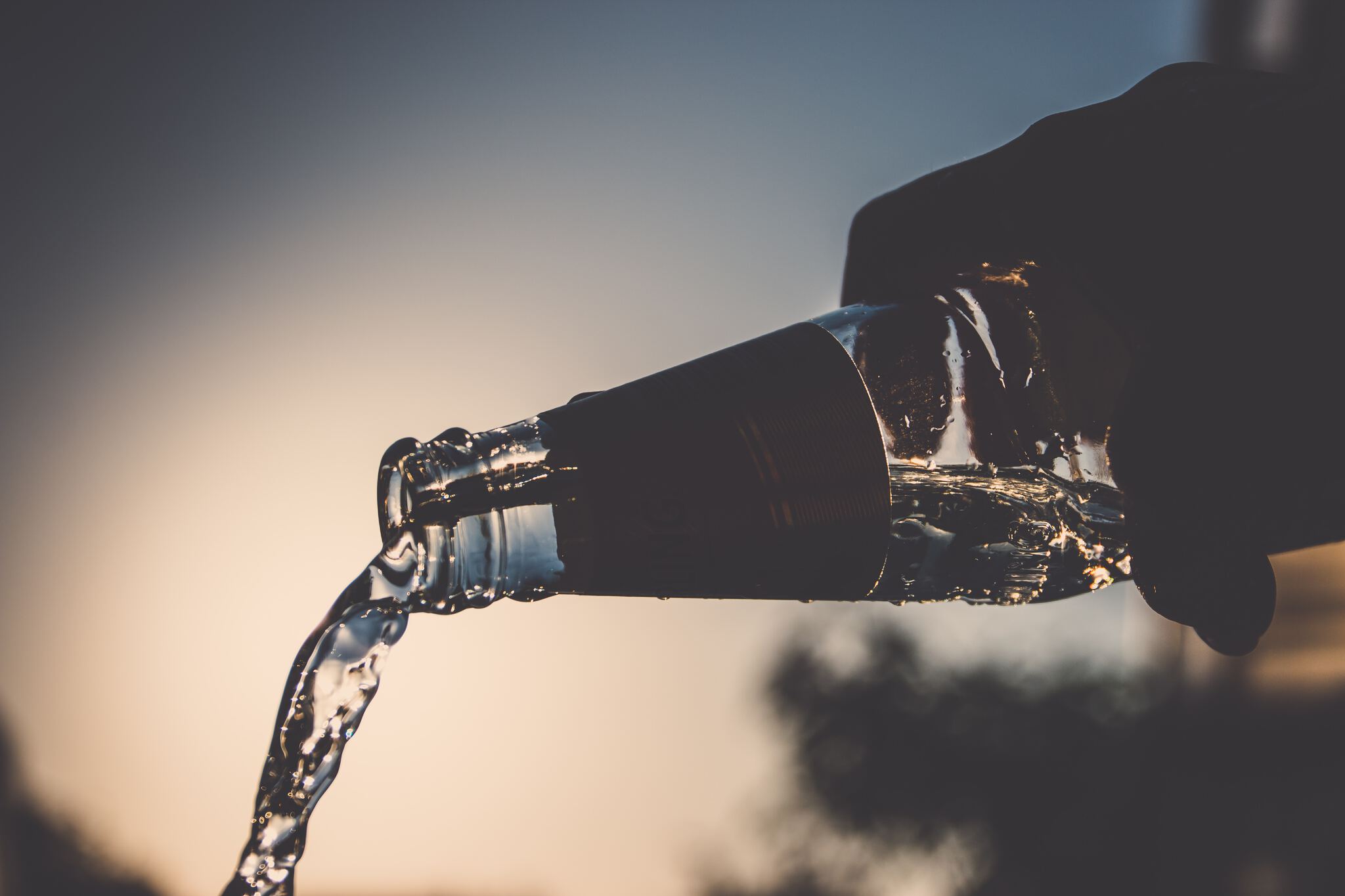 Water filters have a myriad of benefits not limited to just saving money and the environment. Buying a water filter can ensure clean and safe drinking water for you and those in your household.
Unhealthy levels of contaminants such as bacteria, pesticides and lead have been found in metropolitan and well water supplies. While buying bottled water is the quickest solution, it is harmful to the environment and expensive in the long run.
In order to have quality water, with a budget in mind, buying a water faucet filter appears to be the best solution. It is important to keep in mind that the effectiveness of a water filter removing certain contaminants depends on the technology used.
Due to the different types of faucet water filters that can target any given containment, buying a faucet water filter catered to your needs may be the best choice.
So what do I buy?
After looking at the top-rated water filters on Amazon based on user reviews, we have come up with three faucet water filters that can save you money and even the lives of animals in the ocean.
Of 3,712 reviews, 49% of customers found that the Culligan faucet water filter was a simple, yet perfect solution to their water purification needs. This advanced filter faucet mount features a 0.5 gpm flow rate at 60 psi, which means your water gets filtered fast. Also, a diverter tab on the filter allows a quick switch between filtered water and tap water.
No tools are required for installation and this FM-25 advanced filtration filter reduces atrazine, chlorine, lindane, lead, particulates class 1, turbidity, along with bad taste and odor. Additionally, this filter is system tested and certified by the NSF International against ANSI Standard 42 and 53 and can filter over 200 gallons or 2 months-worth of water. The pressure range is 3-100 psi, while the temperature range is 40-100 degrees Fahrenheit.
Finally, Culligan's filter measures at 5.5"x3.5"x6.5" but is built from higher quality plastic and some metal parts. One user compared the Culligan filter to others and found that it was smaller than the Brita filter, and more durable than the PUR water filter.
Also, customers found that when compared to other filters, the Culligan filter lasted longer, had better water flow and no issues with leaking. Through this, it is clear that Culligan  was the top choice among many users.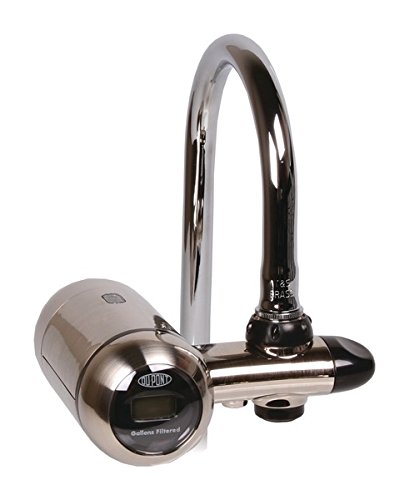 This faucet water filter from DuPont features an electronic display showing how many gallons of water it has cleaned along with measuring the water filter life. This filter also reduces sediment, chlorine, lindane, benzene, asbestos, mercury and lead while improving the taste, odor and clarity of water. DuPont's faucet water filter comes with two metal faucet adapters, but it is not designed for use with faucets that have a pull down spray head.
The measurements of the filter are 7.7"x6.8"x3" and it needs 2 AA batteries to work. Users were very pleased with how well the filter worked and found that the only issue they encountered concerned the meter. One customer was very happy with the DuPont faucet filter and believed that it was perfect for the elderly and anyone else to use.
Additionally, some users who had previously owned a PUR faucet filter found that their DuPont filter life was longer. Overall, with 52% of 930 customer reviews ranking the DuPont faucet water filter with 5 stars, it is clear that this was a great addition to their kitchen.
PUR's vertical faucet mount filters over Mineral Core, which removes 61 contaminants and comes equipped with MAXION technology and a built-in electronic filter life indicator. 99% of lead and 96% of mercury along with many other contaminants are easily removed with the PUR faucet water filter and it can provide up to 100 gallons (2-3 months) of purified water. Furthermore, this filter installs quickly with just 1 click and no tools are required.
Users were pleased with the finish of the filter and stated that it blended well with their kitchen and didn't look unattractive. 385 customers voted and 46% of them believed that the PUR faucet filter deserved 5 stars. Customers were pleased with the aesthetic and functionality of the filter, but some had issues with the 'type A' adapter, which PUR was quick to replace.
Other users were quick to defend the design of the filter and believed that many had issues with the adapter since they ran hot water through the filter, which was not recommended in the directions. Those who followed the guidelines found that the filter worked perfectly and fit well on their faucet.
Overall, PUR's faucet water filter was well received and many customers were happy with their purchase.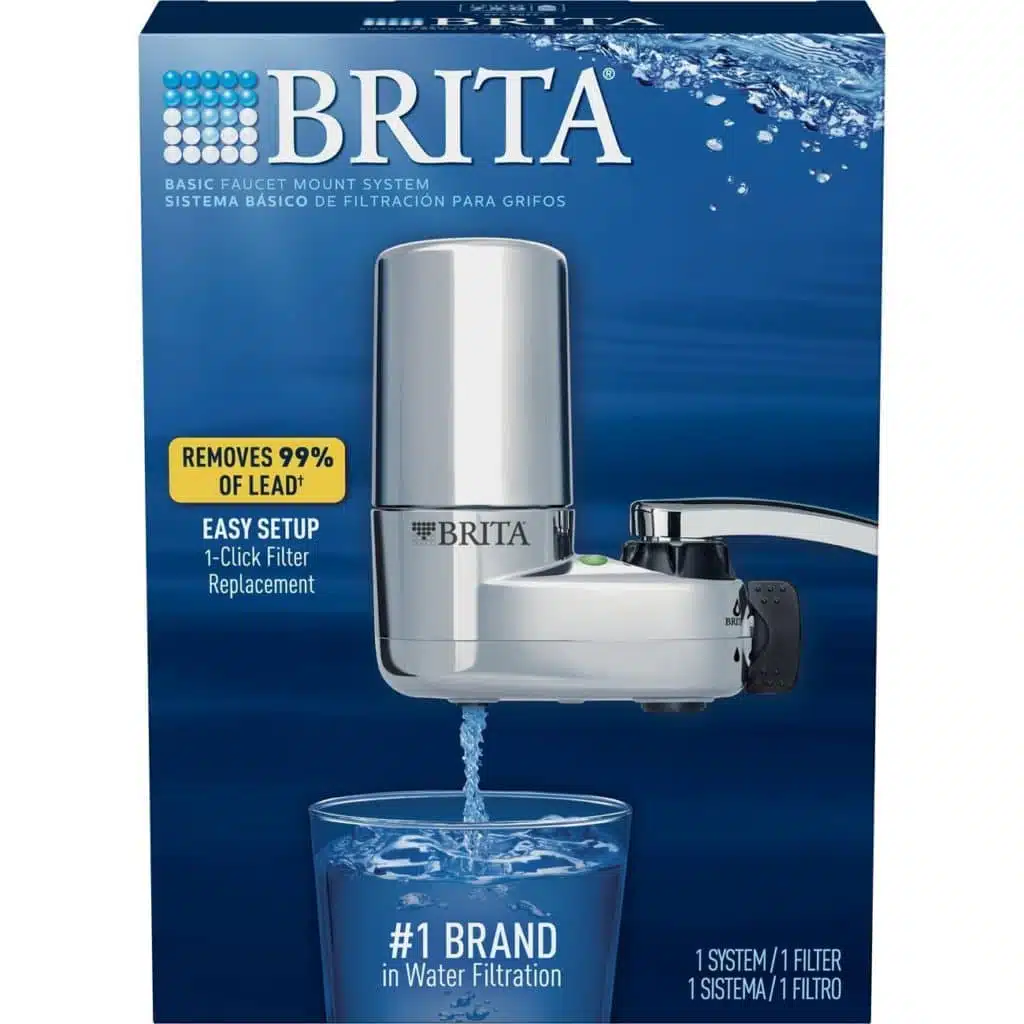 Brita's water faucet filtration system attaches directly to any standard faucet, which allows tap water to be cleaned in a matter of seconds. It is important to note that this filter doesn't fit pull-out or spray style faucets and measures in at 6'x2.38"x8.25".
This BPA-free filter works by removing odors and impurities like lead, chlorine and asbestos that may be found in tap water. This filter also comes with a filter indicator, which makes it easier to know when the filter needs to be replaced. This Brita water filter is eco-friendly since it can provide up to 100 gallons of filtered water, when compared to 750 16 oz. plastic water bottles.
With 1,587 reviews, 35% of which rating the Brita filter with 5 stars, it is clear that there are mixed reviews. Users loved the filter itself, but found that the filter holder hardware was not designed as well. Due to this, customers found themselves not as pleased with the functionality when attached to some faucets.
Despite this, users were very happy with how the water tasted and found that it helped them save a lot of money.
Final Thoughts
Faucet water filters prove to be a simple, yet beneficial addition to any kitchen since they provide gallons of clean water while helping the environment. With the purchase of a faucet water filter, you can easily save money and help reduce the amount of plastic water bottle waste. Whether you want cleaner water, or simply want to maintain a budget, a faucet water filter can help you reach your individual goals.
Why should I listen to you guys?
More than ever, people are focused on their health and well-being. And, because of this increased interest, that means there are tons of products on the market to help achieve that goal. From kitchen gadgets that make cooking easier, to reusable water bottles, sleep aids, and workout gear, the sheer number of options can be overwhelming.
That's why we wanted to do the hard work for you. We've committed to trying out some of the most popular health and wellness products on Amazon. Here's what happens:
We scour Amazon for the best rated or most reviewed products in health and wellness categories: whether that's something for the kitchen, supplements, or lifestyle products. Then, we read through the reviews and summarize them all for you. We provide takeaway points for each product – being as unbiased as possible.
Next, we write up our thoughts based on others experiences with the product, and any feedback we may have. And we publish it here for you. You'll find the links to the same exact Amazon products we tried in these articles.
That's it – easy! And if you have a product you'd like us to try before you buy, let us know.
Additional Reviews
Check out some of our other product reviews:
Download Your FREE Paleo Starter Kit Today!
3-Day Paleo Diet Meal Plan
Comprehensive Paleo Diet Shopping List
5 of Our Favorite Paleo Diet Recipes