Print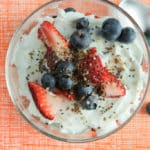 Coconut Ice Cream Parfait
*You will need an ice cream maker for this recipe.
To make the ice cream, put all of the ingredients in a blender and blend until smooth. Transfer mixture to an ice cream maker and following the instructions, churn the mixture until ready to freeze. 

Freeze the mixture overnight.

To make the parfaits, layer the ice cream with the berries and seeds in tall glasses or bowls.

Serve immediately.