Print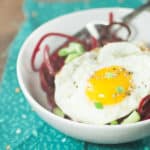 Beet Noodle Breakfast
Veggie noodles are a healthy and delicious alternative to pasta. While you may have had zucchini or squash noodles, nothing is quite as striking as those made from deep red beets. Lightly tossed with sesame oil and topped with a fried egg, this is a nutritious, unique breakfast that is sure to become a favorite.
Toss the beet noodles with the sesame oil, green onions, garlic, ginger, salt, and pepper. Before serving, fry the eggs in a non-stick skillet to your liking.

Top the noodles with the eggs before serving.