Print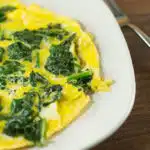 Open Faced Kale and Spinach Omelet
When you need to get out of the door fast, but still want a hot breakfast, this omelet is everything dreams are made of: hot, filling, and super nutritious.
Directions:
Heat the oil in a small skillet over medium low heat. Add the onion, garlic, kale, and spinach and cook until soft. Add the eggs and cook for a minute until the edges are set. Lift the edges carefully and let the liquid flow underneath the edges.

Cover and cook until the eggs are done, slide onto a plate, and serve.