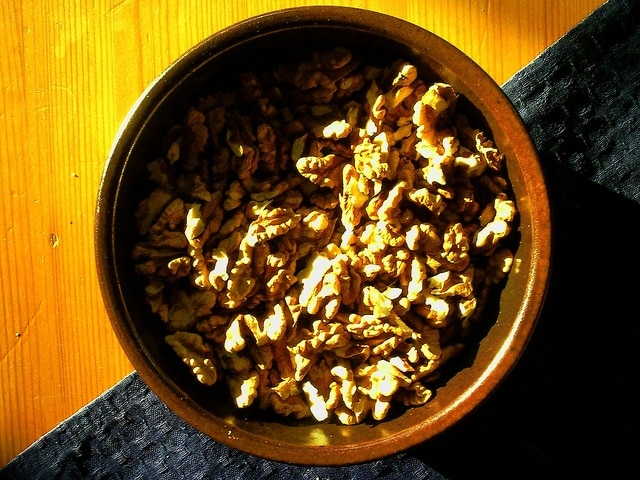 Wait a minute! Cereal is NOT paleo (or primal or caveman or whateveryouwannacallit). But this "cereal" has no grains. I'm talking no Corn Flakes, no Wheaties, and no Rice Puffs. What it does contain though is a hell of a lot of nuts, and it's not something I would recommend as your regular first meal of the day. But for the occasional indulgence and flashback to that bowl of happiness you used to pour as a kid before sitting down to watch Saturday morning cartoons, there are worse options.
Ingredients:
2 tbs chopped walnuts
2 tbs chopped almonds
1 tbs chopped macadamia nuts
1 tbs chopped pecans
1/2 tsp cinnamon (more if preferred)
1/4 cup black coffee (hot or cold, your preference)
Berries, sliced banana, or other fruit to taste
Directions:
Place all of the nuts and the cinnamon into a bowl, and mix well.
Pour the coffee into the bowl, and mix again. If you're one of those crazy kids who indulges in the occasional bit of dairy with their coffee, then add your splash of cream as well.
Top with berries, banana, or other fruit as desired.
Mmm!
Photo Credit: Erich Ferdinand